"Bag after bag love to see it" - Fans went wild for Angel Reese's cameo in Latto and Cardi B's 'Put It On Da Floor Again' music video
"Bag after bag love to see it" - Fans went wild for Angel Reese's cameo in Latto and Cardi B's 'Put It On Da Floor Again' music video
Angel Reese continues her rise to superstardom as she makes a cameo in a music video. Reese appeared on Latto and Cardi B's Put It On Da Floor Again, which was released on Friday.
The LSU star has been on a roll after winning the NCAA championship earlier this year. She has racked up NIL deals left and right, with an estimated worth of $1.4 million.
Put It On Da Floor Again is a remix to Latto's Put It On Da Floor, which was released last month. At one point in the song, Cardi B referenced Reese and the LSU Tigers with the lyrics:
"I been balling so damn hard, could've went to LSU."
Angel Reese was excited to appear in the music video, which was filmed in Atlanta. Reese took to Twitter to share several comments and snippets of the video. One of her tweets read:
"I told y'all i wanted to be a video vixen."
Fans of the LSU star went wild on Twitter and congratulated her for the success she has received in the last few months. Reese faced a lot of backlash since taunting Iowa's Caitlin Clark toward the end of the championship game.
One fan said:
"Bag after bag love to see it."
Another tweeted:
"LSU queen along with other Queens."
Here are other reactions on Twitter to Reese's cameo:
However, not all people on Twitter liked what they see from the LSU star.
One fan commented:
"I bet you will lose the next game."
Another one said:
"This bch got her 15 mins of fame and started being messy. Latto is Angel Reese, Nicki is LeBron."
Reese clapped back at her haters on Twitter:
"I'm sooo used to this now it don't even bother me. It be you own people everytime."
Also Read: Where did Max Strus go to college? Taking a closer look at the Miami Heat guard's background
---
Angel Reese made her Sports Illustrated Swimsuit debut earlier this month
Apart from winning the NCAA championship and millions worth of NIL deals, Angel Reese made her Sports Illustrated Swimsuit debut earlier this month. Reese was one of several personalities who were part of SI's swimsuit issue for 2023.
SI's swimsuit editor-in-chief MJ Day praised the LSU star for being an advocate of women's basketball. Reese, as well as Iowa's Caitlin Clark, represents the next generation of lady hoopers who could take it to the next level.
"Her intensity, drive and passion around being unapologetically herself and speaking up for what she believes in is helping move the needle forward for women in sports and is liberating the next generation to feel seen and heard," Day said.
Also Read: "I know what they are capable of" - Nikola Jokic warns his teammates of a resurgent Heat team as Nuggets take Game 1 of the NBA Finals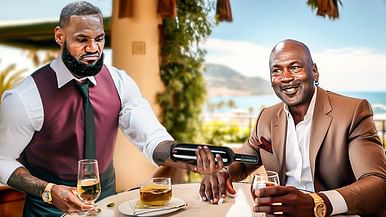 How is Michael Jordan officially richer than NBA's 10 richest players?!
Edited by
Juan Paolo David
See more
More from Sportskeeda