Is Andre Jackson Jr. returning to UConn? The defending national champ Huskies lose an integral piece
Is Andre Jackson Jr. returning to UConn? The defending national champ Huskies lose an integral piece
Andre Jackson Jr. recently announced that he will bypass his senior season of college basketball and remain in the 2023 NBA Draft. The guard was an integral part of the UConn Huskies 2022-2023 national championship-winning team.
ESPN's Adrian Wojnarowski took to Twitter to break the news, stating:
"UConn junior G Andre Jackson Jr., -- an immense part of the Huskies' national championship run – plans to remain in the June 22 NBA Draft, he tells ESPN. @Draftexpress has Jackson as the No. 32 pick in ESPN's most recent mock draft."
Jackson followed that up by confirming his plans while thanking the Huskies:
"My time at UCONN has been filled with ups and downs but through it all I built relationships with my teammates, coaches, friends and fans that will last forever. I've made so many memories playing in that jersey and I will miss it. But I'll always be a husky. Thank you.🐺♾"
Check out both tweets below:
How has Andre Jackson Jr. performed in his college career?
Andre Jackson Jr. committed to the UConn Huskies as a four-star prospect in the 2020 recruiting class. He averaged 2.7 points, 2.9 rebounds, 1.6 assists, 0.4 steals and 0.3 blocks per game while shooting 41.0% from the field, 11.8% from 3-point range and 90.0% from the free-throw line in limited playing time as a freshman.
Jackson Jr. joined the starting lineup in 2021-2022, averaging 6.8 points, 6.8 rebounds, 3.1 assists, 1.2 steals and 0.6 blocks per game. He shot 42.6% from the field, 36.1% from 3-point range and 71.4% from the free-throw line.
In his final season of college basketball, Jackson Jr. averaged 6.7 points, 6.2 rebounds, 4.7 assists, 1.1 steals and 0.5 blocks per game. He shot 43.2% from the field, 28.1% from 3-point range and 64.6% from the free-throw line while helping lead the Huskies to a national championship.
Where is Andre Jackson Jr. projected to be drafted?
Andre Jackson Jr. is currently projected to be selected in the latter part of the first round or the early part of the second round. Despite his limited outside shooting ability, Jackson Jr.'s defensive prowess and playmaking ability should ensure that he hears his name called in the 2023 NBA Draft.
Furthermore, those skills, as well as his NBA frame, should help him develop into a solid rotational piece at the next level. If he is able to develop his outside shot, Jackson Jr. could wind up as one of the steals of the draft.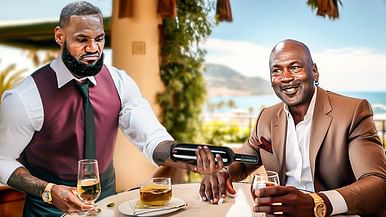 How is Michael Jordan officially richer than NBA's 10 richest players?!
See more
More from Sportskeeda