Is Judah Mintz returning to Syracuse? Analyzing the Cuse guard's decision and potential impact on the ACC
Is Judah Mintz returning to Syracuse? Analyzing the Cuse guard's decision and potential impact on the ACC
Judah Mintz recently announced that he will return to the Syracuse Orange for his second season of college basketball. He had previously entered the 2023 NBA Draft, however, he withdrew his name from the draft process on Wednesday.
Mintz spoke with ESPN's Dave McMenamin about his decision, stating:
"There's definitely a feeling of unfinished business. Last year, we showed glimpses of what we can be as a unit and as a young team, but right now I feel like, and the program feels like, it's time for Syracuse to get back to where we belong. On top.
"Coach Autry is the person that was heavy in my recruiting and the coach that I've connected with since Day 1. Coach Boeheim's resume speaks for itself but Coach Red is the perfect man for the job. He knows the ins and outs of Syracuse and has new ideas and philosophy. I'm excited for this upcoming year to say the least."
Check out Dave McMenamin's tweet on Judah Mintz below:
How has Judah Mintz performed in his college career?
Judah Mintz joined the Syracuse Orange as a four-star prospect in the 2022 recruiting class. He started all 32 games as a freshman. Mintz averaged 16.3 points, 2.3 rebounds, 4.6 assists, 1.8 steals and 0.1 blocks per game.
He shot 44.3% from the field, 30.3% from 3-point range and 75.1% from the free-throw line. Mintz was named to the ACC All-Freshman team.
How will Judah Mintz's return impact the ACC?
The Syracuse Orange have already lost two of their top three scoring and assist leaders as Joseph Girard and Jesse Edwards have both left via the transfer portal.
The return of Judah Mintz, who ranked second in scoring and led the team in assists, will give the Orange some form of continuity going forward.
Syracuse has done well to bring in transfers of their own as their transfer class ranks tenth in the nation, according to 247 Sports. The Orange will be in their first season under head coach Adrian Autry after 47 seasons being led by Jim Boeheim. The Hall of Fame coach retired following the 2022-2023 season.
It is difficult to truly project how Syracuse's season will turn out as Autry has no previous head coach experience. One thing that is clear, however, is that the return of his starting point guard will help him ease into his new role.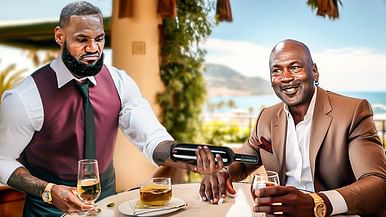 How is Michael Jordan officially richer than NBA's 10 richest players?!
See more
More from Sportskeeda