RayJ Dennis withdraws from 2023 NBA Draft: Toledo transfer chooses Baylor
RayJ Dennis withdraws from 2023 NBA Draft: Toledo transfer chooses Baylor
A day after RayJ Dennis withdrew his name from the 2023 NBA Draft, the reigning MAC Player of the Year announced his next move. The former Toledo Rocket spurned the NBA Draft to transfer to the Baylor Bears and play for head coach Scott Drew.
RayJ Dennis was considered by many analysts as the top available point guard in the transfer portal, so it's quite the get for the Baylor Bears program. The Michigan Wolverines and Illinois Illini' were known to be in on the electric PG, but eventually Baylor won out.
What type of player did the Bears land? Let's dive in on the fallout from RayJ Dennis' decision.
---
Player Analysis
RayJ Dennis has shown a complete game. He averaged 20 points per game for Toledo while chipping in six assists and four rebounds. He led the MAC in assists, always in control of the Rocket's offense. Dennis is an efficient scorer, shooting 49% from the floor.
Dennis is an experienced player with close to 50 collegiate games played. He's smart. He takes care of the basketball, with three assists for every turnover he commits.
Dennis is 6' 2", 185 lbs., which makes him on the slighter side. He struggles to fight through screens and against more physical guards who use their strength.
---
How RayJ Dennis fits with Baylor?
Expect RayJ Dennis to immediately take up a leadership role for the Bears as a floor general. Dennis should perform well in the Baylor high-octane offense and get his teammates involved.
The Baylor Bears should be explosive and versatile in 2023. Jayden Dunn and Langston Love on the Wings give the Bears offensive firepower from the outside with the ability to drive the lane. Dennis fits like a glove and will have the best teammates he has ever played with.
---
Where does that leave Michigan and Illinois?
Michigan needed the playmaking ability and steady hand of Dennis. Remember that Michigan lost their front-court leader Hunter Dickinson to Kansas via the transfer portal. The Wolverines could have used some good news and a jolt to their off-season, but for the Michigan faithful, it was not meant to be.
Meanwhile, Illinois' situation appears much brighter than just a few days ago. Terrence Shannon Jr. and Coleman Hawkins elected to withdraw their names from the 2023 NBA draft and return to the Illini.
Adding Dennis to the lineup would have made them one of the most efficient offenses in the Big Ten. Having Shannon back to run the offense softens the blow of losing out on Dennis, though.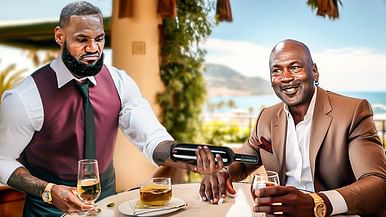 How is Michael Jordan officially richer than NBA's 10 richest players?!
See more
More from Sportskeeda