Reports: First-team All-AAC Landers Nolley II set to declare for the 2023 NBA Draft
Reports: First-team All-AAC Landers Nolley II set to declare for the 2023 NBA Draft
Landers Nolley II of Cincinnati has declared for the 2023 NBA draft. Nolley, a first-team All-AAC selection this season, is expected to be a draft candidate this year.
It's a wise move by the 6-foot-7, 220-pound guard. Nolley is coming off a strong season, averaging 16.8 points, 5.8 rebounds and 2.6 assists per game while shooting 44.7%, including 41.7% from 3-point range.
Nolley has played for a number of different schools throughout his collegiate career. He started out at Virginia Tech as a freshman during the 2019-20 season. He then transferred to Memphis for the next two seasons before transferring to Cincinnati for this season.
---
Landers Nolley II enters the 2023 NBA draft
With the 2022-23 NCAA season winding down, plenty of collegiate players will be testing the draft waters. Cincinnati wing Landers Nolley II is the latest to throw his name into draft considerations.
Reports have suggested that Nolley has accepted an invite to the Portsmouth Invitational. It's a showcase that allows players the opportunity to impress and potentially receive an invite to the NBA draft combine. That will be the goal for Nolley to generate some buzz as a potential second-round pick.
This year with the Bearcats, Nolley made significant strides in his game. He finished with career highs in field-goal percentage and 3-point percentage.
Nolley announced in a statement that he will enter the NBA draft in 2023 while maintaining his collegiate eligibility.
This is an important time of the year in which collegiate prospects have the resources to get feedback from NBA scouts and executives about their draft stock. Players will often get feedback on what teams want to see in their game before returning for another year of collegiate experience.
That could be the goal in mind for Nolley. For now, he will hope to impress NBA teams throughout the predraft process, with the goal of being drafted. Nolley could be a name that intrigues teams because of his potential as a two-way wing. If teams are convinced that his outside shooting can be consistent, he could start to rise up draft boards.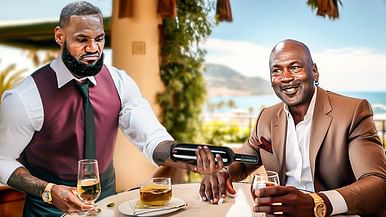 How is Michael Jordan officially richer than NBA's 10 richest players?!
See more
More from Sportskeeda