10 WWE & AEW wrestlers who played basketball and NBA
10 WWE & AEW wrestlers who played basketball and NBA
Both WWE and AEW prefer superstars with athletic backgrounds, and the NBA happens to be a talent pool for these wrestling promotions. Over the years, many former basketball players have taken to wrestling and found much success.
The journey to pro wrestling was believed to be a one-way highway. This tradition became extinct over time as basketball players and other athletes went on to become sensations in WWE and AEW.
Due to their background in sports, they were able to adapt to the rigorous training associated with wrestling and, in some cases, the hectic traveling schedule.
In this list, we will look at ten wrestlers with a basketball background.
---
#10. WWE Hall of Famer Kevin Nash
While studying psychology at the University of Tennessee, Kevin Nash developed an interest in basketball. He joined the Tennessee Volunteers basketball team as a Division 1 center and remained in the post from 1977-80. Nash played 85 games in college, averaging 5.1 points and 4.2 rebounds per game.
A physical altercation with head coach Don VeDoe led to Kevin Nash reconsidering his options. Eventually, he went overseas and played for Germany.
His career ended abruptly after he tore his ACL, after which he ended up in the army before taking to WWE.
---
#9. The Undertaker
In 1983, Mark Calaway joined the basketball team at Waltrip High School in Houston, Texas, which got him a scholarship at Angelina College. His strength and physique made him ideal for the court.
The Undertaker would later go on to attend Texas Wesleyan University, playing center. Training under Coach Hoogendoorn, his intimidating presence made him a natural leader.
A year before his WWE debut, The Phenom played for the Rams. He was a huge wrestling fan and decided to pursue the field soon after.
---
#8. Nia Jax
Former RAW Women's Champion Nia Jax attended Palomar College in San Diego, California. She made college basketball her passion and even wanted to pursue the sport professionally, pursuing dreams of playing in the Women's National Basketball Association (WNBA).
Jax played for Palomar College for two seasons, and her on-court ability got her a scholarship. This time, she was offered another scholarship at Cal State San Bernardino, which she graciously accepted in the early 2000s.
However, her basketball career ended after she had to undergo three surgeries to repair her knees. Nia Jax then took to WWE.
---
#7. Dijak
It is no surprise that Dijak comes from an athletic background. He was a standout three-sport athlete at Lunenburg High School in Massachusetts, excelling in rugby, basketball, and track field.
The WWE NXT star was rightly named the 2005 Sentinel & Enterprise Male Scholar-Athlete of the Year.
Dijak transferred to Bridgewater State University in 2010. He played football and basketball for four seasons while pursuing a Bachelor's Degree in Criminal Justice. Starting as a senior, Dijak earned two NCAA Division 3 Tournament berths after reaching the Sweet 16 his junior season.
---
#6. Omos
The Nigerian Giant studied at the Atlantic Shores Christian School in Chesapeake, Virginia.
During that time, he took an interest in basketball which traveled with him to the University of South Florida. The 7'3" played as a center till 2012, after which he was diagnosed with gigantism.
WWE star Omos played for the Georgia USF Bulls from 2012-14. He played nine games in the 2013 season, scoring three points and nullifying seven rebounds.
Later, he got transferred to the Morgan State Bears, where he played 11 games and had a rebound percentage of 0.7.
---
#5. Satnam Singh
Born in Punjab, Satnam got inspired by his father to play basketball. His height was also a huge advantage as he towered over his elders at the mere age of nine. He enrolled in the Ludhiana State Basketball Academy, and the rest is history.
After representing Punjab all over India, Satnam Singh earned a scholarship and shifted to Florida in 2010. He played for the IMG Academy during the 2014–15 season.
Before becoming an AEW Superstar, Satnam had brief runs in NBA franchises Dallas Mavericks and Texas Legends. Check out his incredible stats here.
---
#4. Paul Wight
AEW star Paul Wight started his basketball journey in high school at Wyman King Academy in Batesburg-Leesville, South Carolina. He was a standout center player, which got him an entry into the Northern Oklahoma Junior College.
He averaged 14 points and 6.5 rebounds, helping the team win the Western Division of the Oklahoma Bi-State Conference.
In 1991, Wight joined the Wichita State team as a backup. He played 22 games but had a poor run, averaging just 2 points. The AEW star's weight negatively affected his athletic goals. Somehow, he coped with the issue and became an NCAA Division II Cougars basketball team member.
---
#3. Kane
The Big Red Machine excelled in football and basketball during his high school days in Bowling Green, Missouri. He became the career leader in field goal percentage for his school.
Kane went to college at Truman State University, where he continued playing both sports while obtaining a degree in English literature. He is an NCAA All-Star. The real-life Glenn Jacobs eventually quit the basketball team to pursue NFL.
The Mayor of Knox County also holds the honor of getting chokeslammed by NBA legend Shaquille O'Neil after the Andre The Giant Memorial Battle Royal at WWE WrestleMania 32.
---
#2. Bayley
Three-time WWE Women's Champion, Bayley engaged in outdoor sports her whole life while growing up. She became a huge part of the college basketball team at Independence High School in San Jose, Calif, while also training for track fields and martial arts.
During an interview with the Swerve City Podcast, The Role Model revealed that she made it to the varsity team as a sophomore. By the time she hit her senior year, she was the captain. Her interest in pro wrestling took precedence, and she hit the indies in 2008.
---
#1. AEW Superstar Jade Cargill
Reigning AEW TBS Champion Jade Cargill developed her personality through basketball. She attended Sebastian River High School and Vero Beach High School, helping both teams to two basketball district championships.
During her run in Vero, she held the accolades of Team MVP and conference "Player of the Year" after averaging 21.2 points, 13.2 rebounds, and 6.2 steals. At Sebastian High School, Jade averaged 18.6 points and 8.3 rebounds, earning Team MVP.
From 2010-14, Jade Cargill played for Jacksonville University. She boasts incredible stats in her penultimate run, with an FGA of 224 and an average court time of 22.4 minutes.
Jade mastered child psychology, after which she took to WWE tryouts but landed in AEW due to Tony Khan's persistence.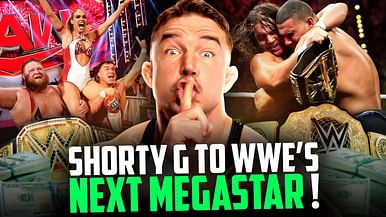 Why Chad Gable could be the next WWE mega star
See more
More from Sportskeeda