WWE: 3 Superstars who are Triple H guys and 4 who are Vince McMahon guys
The term "Paul Heyman Guy" has been associated with several WWE Superstars over the last three decades, including CM Punk, Brock Lesnar and other WWE and ECW roster members. There is no question that Heyman has also been a huge influence on a lot of superstars in modern-day WWE, but the same can be said for Vince McMahon and Triple H.
With Bruce Prichard by his side, Vince McMahon ultimately calls the shots on major storyline developments and match outcomes on RAW and SmackDown, while Triple H is the mastermind behind the next generation of superstars in NXT.
Many performers have good working relationships with both Vince McMahon and Triple H, but some have made it clear in media interviews and documentaries that they are a lot closer to only one of WWE's top two decision-makers. In this article, let's take a look at three wrestlers who are considered to be Triple H guys, as well as four who are Vince McMahon guys.
---
#7 Big E is a Vince McMahon guy
This one might come as a surprise to many wrestling fans, given Big E's dominant run as the second-ever NXT Champion, making fans think of him as a Triple H guy. However, there have been many reports talking about Vince McMahon's appreciation for the former WWE Champion, even claiming that Vince was planning to make Big E the face of WWE before Triple H convinced him to move forward with Roman Reigns.
The New Day member himself addressed these rumors in an interview with TalkSport:
"There was a point – and I don't know if this was a thing – but there was a rumour that the choice was between me and Roman and they were kind of deciding [who to push]. To me, Roman made so much sense – look at him! You can say what you want about him, but look at the guy. I've been in the ring with him and he's incredible, he gets so much love. I don't think I've ever seen anyone say 'I didn't enjoy working with him' or 'I didn't think he was good in the ring.' If you've been in the ring with [you'd know] he deserves the spot he got! So six or seven years ago, it wouldn't have made sense [for me to get the push] and I wasn't ready for it then. Now I feel so much more comfortable as a performer, as a promo and in my character – and unabashedly being myself. [H/T: talkSPORT]
---
#6 Matt Riddle is a Triple H guy
It is difficult to narrow the list of "Triple H Guys" down to just three people. After all, thanks to WWE Network documentaries over the last few years, fans have been able to witness the bond that the NXT founder has formed with WWE's up-and-coming superstars in emotional backstage moments at shows.
In the case of Matt Riddle, "The Original Bro" made his first NXT in-ring appearance in October 2018 and went on to become a key superstar on Triple H's brand in the 18 months that followed. Upon his call-up to SmackDown in May 2020, Riddle told ESPN MMA that he has an "amazing" relationship with Triple H and they often joke around with each other.
"With Triple H, amazing. I don't think we're like family but he's showed me videos of his kids imitating my entrance in their house during the quarantine. We jib-jab, we joke around, and I think we both appreciate hard work in sports entertainment. We appreciate the business." [H/T 411mania.com]
Riddle said that he had only spoken to Vince McMahon on a couple of occasions before joining the SmackDown roster, and every conversation they had was "one-hundred percent professional".
---
#5 Former WWE Superstar Braun Strowman is a Vince McMahon guy
Braun Strowman had never even competed in a televised match on NXT by the time Vince McMahon decided to call him up as a member of The Wyatt Family in 2015. "The Monster Among Men" - worked alongside Bray Wyatt, Luke Harper and Erick Rowan in his first year on the main roster before becoming RAW's resident monster.
Speaking on NotSam Wrestling in 2019, Strowman gave a fascinating insight into his relationship with Vince McMahon when he revealed that the WWE Chairman once kicked staff out of a meeting two hours before RAW to address concerns that the superstar had about his future.
"I walked into a production meeting one day and I was all but… I'd had enough. I was mad about everything. He [Vince McMahon] kicked everybody out of the production meeting two hours before RAW was about to start – the show wasn't even done – and talked to me for forty-five minutes, heart-to-heart, man-to-man conversation, and it opened my eyes to the big picture of, 'Wow, why am I worrying about this?'"
Strowman added that Vince told him, "I'm invested in you, you're one of my guys", during the impromptu meeting. Incidents like these make Strowman's release surprising, but hey, even McIntyre was released from the wrestling behemoth, didn't he? Look at how he reinvented himself and returned to become one of WWE's top assets.
---
#4 Randy Orton is a Triple H guy
On-screen, Randy Orton joined forces with Batista, Ric Flair, and Triple H to form the legendary Evolution faction in January 2003. Off-screen, Triple H proved to be a huge influence on the two youngest Evolution members in the early stages of their WWE careers.
The "Ruthless Aggression" docuseries on the WWE Network featured lots of backstage stories about Evolution's two-year run, including the time that Triple H gave Orton a wake-up call after he landed himself in trouble backstage.
"We talked and I said, 'Randy, you have every gift imaginable to be the biggest star this business has ever seen, and the only one that can stop you is you, and you are hell-bent on doing it and I don't know why.'"
Triple H also said in 2017 on the Cheap Heat podcast that Orton has all the tools to be even better than he already is.
"I don't know if that's me believing in him more than he believes in him. I don't know what that is, but don't get me wrong. He's great. I just wonder how great he could be." [H/T Wrestling Inc.]
Orton's attitude behind the scenes has improved over the years and, as of the time of writing, he is a 14-time WWE World Champion – tying Triple H at 14 and two reigns behind all-time record holders John Cena and Ric Flair (16).
---
#3 Brock Lesnar is a Vince McMahon guy
It should come as no surprise that another large WWE Superstar, Brock Lesnar, is next on the list of 'Vince McMahon Guys.'
Formerly referred to as "The Land of the Giants", WWE no longer places as much emphasis on the size of its superstars, with people like Bret Hart and Shawn Michaels paving the way for smaller performers in modern-day WWE to battle it out with opponents of any size.
There are always exceptions, of course, and Lesnar is that exception in this case.
Speaking to ESPN MMA in 2020, Jim Ross – WWE's former Head of Talent Relations – revealed that it only took Vince ten seconds to develop a "man-crush" on Lesnar after he saw him for the first time two decades ago.
"You know, we started craving Brock Lesnar when he was a junior in college in Minnesota. So we were not gonna let him go. When Vince saw him he had the damnedest man crush in like ten seconds on earth. He said, 'Damn, he looks like a Viking.'" [H/T Metro]
Vince McMahon went on to call Lesnar up to the main roster in March 2002. Within five months, "The Next Big Thing" defeated The Rock to win the WWE Undisputed Championship at SummerSlam. He then won the 2003 Royal Rumble, setting up his WrestleMania 19 main-event victory over Kurt Angle.
Lesnar is WWE's highest-paid performer and he has been one of Vince McMahon's most successful superstars since returning to WWE in 2012.
---
#2 Finn Balor is a Triple H guy
Finn Balor became part of the WWE NXT roster in September 2014 and went on to establish himself as one of the most successful superstars in the brand's history. Unfortunately, things did not go according to plan for the Irishman once he made his way to the main roster in 2016, with a serious shoulder injury overshadowing his Universal Championship victory over Seth Rollins at SummerSlam.
In a 'WWE 24' documentary in 2017, WWE cameras captured the moment that Triple H watched on from backstage when Balor had to vacate the title on RAW. As you can see below, the NXT founder appears to be extremely emotional.
In 2019, Balor revealed on Corey Graves' After The Bell podcast (video above) that he was not happy performing on RAW and SmackDown, which is why he agreed to work under Triple H again as a member of the NXT roster.
"It came to be a couple of months ago. Things weren't going kind of as smoothly - well, I don't want to say 'as smoothly'. I just wasn't happy where I was at on RAW and SmackDown; I had a conversation with Hunter, we pinged some ideas back and forth, I took a little time off and came back in NXT. It's all been awesome since." [H/T Wrestling Inc.]
Balor faced Triple H in six-man tag team matches at three WWE live events in March 2017, but they have never been involved in a storyline together on WWE television.
---
#1 R-Truth is a Vince McMahon guy
The famous picture above has led to rumors over the last decade that R-Truth and Vince McMahon are good friends behind the scenes in WWE. In 2020, Truth addressed the speculation in an interview with NotSam Wrestling when he revealed that Vince McMahon was one of the main reasons why he became a wrestler in the first place.
"One person I studied and the other talked and got me into it [wrestling and WWE] - I watched The Rock and Vince McMahon. Vince is the godfather of entertainment. He would talk to me. I would do promos, I would do interviews and things and he would say, 'That's not R-Truth. Who the hell was that?'" [H/T Wrestling Inc.]
Truth said, Vince McMahon helped him by saying he did not even need to play a character and should simply be his entertaining self on television. In another 2020 interview with Baller Status, the former United States Champion revealed that he performed his music for Vince McMahon in his office once after a production meeting.
"I take my Bluetooth speaker in his office. I say, 'Push play right here,' and he'll take it back and he'll listen. He's a fan of Ron Killings. He's a fan of R-Truth. He's a fan of my creativity." [H/T Wrestling Inc.]
On that occasion, Vince McMahon liked the song so much that he allowed Truth to perform it in front of the fans in an untelevised segment before the show went on air.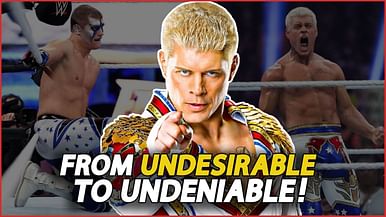 How Cody Rhodes returned to WWE and change pro wrestling forever!
Edited by
Akhilesh Tirumala
See more
More from Sportskeeda