5 near-death experiences of WWE Superstars
5 near-death experiences of WWE Superstars
WWE Superstars are some of the toughest men and women on the planet. Fans have seen superstars like Brock Lesnar, Braun Strowman, and Bianca Belair pull off incredible feats of strength to stun them.
However, that does not mean that they can cheat death. Over the years, many former and current WWE Superstars have had near-death experiences that have shaken them to the core.
From a robbery attempt on the streets to a plane crash, WWE Superstars have experienced some bizarre life-threatening incidents and survived to tell the tale.
Take a look at the five near-death experiences of WWE Superstars.
---
#5. Tyson Kidd's life nearly ended after a botched move
Tyson Kidd was once known as the fastest-rising talent in WWE. However, his career came to an unfortunate end while competing in the squared circle.
Kidd was made to work an impromptu match against Samoa Joe in June 2015. The superstar got through the entire match before a botched Muscle Buster from Joe ended his career. The 42-year-old suffered a horrific injury that paralyzed him temporarily.
He spoke about the night of the incident with Chris Van Vliet and explained how he felt once his body hit the mat.
"I remember everything, I lost feeling for about five seconds head to toe, time stands still, you just sit there like in no control whatsoever it wasn't in my control, I was at someone's mercy just sitting there, you can't move anything, everything in your body feels like it weighs like two million pounds. There was some weird voice telling me that this isn't perminant, it doesn't mean that it's right but luckily, thankfully it was," Tyson Kidd said.
He later tweeted that the career-ending botch could have ended his life, as only 5% of people survive this injury. He had four screws, 16 staples, and a rod inserted in his neck.
He currently works as a backstage producer and hopes to compete in the ring someday. Kidd is extremely lucky to have come back after a near-death experience.
---
#4. Wade Barrett was stabbed in an alleyway before he joined WWE
Wade Barrett was one of the hardest-hitting WWE Superstars during his time in the ring. He was a bare-knuckle boxer during his earlier days, and that made him a vicious fighter in the squared circle. Dusty Rhodes convinced Barrett to incorporate his real-life experiences into his on-screen character.
Early in his bare-knuckle boxing career, he competed in "The Battle of Buda" match in Budapest. He defeated a reputable opponent to win a substantial cash prize in the match.
After the match, he was walking through an alleyway in search of a taxi when he was attacked and stabbed with an eight-inch knife by someone who was looking to steal the prize money. Barrett lost a considerable amount of blood but managed to knock his attacker out.
The current WWE Superstar hasn't given many details about the incident, but the attack left him with a 12-inch scar that stretches from his upper back to halfway down his right arm. His bare-knuckle boxing career also left him with a disfigured nose.
He survived a vicious attack that could have killed him on the spot. Luckily, he survived and changed his career path to becoming a pro wrestler.
---
#3. Kurt Angle almost drowned during a family vacation
Kurt Angle came close to death while on vacation with his family recently. In a wrestling career spanning over two decades, the WWE Hall of Famer pulled off many death-defying moves. Although he nearly died during a freak accident, luckily, his 11-year-old daughter was there to save him.
Kurt was on a jet ski with his daughter Giuliana Angle when it malfunctioned and threw both off. The Olympic gold medalist didn't know how to swim, and his safety jacket proved to be of no help. On his podcast, The Kurt Angle Show, he revealed the whole incident.
"I was going under, she kept her composure, and the jet ski got away from us; it was like 50 feet away from us, and she didn't know whether to go to the jet ski or me, and she came over to me and saved my life (…) She pulled me over to the jet ski, swimming 50 yards with me in her hands, and then she pushed me," Angle said.
Angle continued and discussed how Giuliana kept cool during the event and helped by getting her father back on the jet ski.
"So now, she is putting her hands under my a** and pushing me up on the jet ski, and she got me up there. She jumped up behind me, and I said, 'You know what, honey? You just saved my life. She really did."
The near-death experience scared the legend, but luckily his daughter was there to save his life. If it wasn't for her, Angle could have been severely hurt or even died in the incident.
---
#2. WWE Superstars Becky Lynch and Charlotte Flair nearly died in a car crash
Becky Lynch and Charlotte Flair were known to be two of the closest friends in WWE. They made memories together in the company but aren't on the best of terms currently.
One unpleasant memory the two superstars have of traveling together nearly killed them. Back in late 2019, The Man appeared on That's What She Said to talk about a variety of topics. She shared a story that involved her and Flair nearly dying while traveling to a WWE Live Event.
"It's probably when I nearly died. So, it was actually myself and Charlotte were driving from one live event to another and we're on the road. We're in Detroit and two cars go racing past us and I go 'Holy c--p that car nearly... boom!' We get sideswiped and rammed right into a wall, then we go skidding past that. I look over to Charlotte and she's just covered in red stuff - turns out it was my meal from the back of the car - but I thought it was blood," Lynch said.
The two superstars survived the incident and escaped without any serious injuries. They even managed to appear at the Live Event to entertain their fans.
Becky Lynch termed the incident the scariest one of her life. Luckily, both champions escaped unhurt, even though they were left a bit shaken.
---
#1. Ric Flair has cheated death more than once
Ric Flair has had his fair share of near-death experiences throughout his life. He recently had a health scare in 2017 that nearly cost him his life. According to The Nature Boy himself, he only had a 5% chance of surviving the health complications that also led to kidney failure.
"31 days later, I woke up in the ICU. For 13 days I was on life support. I had no memory for six months. I could remember going forward, but I had no memory of the past. They wrote me off. I was operated on Monday morning. The WWE made a package because it was, like, a 5% chance that I would make it through it. It makes you re-evaluate everything," Flair said.
That's not all, as Flair has also survived a plane crash in the past. The crash killed the pilot, while two other people on board were paralyzed. The Nature Boy's career could have come to an end because of it, but he made a full recovery before returning to the ring.
The Nature Boy appeared on an episode of the Hotboxin' With Mike Tyson podcast to talk about the near-death experience that almost ended his career.
"I broke my back in three places and while I was putting myself back together, I didn't know if I was going to be able to wrestle again, but when they said I could, a promoter named George Scott came to me and said we should take a look at some things around and starting over again, so I said 'yeah'. I thought, 'what about looking at [Buddy] Rogers?' I just kind of took that as Harley Race would say, you remember Harley? He took Race's stuff to a new level. Harley Race was as tough as you [Mike Tyson]." (9:40-10:45)
He took inspiration from Buddy Rogers and made a successful return to the ring. The WWE Hall of Famer became one of the biggest names in sports entertainment after putting in the hard work.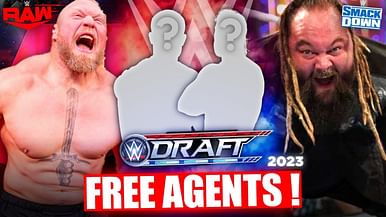 Brock Lesnar and 10 WWE stasr who are FREE AGENTS
See more
More from Sportskeeda