WWE: Vince McMahon's 8 most trusted superstars
WWE: Vince McMahon's 8 most trusted superstars
As the chairman of WWE, Vince McMahon decides who gets featured as a top star in the company. Given the size of the promotion, he works with many Superstars, and he has seen many more come and go over the years. As a result, it can be hard to make a strong impression on McMahon. Mick Foley once said that to get pushed, the chairman needs to trust you.
Check Out: Hilarious Vince McMahon memes
Perhaps one of the biggest examples of the past is Shawn Michaels, as the chairman knew he could count on The Heartbreak Kid. It took Michaels years of proving himself to get the push that he did. Even though his second run wasn't filled with world title runs, he was always placed in a big spot when WWE needed him.
There are superstars whom Vince McMahon trusts for various reasons. Even if some of them haven't reached the highest level of success, they are vital assets to the company, given their overall reliability in the eyes of Vince McMahon. With that said, let's jump right into it and look at the stars who the chairman trusts the most.
---
#8 Kevin Owens
Let's start the list with an obvious pick. Kevin Owens made one of the greatest main roster debuts in the history of WWE, defeating John Cena at the 2015 Elimination Chamber pay-per-view. The Prizefighter has since won the United States, Intercontinental and Universal Championship, establishing himself as a top player in the promotion.
Above, you can see a clip of the WWE Chairman being knocked down by Kevin Owens while the latter was feuding with Vince's son in 2017-18. The fact that McMahon himself put over Owens in the segment, coupled with the responsibility of fighting Stone Cold Steve Austin in the main event of WrestleMania Saturday, is enough proof of the trust that McMahon has in The Prizefighter.
---
#7 Dolph Ziggler
Dolph Ziggler might be a surprising name on this list. When looking at Ziggler's career, there's no denying that it's been filled with years of missed opportunities - from his iconic World Championship win in 2013 to his unforgettable Intercontinental Championship win in late 2016.
Ziggler has always been an all-rounder, but his ability to make any superstar look like a million bucks has seemingly earned him Vince McMahon's trust. When referring to his SummerSlam 2019 match against Goldberg, Tom Colohue revealed why Vince McMahon chose him for that spot:
"For his experience. Everyone looks good wrestling with Dolph. WWE loves Dolph. There's nothing he can't do."
His "safety" as a worker has served him well:
"You remember the Jackhammer? I do. We all do. Dolph's safe and he doesn't weigh too much, really."
While Ziggler hasn't been in a prominent spot for a few years, he was the catalyst for Drew McIntyre's return to RAW in 2018. He helped put Otis over big at WrestleMania 36 - something that preceded an unexpected Money in the Bank win for the latter. Dolph winning the NXT Championship after Vince took control of the former Black and Gold Brand is also proof of the trust the WWE Chairman has on The Showoff.
---
#6 The Miz
The Miz has had one of the most incredible journeys in WWE. Though he entered via Tough Enough, his reputation of being a "reality TV guy" was something he worked on for years to overcome. The Miz is a Grand Slam Champion in WWE and has won almost everything there is to win. He's a surefire Hall of Famer and that's because he earned Vince McMahon's trust a long time ago.
The WWE veteran spoke to Yahoo! Sports and revealed that he has the trust of the main top executives in WWE:
"To be one of the focal points of Raw, to know that Vince [McMahon], Hunter [Triple H], Stephanie [McMahon], Shane [McMahon], that all of the execs, believe in me and know that I can put out there and revolve a show around me, that my star power can bring people into an arena, make people watch at home, that is second to none. That trust, that is what you live for as a WWE superstar."
Given that he main evented WrestleMania 27, even if it was just as a "background character" in The Rock-John Cena story, it's a sign of trust earned a long time ago.
---
#5 Charlotte Flair
This one shouldn't come as any surprise. In the eyes of many, Charlotte Flair could be the woman that Vince McMahon trusts the most in the entire women's division. Is it any coincidence that she was off to the races within months of her RAW debut?
We're not going to go down the road of accusations that Charlotte Flair got where she is because of her father. She's done enough to overcome Ric Flair's shadow and earn Vince McMahon's trust a long time ago.
Triple H, on a conference call, admitted his surprise in Vince McMahon's decision to have Charlotte Flair vs Rhea Ripley for the NXT Women's Championship at WrestleMania 36. He said:
"So this was a way for Charlotte Flair needing to be in that big, epic role. I think it really had nothing more to do with that. It's good storytelling and that's what the goal is here, good storytelling across the board."
That alone is a big sign of trust from McMahon, if not the numerous other accolades she already has. She's the most decorated woman in WWE history.
---
#4 Happy Corbin
Vince McMahon seems to love the former King Corbin in a way that most fans don't understand. Many fans thought that Corbin has the "go away" heat rather than the preferred "heel heat".
Despite this, he's remained an active figure on both RAW and SmackDown, having an upper midcard role as a heel. While it seemed like WWE would pull the trigger on him for a world title push in 2017, it didn't pan out and he hasn't reached those heights since.
Corbin admitted that Vince McMahon is a fan of him and revealed why in an interview:
I think Vince McMahon has been a fan of mine because I'm a big dude, a little bit old school, and have legitimate toughness. He sees motivation in certain guys and certain guys want to have it and some don't. (H/T Wrestling Inc.)
Happy Corbin might eventually get a World Championship push one day as a reward, but one would imagine that it would be similar to Mark Henry in 2011, which seemed to be more of WWE saying "Thank you for your years of service". Corbin is building a respectable legacy and he has the most important man's trust.
---
#3. AJ Styles
AJ Styles is one of the few Superstars on this list who didn't take years to earn Vince McMahon's trust. While Styles admitted early on that he thought he had a lower ceiling in WWE, the cream always rises to the top and for The Phenomenal One, all it took was an impressive 8 months to win his first WWE Championship.
Since then, he's been a regular main eventer and a man whom Vince McMahon trusts more than anyone in the main event. In an interview with Inside The Ropes, AJ Styles said that you gain Vince McMahon's trust once you prove that you're interested in getting over others as well.
According to Styles, it's about wanting to make the overall product better. He elaborated, saying:
"When he sees that in someone, when he sees that passion in someone, every day you get a little bit more trust with Vince McMahon and I want that. He's my boss and I can go in there anytime and talk to him if I need be. There is a relationship there that I enjoy and I want to get stronger. Day in and day out, I want to prove to him that I care about us, rather than me. And I think he appreciates that." (H/T The Inquistr)
Styles has always been in prime spots in his six-and-a-half year run in WWE and we expect that to be the case until his retirement, which he admitted was the last contract he'll sign for the company.
Suggested: AJ Styles & other WWE Superstars who Vince wanted to sign early in their career.
---
#2 Becky Lynch
Becky Lynch is a Superstar who's had to scratch and claw her way up the WWE ladder. While she was called up to Monday Night RAW from NXT along with Sasha Banks and Charlotte Flair, it was clear for the next three years that she was the "third wheel" of the trio, with WWE pushing Charlotte Flair and Sasha Banks way more.
Even Bayley enjoyed more success for a period of time. A forgettable 2017 passed and in 2018, things would change forever. A steady push along with various other circumstances skyrocketed Becky Lynch into becoming arguably the most popular WWE Superstar at the time.
WWE knew they struck gold and as her push continued, it became clear that Vince McMahon trusted her to have the biggest spot in the women's division. She revealed in an interview with Sun Sport that right after the main event of WrestleMania 35, Vince McMahon agreed that she had become "The Man":
"We had a moment after WrestleMania where I said to him, 'I think I'm 'The Man' now, wouldn't you say Vince? And he said, 'Yep,' and that was it. I think he used to call himself 'The Man', and I said, 'No, I'm 'The Man.'"
---
#1 The Undertaker - Vince McMahon's greatest creation
The Undertaker is undoubtedly the Superstar who Vince McMahon has trusted the most in WWE history. He has a career spanning three decades - something unprecedented in WWE.
In The Last Ride documentary, Vince McMahon broke down when trying to answer the question of what The Undertaker's importance in WWE has been. When appearing on The Bump to promote the documentary, The Undertaker spoke about gaining Vince McMahon's trust:
"Initially, it was obviously Vince [McMahon]," Taker said. "Talent wise, the guys that were there a little bit before me, Bret Hart, and then obviously, Hogan was there. Back then it was a really different vibe, I knew once Vince trusted me, I think everything else fell into place. Guys like Bret, who I have the upmost respect for, those guys were old school guys when I first came in with this gimmick. When they accepted me I knew we were off to the races." (H/T Wrestling Inc.)
Given The Undertaker's longevity, iconic status, and role as a locker room leader for a long time, it's not surprising that he has the Chairman's trust over anyone at any point in WWE history.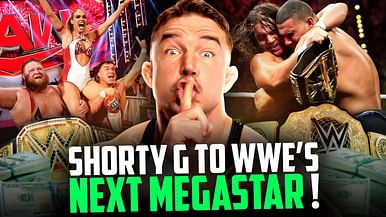 Why Chad Gable could be the next WWE mega star
Edited by
Akhilesh Tirumala
See more
More from Sportskeeda