Deja vu with Sami Zayn on SmackDown? What you might have missed!
Deja vu with Sami Zayn on SmackDown? What you might have missed!
Sami Zayn was the heart and soul of The Bloodline on WWE SmackDown before he was forced to turn on Roman Reigns at Royal Rumble 2023. The former Honorary Uce never missed an opportunity to try to make the group break character during their televised appearances together. The same happened on the blue brand this week.
The Canadian star bumped into Jey Uso on the latest edition of the Friday Night show. The 38-year-old star recalled the times he tried to make The Bloodline laugh. Sami's comments almost led to Jey breaking character on live television once again, but the star somehow hid his laughter.
Check out their latest interaction below:
Sami Zayn tried to convince Jey Uso to make the right decision. The one-half of the Undisputed WWE Tag Team Champions advised his former friend against listening to the manipulative words of Paul Heyman and Roman Reigns. He even told Jey he would be responsible for the end of The Usos if he takes the path Reigns had set out for him.
For those who didn't watch the show, Paul Heyman told Jey he was being groomed to be the next Tribal Chief. The Wise Man's promo hinted at a possible meeting between Jey and Roman Reigns at SummerSlam for the title. Heyman also put him in a United States Championship match against Austin Theory in the main event of the show.
Unfortunately, Jey could not pick up his first singles gold in WWE as he lost to Theory following an accident superkick from Jimmy Uso.
The show ended with Jey walking out on his brother because of what happened during the match.
Sami Zayn tells Kevin Owens about Jey Uso on WWE SmackDown
The best friends were in their locker room when Sami Zayn told Kevin Owens he asked Jey to clear his side. Owens asked him to focus on the tag team titles, not The Bloodline's internal matter. This led to speculation that Owens might be getting tired of Sami reaching out to Jey again and again.
Pretty Deadly showed up and said they wanted to face the champions for the tag team titles. The rest of SmackDown's tag team division also arrived with the same demand. Owens threw a fit and told Adam Pearce they all wanted a title shot.
Pearce put the teams in a gauntlet for next week. The winners will face Kevin Owens and Sami Zayn for their Undisputed WWE Tag Team Championship at a future date.
Who do you think will win the gauntlet match next week on SmackDown? Let us know in the comments section below!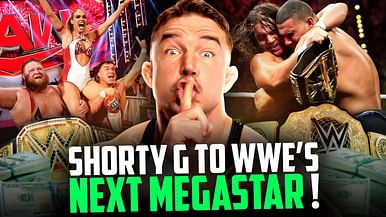 Why Chad Gable could be the next WWE mega star
See more
More from Sportskeeda