40-year-old star wants WWE to send Omos to "developmental" and "teach him how to wrestle" (Exclusive)
40-year-old star wants WWE to send Omos to "developmental" and "teach him how to wrestle" (Exclusive)
Former WWE star EC3 recently mentioned how the promotion should send Omos to developmental brand before bringing him back to the main roster.
The Nigerian Giant is one of the most promising stars in WWE, whose presence is enough to send shivers down the spine of his rivals. He's currently embroiled in a feud with Brock Lesnar, with the two slated to collide at WrestleMania 39.
Omos has gotten the better of The Beast Incarnate in their interactions on RAW so far, and it won't be a surprise if Lesnar takes a humbling at Mania.
On Sportskeeda Wrestling's The Wrestling Outlaws, EC3 mentioned that though Omos looked like someone who could defeat Brock Lesnar, he wasn't ready yet. The former WWE star stated that the promotion should send him to developmental and teach him how to wrestle before he's elevated on the main roster.
EC3 feels not everyone was capable of taking to the business as easily as Lesnar did back in the day. He feels The Beast Incarnate was "one in a billion."
"Omos looks like he could beat Brock Lesnar. Keep him in developmental for a sustained amount of time and teach him how to wrestle, and then work his way up and work up with people who can help him become better. Like, Lesnar was a freak when he came up and won everything within a year. Like he's one in a billion man," said EC3. (2:50 - 3:10)
Check out the video below:
---
WWE legend The Undertaker is a big fan of Omos
A couple of weeks back, in an interview, The Undertaker lavished massive praise on The Nigerian Giant. The Deadman went as far as to say that Omos was the kind of performer he would want to mentor if an opportunity arose.
The WWE Hall of Famer feels that the company shouldn't overexpose the 28-year-old on TV and instead use him judiciously as a special attraction.
"He wants to do all of the things that I look for when I see somebody that I really want to mentor, but it's difficult because it's just so hard to book him in a way that he should be booked. He is an attraction, he's not an every week tv kind of guy, he needs to be special," said The Phenom.
Even if Omos fails to defeat Brock Lesnar at WrestleMania 39, it's safe to assume he will remain a major force to be reckoned with on RAW.
---
If any quotes are used from this article, please embed the YouTube video and credit Sportskeeda Wrestling.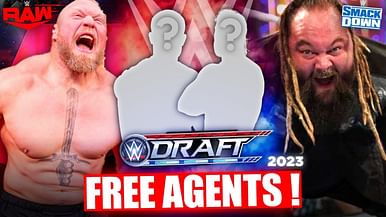 Brock Lesnar and 10 WWE stasr who are FREE AGENTS
Edited by
Arpit Shrivastava
See more
More from Sportskeeda