Alexa Bliss reacts to Hasbulla punching his cat in disturbing viral video
WWE Superstar Alexa Bliss wasn't happy one bit over the viral video of Russian internet celebrity Hasbulla abusing his cat.
Little Miss Bliss has always been a proponent of animal rights. She was devastated when her beloved pet pig Larry-Steve died in 2021.
Internet star Hasbulla is one of the most recognizable faces on the planet today. He boasts a massive fan following across top social media handles. A video recently began making the rounds on social media in which Hasbulla can be seen abusing his cat Barsik.
The video quickly went viral on Twitter and Hasbulla is now receiving major backlash for his violent actions towards his cat.
Check out the clip below:
Alexa Bliss noticed the video on Twitter as well, and sent the following tweet in response:
"This is not ok."
---
How did fans react to Alexa Bliss' tweet?
The Twitterati was outraged over Hasbulla hitting his cat in the viral clip. Bliss received tons of messages supporting her tweet, as can be seen below:
Fans who keep up with Bliss' Instagram handle are aware that she was utterly devastated when her pet pig Larry-Steve passed away just shy of his fourth birthday.
Here's what she wrote on Instagram soon after:
"On The day before his 4th birthday. 💔 This morning Larry-Steve gained his Angel wings. 🐽 I'm so sorry we couldn't find you the help you needed in time. Some people didn't understand. But I want you to know Larry, YOUR LIFE MATTERED. 🐽🖤we are completely heartbroken."
Like many others, the WWE Superstar was taken aback by the disturbing video of Hasbulla and his cat. It remains to be seen if proper action will be taken to ensure the safety of the cat.
---
What are your thoughts on Hasbulla's viral video? Do you think Barsik should immediately be taken away from Hasbulla? Sound off in the comment section below.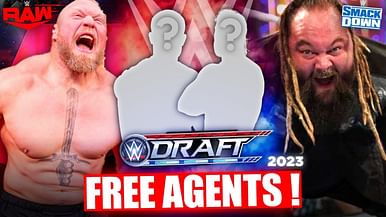 Brock Lesnar and 10 WWE stasr who are FREE AGENTS
See more
More from Sportskeeda