"He just wants to be famous"- Seth Rollins goes off on 27-year-old WWE star; advises him to "stay in his lane"
WWE Superstar Seth Rollins did not mince his words when talking about Logan Paul during his recent Instagram Live.
The social media megastar shocked the WWE Universe at the Royal Rumble as he threw Rollins over the top rope. Paul recently shared the clip on social media, poking fun at Rollins over the elimination.
During his recent Instagram live session, Rollins was asked his thoughts about the 27-year-old. The Visionary did not hold back while answering the question:
"I don't like Logan Paul. A lot of us really don't like Logan Paul. I don't really need him in my locker room, in my space. Guy is ultra-talented as far as athletic abilities are concerned. He snuck up on me at the Rumble, dumped me, fine, whatever. I took my eyes off the ball, that one is on me but don't go bragging about it like you did something otherworldly. Probably the coolest thing Logan's going to do in his life is throw me out of Rumble but I just advise him to stay in his lane."
Seth Rollins added that Logan Paul is in WWE to get more famous and doesn't care much about the industry:
"He's had what 3-4 matches? Again, athletic freak, no doubt about it but at the end of the day, he's just not a wrestler. He doesn't want to be a wrestler, he just wants to be famous. He doesn't care about the Industry. I think the best for him is to just be in his lane. I don't know what his lane is, maybe buying counterfeit Pokémon cards. Don't come knocking on my door, 'cause I will knock you out."
---
Could Seth Rollins face Logan Paul at WWE WrestleMania 39?
Seth Rollins' words on his recent Instagram live indicate that there's bad blood between him and Logan Paul. The social media megastar also recently took a jab at The Visionary over their recent Royal Rumble moment.
The two men may settle their differences inside the squared circle at WrestleMania 39. Logan Paul has proved in his past outings that he can hang with the very best.
Seth Rollins, meanwhile, has been one of WWE's most consistent performers over the last decade. The duo could put on an excellent match at the Showcase of Immortals if presented with an opportunity.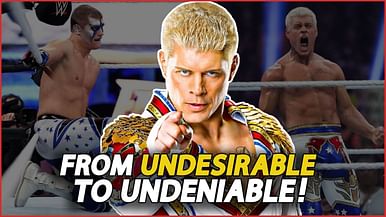 How Cody Rhodes returned to WWE and change pro wrestling forever!
See more
More from Sportskeeda