[PHOTO] Brock Lesnar spotted chatting with former WWE Universal Champion backstage at Royal Rumble
WWE has taken to social media to post backstage and behind-the-scenes photos from the Royal Rumble Premium Live Event.
Superstars including Brock Lesnar, Edge, Rhea Ripley, and others were featured in the series. Lesnar, who was unable to win his second Rumble in a row, was seen talking to Finn Balor in one of the photos.
Lesnar is also a former WWE Universal Champion. In fact, he has held the title on three separate occasions. Balor, meanwhile, was the first-ever Universal Champion.
Check out the photo of Brock Lesnar and Finn Balor interacting:
Dutch Mantell thinks Brock Lesnar vs. Gunther won't happen at WWE WrestleMania 39
Brock Lesnar was confronted by Gunther during the 30-Man Royal Rumble Match. For months, fans have expressed their interest in a match between the two men, with The Ring General himself naming the Beast as a dream opponent.
Speaking on Sportskeeda Wrestling's latest edition of UnSKripted, wrestling veteran Dutch Mantell recently explained why he thinks The Beast Incarnate won't cross paths with the reigning Intercontinental Champion. Mantell said:
"I don't think we're going to see Gunther and Brock [Lesnar] for a while, because he's used to taking his time and when he pulls the trigger on that, and now we got all this time to play with it. To tease it here, to add there. It's like we're talking about when they're going to pull the trigger on Sami [Zayn]. We knew they were going to do it, but we didn't know when. Now they can do the same technique on Gunther and Brock."
Lesnar is likely to face Bobby Lashley once again at WrestleMania 39. Lashley eliminated Lesnar from the 30-Man Royal Rumble Match and got some payback after the former UFC fighter cost his arch-rival the WWE United States Championship against Austin Theory.
Do you want to see Brock Lesnar vs. Bobby Lashley 3 at WrestleMania 39? Sound off in the comment section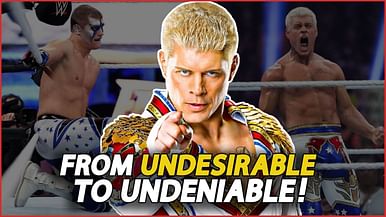 How Cody Rhodes returned to WWE and change pro wrestling forever!
See more
More from Sportskeeda