WATCH: What Stone Cold Steve Austin told Roman Reigns backstage at WrestleMania 38 revealed
WATCH: What Stone Cold Steve Austin told Roman Reigns backstage at WrestleMania 38 revealed
The latest episode of WWE Rivals on A&E has revealed a previously unseen backstage exchange between Roman Reigns and Stone Cold Steve Austin from WrestleMania 38.
The main event of last year's mega show saw Roman Reigns become the undisputed world champion as he defeated Brock Lesnar to capture the WWE Championship.
Stone Cold Steve Austin made his in-ring return to close out night one against Kevin Owens. The Texas Rattlesnake was expected to be one of the many legends at Gorilla Position the following evening. Austin didn't miss the opportunity to acknowledge The Tribal Chief in a heartfelt conversation following the latter's match against Brock Lesnar.
As seen in the epic footage below, Steve Austin admitted to Reigns that he was proud of him and commended The Bloodline leader for taking his game to the next level.
"Brother, you've been putting all the pieces together, and you're doing an amazing job. You've really arrived, and I'm so proud of you!" Austin was heard telling Roman.
It's always great to see Roman Reigns get the deserved recognition from his predecessors in the wrestling business. We're certain it would have meant a lot to him to get the highest praise from Stone Cold Steve Austin.
Did WWE make an offer to Steve Austin to wrestle Roman Reigns?
The WWE Hall of Famer lacing up his wrestling boots last year opened the door for future in-ring appearances as he looked phenomenal in his clash against KO.
Fightful reported in January earlier this year that, buoyed by the success of Austin's comeback, WWE officials offered the veteran "enormous money" to potentially have a match against Roman Reigns at WrestleMania 39.
The WWE Universal Champion wasn't the only name pitched to Steve Austin, as the company legitimately wanted the 58-year-old to compete at back-to-back WrestleMania events.
The legendary star recently opened up about his current status and claimed that he was yet to receive a phone call from WWE. With very little time left until WrestleMania, Austin didn't see himself returning for another match, though he did clarify that "anything can happen."
Roman Reigns and Cody Rhodes' match is expected to go ahead without any changes, but Steve Austin could be involved in some capacity in Inglewood, California.
Considering that Triple H's team has several surprises lined up for the show, could Stone Cold be a part of a well-kept secret plan?
Would you like to see the veteran in a match or segment at WrestleMania 39? Let us know your thoughts in the comments section below.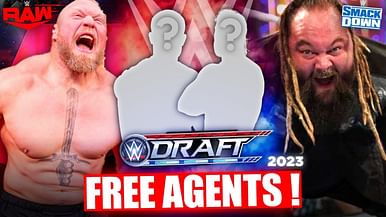 Brock Lesnar and 10 WWE stasr who are FREE AGENTS
Edited by
Ashvinkumar Patil
See more
More from Sportskeeda