Released WWE Superstar sends three-word message to Asuka ahead of WrestleMania 39
Released WWE Superstar sends three-word message to Asuka ahead of WrestleMania 39
A former WWE Superstar sent a message to Asuka ahead of her title match at WWE WrestleMania 39.
Asuka is set to challenge Bianca Belair for the RAW Women's Championship at WrestleMania this weekend in Los Angeles. The EST captured the RAW Women's Championship from Becky Lynch at WrestleMania 38 and has held the title for 359 days. The Empress of Tomorrow earned a title match against Belair by winning the Women's Elimination Chamber match in February.
Ahead of WrestleMania this weekend, former WWE Superstar Nia Jax sent Asuka a message. Nia recently appeared as the final entrant in the Women's Royal Rumble match but was quickly eliminated after all the superstars in the ring teamed up to force her out.
The company released new merchandise for The Irresistible Force, but she hasn't appeared since the premium live event in January. Asuka promoted some WrestleMania gear on Twitter and Nia Jax jokingly claimed that it was fake.
Bianca Belair reveals she is nervous ahead of her match against Asuka at WWE WrestleMania
Bianca Belair recently admitted that she is more nervous heading into this year's WrestleMania than she was in previous years.
The EST has established herself as one of the most talented superstars on the planet since she arrived on the main roster. She headlined Night 1 of WrestleMania 37 against former superstar Sasha Banks, conquered The Man at WrestleMania 38, and will now look to defeat The Empress of Tomorrow at WrestleMania 39 this weekend.
In an interview with The Athletic, Bianca admitted that her nervousness has increased every year ahead of The Show of Shows, but she will use it as motivation at the premium live event.
"Coming off WrestleMania 37, I thought I would walk into 38 being more confident, but I was more nervous for 38 than I was for 37," Belair stated. "I know I'll be more nervous this year than I was the previous two years... I've been an athlete my whole life, so I've learned how to embrace the nervousness and let it fuel me instead of scare me." [H/T: The Athletic]
Asuka has been playing mind games with The EST on RAW in preparation for her title match this weekend. It will be interesting to see if it pays off or if Bianca Belair asserts her dominance once again at WrestleMania 39.
Would you like to see The Empress of Tomorrow capture the RAW Women's Championship this weekend? Share your thoughts in the comments section below.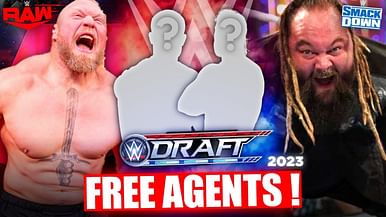 Brock Lesnar and 10 WWE stasr who are FREE AGENTS
See more
More from Sportskeeda