Big name has been released following Vince McMahon's return in order to reduce 'costs' - Reports
Vince McMahon made a surprising return to WWE in January 2023 after having announced his retirement in 2022. McMahon had given up all his positions and stepped down as the CEO, Chairman, and Creative Head of the company. He returned only as the Executive Chairman of the Board and hasn't resumed any other duties.
Ever since McMahon returned, there have been a lot of changes made. This includes the departures of some big names and veterans of the company. His daughter Stephanie McMahon stepped down as the co-CEO and resigned from the company. Two VPs of Communications were also reportedly let go by Vince McMahon, including Adam Hopkins.
As per Dave Meltzer of the Wrestling Observer, multiple names have been released by WWE since Vince McMahon returned. One of the biggest names is Matthew Drew, who was the senior Vice President of International. He stated that these releases are being done to 'lower the costs.'
''There have been a lot more cuts on the corporate side in the past few weeks in different departments since the return of Vince McMahon. The belief is that these cuts are being made to lower the costs to get the company ready for a sale. Matthew Drew, who was the Senior Vice President of International, was the biggest name let go.''
---
Vince McMahon's return has led to some major re-shuffling in WWE
While Nick Khan is now the sole CEO of WWE after Stephanie McMahon's exit, Drew was a man hired by him. He had previously worked for DAZN and was brought into the company in June 2021. His job was to manage global media partners and devise plans for international events.
''He came from DAZN in June 2021 which means he was a Nick Khan hire, since Khan hired a number of people from DAZN in 2021. His job included managing global media partners, devising international strategy for overseas live events, digital, consumer products and new revenue opportunities.''
Triple H recently spoke about McMahon's return and stated that he was happy that his father-in-law is back. However, at this point, McMahon is not interfering in creative decisions and is focusing solely on the sale of the company.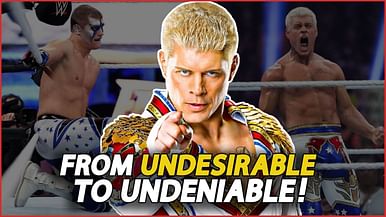 How Cody Rhodes returned to WWE and change pro wrestling forever!
See more
More from Sportskeeda