Lil Uzi Vert could be set to make an appearance at WrestleMania 39
Lil Uzi Vert could be set to make an appearance at WrestleMania 39
WWE intends to inject the biggest show of its calendar year, WrestleMania, with a sense of celebrity mainstream appeal and may look to achieve that through an appearance from rapper Lil Uzi Vert.
The Atlantic Records/Roc Nation rapper has been the center of appeal to hip-hop fans everywhere through his hit records. He could now be looking to enjoy himself as a musical guest on behalf of WWE.
A photo has been making the rounds of a guest sign posted up at SoFi stadium with Lil Uzi Vert's name on it. The sign was posted on an Instagram story and has since caught the eye of many fans looking to see if the rapper could make an appearance at WrestleMania 39.
You can see the photo of the sign here.
It wouldn't be too out of the ordinary to see WWE bring in celebrities such as Lil Uzi Vert for this year's WrestleMania considering the show's history of bringing in celebrities such as Logan Paul. We'll have to wait and see what surprises the Showcase of the Immortals could have in store for us.
WWE Universe reacts to Lil Uzi Vert possibly appearing at WrestleMania 39
It seems that fans are excited to see if one of the biggest hip-hop artists is currently making an exclusive first-time appearance at WrestleMania 39. Lil Uzi Vert has managed to retain much of his fanbase ever since his breakout hit "XO Tour Llif3" went mainstream.
His popularity has only seemed to grow as he went on to drop his much-awaited album "Eternal Atake" in 2020. The WWE Universe now wants a glimpse of the rapper and is hoping he gets to join in on the fun at The Show of Shows.
Fans instantly started to react after the photo of his guest sign at SoFi Stadium went viral and started to wonder if they might get a chance to hear his music live. It seems that many in the crowd would be pleased to see if he is there to perform fan-favorite records such as "The Way Life Goes" and "Just Wanna Rock."
Some fans have started to debate if the rapper could get physical or not at the Show of Shows and began to fit him into matches that Triple H could book.
Although it's not yet confirmed if the rapper's appearance is on the books or not, we're sure it would be quite a treat to see him in the crowd or hear him perform at WrestleMania.
Do you want to see Lil Uzi Vert perform at WrestleMania 39? Sound off below.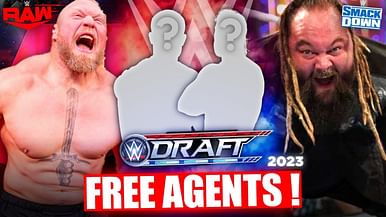 Brock Lesnar and 10 WWE stasr who are FREE AGENTS
See more
More from Sportskeeda