If Rajinikanth played basketball: 25 things that would happen
2.15K //
12 Dec 2012, 20:29 IST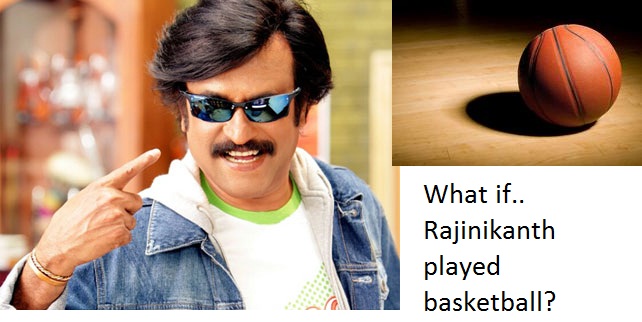 What if Rajnikanth played basketball? It's a question to ponder on his birthday. Here are some things which would happen if Rajinikanth decided to play basketball:
1. Kobe Bryant would pass him the ball. With a smile.
2. Dwight Howard would never miss a free throw. Dwight Howard wouldn't have to make a free throw. He would crap a free throw out of his bum.
3. Rajini would slamdunk a three pointer.
4. Brian Scalabrine would bow to him as the greatest.
5. Goats would come to his basketball games.
Because he is the GOAT.
6. Rajini would take a layup from the backcourt, with a Euro step, and elicit fouls from all five opponents, and a technical from their coach.
7. Rajini would simultaneously draw a charge, colour it and balance its valency, with Joey Crawford being the referee.
8. Phil Jackson coached the Lakers. Phil Jackson dated the Lakers' owner's daughter. Rajni would date the owner. Have kids with the owner. And field those kids as players on his team. And win.
9. Rajini's team would go 82-0 in one season. And the next. And the one after. In case of a lockout shortened season, Rajini's team would still win 82 games.
10. Rajini's team would go Fo' Fo' Fo' Fo' in the playoffs. After topping the regular season. And win the first draft pick.
11. Rajini would break Wilt Chamberlain's 100 point record, while playing on Kobe's team. And being coached by Mike Brown.
12. South Beach would take its talents to Rajini. There would be Chris Bosh's dinosaur relatives prancing around him while he played.
13. In the ad with Kobe and Messi, Kobe spins a basketball.
Rajini spins the earth around his finger and the kid in the ad forgets the ice cream and takes an autograph from Rajini.
14. If Rajini were on the Hornets, New Orleans Hornets could change their name to New Orleans Pelicans and the name would be so badass it would spawn prison tattoos, as opposed to becoming a topic of nationwide mirth.
15. When Rajini would call Carmelo Anthony, Melo's phone would ring.
16. Rajini would be the cover athlete of this game: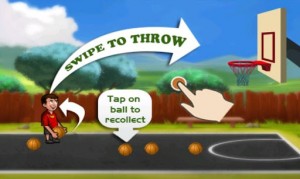 and it would outsell NBA 2K series.
17. If Rajini was Artest's teammate, Ron Artest would give up his violent ways and rename himself 'World Peace.'
18. Rajini would posterize Barack Obama and the video would go viral as opposed to Rajini being arrested.
19. Rajini would posterize LeBron and Nike would let the video go viral after adding a montage of LeBron learning from Rajini, as opposed to calling a lockdown and destroying all copies of that video clip.
20. If Rajini coached Dwight Howard's team, Howard would fire the assistant coach.
21. If Rajini coached the Lakers, Steve Blake would play like a combination of Steve Nash and Blake Griffin.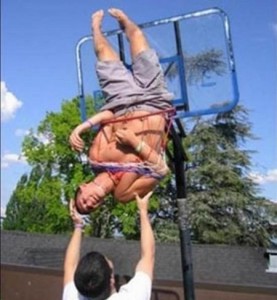 22. One day the man on the right tried to block Rajini's shot:
To this day he remains like that, a tourist attraction, fed intravenously.
23. If Rajini was teammates with Tim Duncan, Duncan would exhibit human emotions besides emoticons in texts. He'd crack a smile once in a while. And make a almost imperceptible eyebrow wiggle when fouled.
24. Rajini would average a triple double in the regular season and a hexagonal double in the playoffs.
25. Rajini would yell "Ball don't lie" when Rasheed Wallace shot a free throw and Wallace would high five him.