Rajasthan Royals : How much will they miss Warne?
1.19K //
07 Mar 2012, 13:12 IST
The champions of IPL 2008 when no one believed they would make it even to the semifinals. But Rajasthan Royals under Warne have failed to live up to the expectations after the inaugural season. The side has always managed to remain in reckoning for a place in final four but could not press the final button.
The side lacked characteristic big names apart from their coach-captain Warne. The international recruits had a fruitful time which helped them launch their careers and make comebacks. Watson, Tanvir had all blossomed under astute leadership of Warne. The biggest contribution from Jaipur was hard hitting all-rounder Yusuf Pathan who broke into the Indian side and has been in and out ever since. Jadeja came into reckoning too. Lot of domestic players found their feet under the guidance of Warne including Asnodkar, Kamran Khan, Trivedi, Amit Singh and the likes. Addition of Dravid an equally astute thinker as Warne in 2011 added depth to the squad.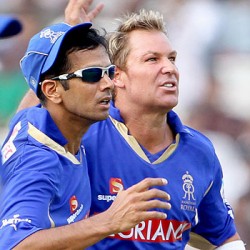 However this season they play under Dravid with Warne having retired. The team is likely to miss Warne, the skipper as well as Warne, the spinner. Dravid is not as charismatic as Warne but has his own methods. He is a disciplinarian and a conventional cricketer unlike the more outspoken and unorthodox Warne. How the side gels under Dravid will determine their prognosis this season.
The latest additions have been two elderly statesmen Brad Hodge and Brad Hogg, Chandimal and Cooper. While Hodge has been a champion in domestic circuits who never got his due in International matches, Hogg has proved that age is not a deterrent in T20s with a highly successful Big Bash series that earned him a comeback to the Australian side after nearly 4 years of his hanging the boots. Chandimal is among the most promising youngsters right now and Cooper proved his value with scintillating performances in Champions League.
The Indian contingent looks completely unknown except for Dravid. Their strength lay in Warne's ability to turn the unknowns into performers. Whether Dravid can manage the same is a big question. Dravid's captaincy will be the key factor in their performance this season. Dravid is a silent contributor who sets the example unlike a vocal and overwhelming Warne.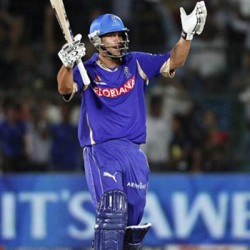 Batting lineup has some vital cogs. Dravid at top has a huge role to play but still questions remain on his T20 abilities. Watson is on his comeback trial from injury and holds a central role to make big contributions. Promising Rahane can score runs in this format if his debut in international T20 is considered as developing stages and will have to step up for the Royals to make the next stage. Hodge, Collingwood, Chandimal and Cooper have a big role in taking the side forward.
All-round strength of the side is decent. Botha is someone who can make telling contributions with the bat. Watson's bowling abilities can aid by filling the fifth bowler quota. Cooper can bowl a bit and in Stuart Binny ib one of the most promising Indian all-rounders. Chandimal is likely to don the gloves and Raut or Pinal Shah can provide decent back up.
Bowling looks promising with Ranji champions of Pankaj Singh and Chachar backed up by Sreesanth who can meander from very best to very worst. Fallah, Amit Singh and Narwal will get to play at various stages and in Trivedi, Royals have another domestic talent to boost. Tait's presence will add depth to pace department that lacks another genuine quick. Botha and Hogg will lead the spin department and both are proven performers.
The biggest challenge lies in the choice of the international stars. With almost bare Indian champions, international players have a very big role to play. Watson, Botha and Chandimal are certainties. This leaves the fourth slot to be filled up with one among Tait, Hogg, Hodge or Collingwood; all being different kinds of players. Batting is not as promising as the other sides and hence Hodge or Collingwood are required in the middle order. Cooper can be a big influence in lower middle order if he can play. Tait is a champion T20 bowler but like other spearhead Sreesanth he is way too inconsistent. Hogg will have to replace Warne as he did with Australian ODI side.
Finally it comes down to the captaincy and Dravid's ability to inspire the youngsters as much as Warne. His personal form has n't been so great. He needs to prove his worth as a player as well unfortunately. Presence of too many seniors like Dravid, Hodge, Hogg, Botha as key players can also pose the question of fielding. Summing up, Royals can challenge sides but do not look like a contender for the title with an Indian contingent among the weakest in the IPL this time.
Likely Starting XI : Shane Watson – Ajinkya Rahane – Rahul Dravid – Dinesh Chandimal (WK) – Ashok Menaria – Brad Hodge – Sturat Binny – Johan Botha – Santhakumaran Sreesanth – Siddarth Trivedi – Pankaj Singh.