Who Can Win This World Cup Now?
1.33K //
17 Mar 2011, 22:06 IST
If anything this World Cup has been symbolised by it is the incompleteness of the Teams. There have been no super teams like the great West Indies Teams of the 70′s or the masterful Aussies of the recent World Cups. So it could be conceivable that a Team comes from the clouds to win the Cup. Like India in 1983 and Pakistan in 1992 did. So what are the teams' chances?
I'll separate it into 5 categories


1.Batting
2.Bowling
3.Weaknesses
4.XFactor
5.Chances to Win


Australia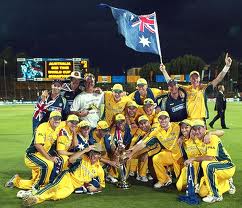 1.Batting
The Aussie batting has been strengthened by the inclusion of Mike Hussey who not only is an exceptional player, but one of the few Aussies who has accomplished against spin. They also have the quality of Shane Watson at the top and two sleeping giants in Ricky Ponting and Michael Clarke. Then there are dangerous types like Dave Hussey,Cam White and Brad Haddin


2,Bowling
The Australian bowling is one dimensional with the three fast bowlers of Johnson, Lee and Tait; All of which are attacking options, but if someone gets on top of them they can go for plenty. In Shane Watson, Australia has the one defensive option in the bowling who has done a very admirable job, but the reliance on him in this team is intense. There are spin options in Krejza, Smith and Dave Hussey, but none are of the threatening incarnate.


3.Weaknesses
Spin in all regards. They struggle to bat against it bar Mike Hussey and Clarke and then they have no one who can bowl it adequately which makes their bowling very one dimensional. Also a very unhealthy reliance on Shane Watson, so if he gets injured or struggles in a match, Australia will be on its knees.

4.Xfactor
Mike Hussey's inclusion is a huge boost for he adds quality to the batting and is a good player against spin. Also a very good leader on the field in a Team that lacks leaders


5.Chances of Winning
20%-The inclusion of Hussey has improved their chance but I still think this team will come a cropper against a quality unit or against a team with quality spinners.


Bangladesh (Assuming they qualify)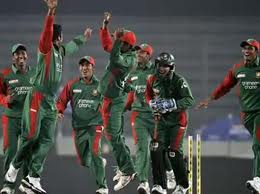 1.Batting
The Tigers have struggled with their batting with an unhealthy reliance on Tamim Iqbal and Shakib al Hasan. Thankfully for them Imrul Kayes and Junaid Siddiqui stepped up in the last game.They still are very fragile in this regard of the game.


2.Bowling
The bowling has improved with the very impressive medium pacer Shafiul Islam becoming a key factor. Then the spinners starting to perform in a manner that is making it very hard for teams to score against this Bangladesh Team.


3.Weaknesses
The batting is very fragile and relies on a few batsmen  to get winning scores. So against better bowling Teams they will struggle to post scores enough for winning. Also the Tigers have struggled with the weight of expectation as seen in their insipid implosion against the Windies


4.Xfactor
There are two Xfactors for the Tigers.
The first being the pitches getting low and slow and favouring their glut of spinners and the second is fate.


5.Chances of Winning
2%-Their batting is too weak to survive against the better Teams


England (Assuming they qualify)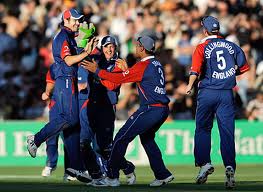 1.Batting
The batting has been reliant on Strauss, Trott and Bell to carry it which, on several occasions, has been good enough for them. Though like the rest of the English Team these three have struggled for consistency, the loss of Kevin Pietersen to injury and the loss of form of Paul Collingwood has nobbled the batting. This is compensated in some small way by the inclusion of Eoin Morgan


2.Bowling
the English bowling has, like the batting, been very inconsistent and bar the South African miracle it win has been toothless. And one of the chief architects in that miracle Stuart Broad has now succumbed to injury and thus the bowling has been weakened even more.


3.Weaknesses
Chief one lack of consistency. There is quality in their team but thanks to the lack of consistency, the quality is not translating to winning results. Also it seems luck is against them with so many injuries to key personnel at inopportune moments.


4.Xfactor
Chris Tremlett replicating his Ashes heroics.


5.Chances of Winning
1%-More chance of flying to the moon.


India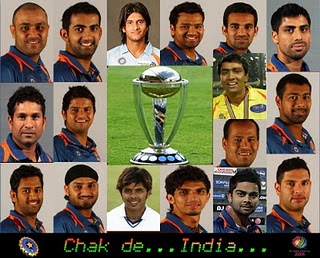 1.Batting
The batting is about as complete as you can possibly get. It has the supreme class of Tendulkar. Then other classy players in Sehwag, Gambhir and Kohli completed by the lower order maulers in Yusuf Pathan, Yuvraj Singh and captain Dhoni.


2.Bowling
The bowling has one of the best bowlers of the World in Zaheer Khan and then a very able off spinner in Harbhahjan Singh. Even though they are very good, the rest are average to be polite and rubbish to be honest. Piyush Chawla, Ashish Nehra and Munaf Patel don't instill the confidence.


3.Weaknesses
The Bowling. The back up bowlers to Zaheer and Harbhahjan are money for old rope and then the part timers in Yuvraj and Yusuf. Though they have been effective against the associate teams, they can't be expected to be decisive factors against the better Teams. M.S.Dhoni's captaincy has also been seen as a weakness for it's very defensive mindset and ill advised decisions. The fielding is on the wrong side of average too.


4.Xfactor
The inclusion of Ravi Ashwin on pitches that are likely to get lower and slower could make the Indian bowling a bit more effective. For Ashwin with his off spin is very effective with his accuracy and very unorthodox and penetrative with his lethal carrom ball


5,Chances of Winning
20%- Their batting can carry them far,but then their bowling and fielding will eventually lead to their demise


New Zealand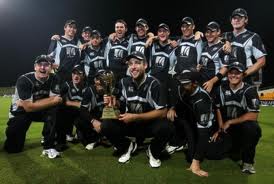 1,Batting
The batting is if they perform very dangerous and in the initial parts of the Tournament they struggled and the team with them. Though with the likes of the Taylors,McCullums and Ryders having started to improve as has the New Zealand. They have very dangerous lower order hitters in Jacob Oram and the unconventional but effective Dan Vettori.


2.Bowling
The bowling has very much been carried by the improving Tim Southee supported by the big hearted types like Kyle Mills and Jacob Oram. Dan Vettori has yet to be a factor at this World Cup with the ball, but has potential to do so.


3.Weaknesses
The bowling is an accident waiting to happen to be honest. Southee has carried it with his very fine performances, but he's a young man and can be reasonably expected to cool off at some point. The rest of the bowlers aside from Dan Vettori are just mediocre trundlers. So against the better Teams they will likely get plundered.


4.Xfactor
Kane Williamson would add some much need class to this Team in the batting department plus he is an exceptional fielders and a useful off spin bowler


5,Chances Of Winning
5%-They haven't the class in particular in their bowling to win the Cup


Pakistan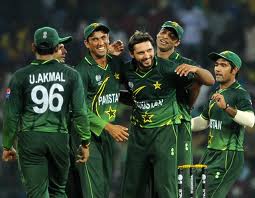 1.Batting
The batting has been very inconsistent with only Misbah ul Huq being a constant performer. Though it isn't lacking in class in regards to players like Younis Khan and Umar Akmal and threat in the lower order hitters such as Shahid Afridi and Abdul Razzaq, the addition of young Asad Shafique might alleviate the issues in the top order.


2,Bowling
The bowling has been carried by Shahid Afridi and Umar Gul. The rest of the attack in Shoaib Ahktar, Razzaq and the spinners in Hafeez and Rehman have had their moments, but can't really be relied on in big matches.


3.Weaknesses
The key one is the keeping of Kamran Akmal and if he's retained then Pakistan have no hope of winning. As seen against New Zealand his drops and attitude just kills the Team like putting termites in wood. The top order is also a worry, but Asad Shafique could assume a role in the top order and alleviate that issue. The bowling is reliant on too few to get Teams out.


4.Xfactor
I think it would be a good ploy rather than wasting Abdul Razzaq at 7 to bat him in the top 4 where if it comes off it could be devastating. Saeed Ajmal needs to come back into the Team too.


5,Chances of Winning
0% If Kamran Akmal is retained as keeper or even kept in the team
25%-They still, if everything comes together, can upend the more fancied Teams and as seen when everything clicked in 1992 can go on a run and win the Cup


South Africa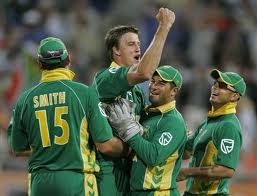 1,Batting
The South Africans have been very fine in this regard highlighted by stars like Hasim Amla, A.B.DeVilliers and J.P.Duminy. With class players like Smith and Kallis yet to leave a mark on this tournament, SA batting looks very strong.


2.Bowling
In truth the best at the World Cup with every aspect covered.


3.Weaknesses
Very few, maybe the lower middle order against a quality spin attack.


4.Xfactor
The Team has been performing very well, but they could do better and be very hard to topple if Graeme Smith and Jacques Kallis start to perform.


5,Chances of Winning
70%-They'll be very hard to beat and has a very good chance to win their first world cup and shed the Chokers tag.


Sri Lanka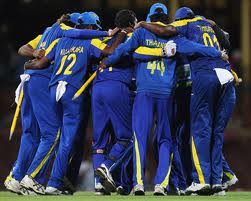 1,Batting,
The batting is based around the elite pair of Kumar Sangakkara and Mahela Jayawardene and they are good-very good indeed! If the openers click which they have in games, it's another huge strength of the team. The lower middle order is workmanlike.


2,Bowling
On a par with South Africa's with a key spear head in Malinga and then spinners that are lethal. In lieu of slower and lower pitches as the World Cup goes on, they'll be even more lethal


3,Weaknesses
The lower middle order is fragile especially if Sangakkara and Mahela are dismissed cheaply. It exposes them and as shown against Pakistan, it may cost them a crucial match.


4,Xfactor
If Sri Lanka had the courage to play Mahela Jayawardene as an opener as they do in T20 cricket.It could be a factor that can win the World Cup especially when chasing a target.


5,Chances of Winning
71%-I'd rate them just ahead of South Africa on the basis that they have so many quality spinners and the pitches will start to favour them.


West Indies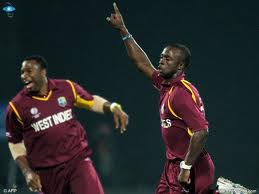 1,Batting
The batting has been very adequate in this tournament and Chris Gayle its king pin has yet to make a decisive contribution. They have the class of Darren Bravo and the acidic threat of Kieron Pollard down the order. Then the workmanlike players to compliment them.


2,Bowling
Like the batting they have got the job done. The unlikely opening partnership of Kemar Roach and Suliaeman Benn have been huge successes. In Roach, they have one of the best strike weapons in this Cup. Then the rest of the bowlers, like the support batsmen, have done their job adequately.


3,Weaknesses
It's hard to pick a weakness out of this Team for they have performed very well in all regards. If anything the lack of supreme class is a weakness. They are very much 11 good players playing exceptionally well as a Team.


4,Xfactor
Chris Gayle is always a threat against any bowling line up, but has yet to exert his influence in this world cup. If he decides to turn up and put in one of his characteristic devastating blitzes, the Windies might be a darkhorse to win it.


5,Chances of Winning
20%-They have, on the basis of performance so far, have a chance to pull off an unlikely win. But I think the team may get ousted of the tournament by a better team.