Yuvraj strikes a ton; Bengal beat Hyderabad
2.25K //
17 Dec 2012, 22:47 IST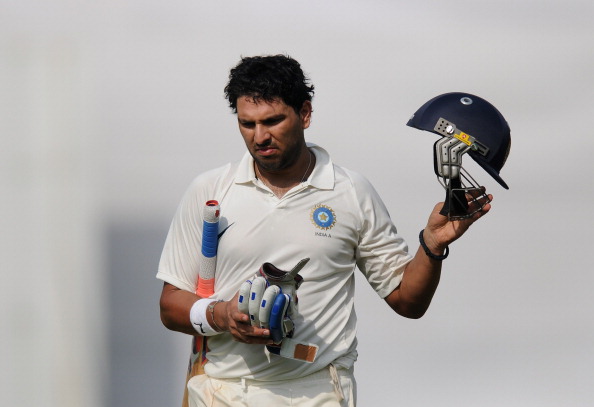 New Delhi - Dropped from the Test side, Yuvraj Singh sent a strong message to the selectors hitting a fine 131 for Punjab while Bengal wrapped up their Group A match against Hyderabad in three days in their Ranji Trophy encounter, Monday.
In a Group A match at the Eden Gardens in Kolkata, Bengal pacer Shami Ahmed finished with a match haul of 10 for 107 runs as the home side beat Hyderabad four wickets.
Resuming at 172/7, Hyderabad were bowled out for 181. Skipper Akshath Reddy fell one short of fifty while Ashish Reddy made 42 down the order.
Half-centuries from Rohan Banerjee (56) and Wriddhiman Saha (52 not out) helped Bengal, chasing a target of 181, make 183 with four wickets in hand.
In another Group A match in Gwalior, Madhya Pradesh enforced the follow-on on Punjab, who were bowled out for 148 in reply to the hosts 323.
But fine centuries by Yuvraj and Jiwanjot Singh (103) took Punjab to 354 for eight in the second innings.
In Mysore, Amol Ubarhande (129 not out, 251b, 18×4) spearheaded a strong reply by Vidarbha, who chasing Karnataka's first innings tally of 619 for eight declared, were 302 for two at stumps on the third day of the Group B match.
Ubarhande's unconquered knock and his 209-run partnership for the third wicket with Shalabh Srivastava (84 not out, 218b, 10×4) helped Vidarbha to recover from 93 for two as the pair put in a fighting performance, though it still left their team trailing by 317 runs with a day to spare.
Earlier, resuming at their overnight score of 48 for no loss, Vidarbha lost both their openers Faiz Fazal (22) and Shiv Sunder Das (53, 136b, 6×4) before Ubarhande and Srivastava came up with a rescue act to keep the visitors in the hunt for a first innings lead.
Brief scores:
Group A:
At Kolkata: Hyderabad 115 all out and 181 all out in 62.4 overs (Akshath Reddy 49, Ashish Reddy 42; Shami Ahmed 6-71, Laxmi Shukla 3-38) vs Bengal 116 all out and 183/6 in 63 overs (Rohan Banerjee 56, Wridhimann Saha not out 52; Anwar Ahmed 3-68)
Match Result: Bengal win by 4 wickets
At Gwalior: Madhya Pradesh 323 all out vs Punjab 148 all out and 354/8 in 92 overs (Jiwanjot Singh 103, Yuvraj Singh 131; Gaurav Yadav 4-86, Anand Rajan 2-61)
At Bhubaneswar: Railways 405 all out vs Rajasthan 135 all out in 64 overs (Ashok Menaria 27; Anureet Singh 5-40, Ranjitkumar Mali 3-42) and 153/2 in 58 overs (Sourabh Chouhan 51, Robin Bist batting 35).
At Rajkot: Mumbai 606/5 decl vs Saurashtra 248/8 in 105 overs (Jaydev Shah 60, Aarpit Vasavada batting 83; Ajit Agarkar 2-55, Dhawal Kulkarni 2-57).
Group B:
At Delhi: Maharashtra 196 all out and 266 all out in 90.4 overs (Harshad Khadiwale 96, Ankit Bawne 55; Sumit Narwal 3-48, Pradeep Sangwan 3-64) vs Delhi 193 all out.
At Vadodara: Baroda 208 all out and 68/1 in vs Tamil Nadu 230 all out in 82 overs (Baba Aparajith 62, Ramaswamy Prasanna 75; Murtuja Vahora 3-36, Sankalp Vohra 2-54).
At Lucknow: Uttar Pradesh 227 all out and 149/4 in 55 overs (Tanmay Srivastava 73; Mohit Sharma 2-38) vs Haryana 276 all out in 102.1 overs (Rahul Dewan 93, Joginder Sharma 65; Ankit Rajpoot 6-68, Imtiaz Ahmed 3-88).
At Mysore: Karnataka 619/8 decl vs Vidarbha 302/2 in 115 overs (Amol Ubarhande batting 129, Shalabh Shrivastava batting 84; Stuart Binny 1-63)
Group C:
At Porvorim: Himachal Pradesh 338 all out vs Goa 347/8 in 142 overs (Swapnil Asnodkar 81, Reagan Pinto batting 85, Amog Desai 59; Rahul Singh 4-71, Karanveer Singh 2-122).
At Dhanbad: Jharkhand 257 all out and 20/0 in 9 overs vs Andhra 410 all out in 119 overs (Amol Muzumdar 180, AG Pradeep 56, Rajes Pawar 41; Sunny Gupta 2-86, Shankar Rao 4-98).
At Delhi: Jammu and Kashmir 85 all out and 269 all out in 107.4 overs (Ian dev Singh 52. Manik Gupta 58, Ram Dayal 62; Suraj Yadav 4-79, Nishan Singh 5-73) vs Services 221 all out and 71/4 in 33 overs (Yashpal Singh batting 40; Ram Dayal 2-15).
At Agartala: Kerala 400 all out vs Tripura 127 all out in 61 overs (Subhrajit Roy 27; Unnikrishnan Manukrishnan 6-37, Sandeep Warrier 3-33) and 70/3 in 47 overs (Abbas Ali batting 24; Sandeep Warrier 2-16)