ISL: New player regulations introduced for season two; salary cap, player auctions to be adopted
6.29K //
10 Mar 2015, 13:45 IST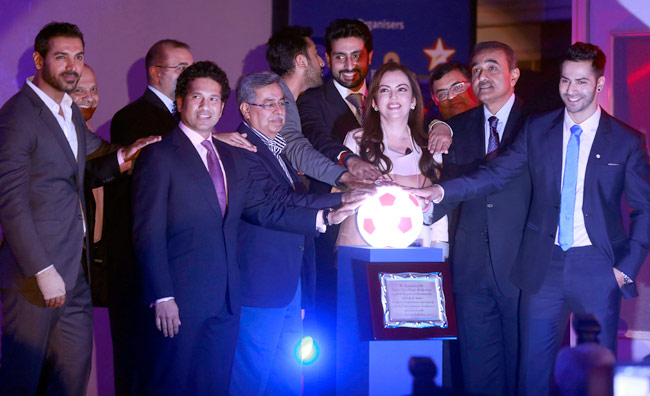 Football Sports Development Ltd (FSDL), the controlling body of the Hero Indian Super League (ISL), today held their first Governing Council meeting in Mumbai to review the inaugural season and existing player guidelines for ISL 2015. The Council committee consists of representatives of all eight ISL participatory clubs and FSDL officials.
The successful inaugural season of the ISL last year saw the tournament become the fourth most watched football league in the world in the year of its initiation. The committee put forth a new set of player regulations for next season's ISL.
The new rules are as follows:
a. Salary Cap for clubs
The Indian Super League clubs will have a player salary cap of Rs 20 crore for ISL 2015.
b. Player Retention
Marquee Player
Each club must have a minimum of one marquee player. Clubs can retain their marquee player from the inaugural season but are free to sign one from the open market, with prior approval from the League.
International Players
Club can retain a minimum of one and maximum of five international players. Additionally, clubs are allowed to contract international players by themselves through the market directly.
Domestic Players
A minimum of one and maximum of six domestic players can be retained by a club. Players who are not part of the retention list of clubs can be signed by any ISL club in the open market until April 2015. In case they are still not contracted, such players will be listed in the Domestic draft.
c. Minimum Squad Size
Each club is to have a minimum of 22 players, with two developmental players necessarily to be in the squad. Each team would consist of one marquee, eight international and 13 domestic players including the compulsory two under-23 developmental players.
d. Maximum Squad Size:
A club can have a maximum squad size of 25. Additional quota of three players can have maximum two international players.
Player Auction for remaining Indian international players
Indian Super League will have an auction for Indian players who have played for the senior national team but missed out on the inaugural ISL season. Each club will be eligible to add only one such player from the auction list consisting of a maximum of 12 to 15 players. Those not picked through the auction will be part of the Domestic Players Draft.
On the new set of rules, an Indian Super League spokesperson said, "The new set of rules are defined to encourage clubs in player retention, assist them in managing the player costs and provide a level playing field for each club to prepare for the second season with a reasonable and broadly equitable chance of winning the ISL 2015. "
"The inaugural year of the ISL brought to fore many new faces of Indian football other than the known international names. The League encourages the Clubs to retain such players to help them build an identity and fan base."