TAL: Gameweek 6 Roundup - Horizons FC take 3-point lead in the table
1.47K //
05 May 2015, 17:33 IST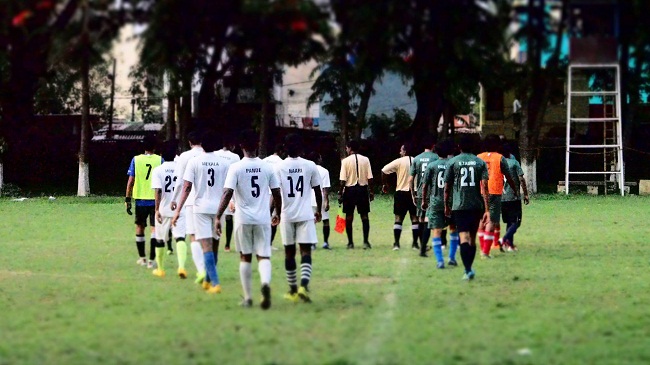 Horizons FC beat Saints FC in a tight game between the title contenders as third place Gremio scored a record 16 goals against Mercurial FC. Project 7, Flipkart FC, Samba FC and FC Kougen Kikou also recorded victories in a game-week that saw no draws.
Yataghan BFC 2-4 Flipkart FC
The first game of the day saw Flipkart FC come from behind to beat Yataghan to and move up to fourth place. Flipkart scored first but Yataghan replied in quick succession to go up 2-1 before Sam Reynolds was sent off for picking up a second yellow. Flipkart took full advantage of the sending off to overpower a depleted Yataghan squad.PavanPowar scored a hat trick as Yataghan's defence were unable to handle his speed and succumbed to his powerful runs.
Scorers: Yataghan BFC (Kevin George 18'; Jay Singadia 22'); Flipkart FC (PavanPowar 15',36', 44' ; RohitGautam 42')
Indian Ocean 0-1 Project 7
A tight game between Indian Ocean and Project 7 was only decided when Arpan Roy scored a late winner to ensure all three points for latter. Indian Ocean was coming off a big win against FC Kougen Kikou in GW 5 but failed to replicate the same form as the team found no cohesion throughout the game. Project 7 picked up their second victory of the campaign to move them away from the relegation zone.
Scorers: Project 7 (Arpan Roy 58')
Samba FC 3-1 Rare Dare FC
Samba FC had a resounding victory in their derby against Rare Dare FC to make sure they have bragging rights till they meet next time. Samba FC rebounded well after their 9-0 thumping to Horizons and played with good confidence as they opened the scoring early in the game through Avi Nash. Rare Dare FC played well but lacked finesse in the final third but that can be attributed to Samba's defence who once again rose up to the challenge and kept their opponents at bay.
Scorers: Samba FC (Avi Nash 3', 7'; Vengateshan Kumar 23'); Rare Dare FC (Don Bosco 27')
Horizons FC 3-1 Saints FC
The headliner of the day between the top two teams did not disappoint as Horizons FC won a close game to take them one step closer to the title. Saints FC displayed strong character as they defended resolutely in the first half and were unlucky to be a goal down going into half time. They responded well to get the equalizer but as the game wore on, Horizons ramped up their game and some incisive passing eventually got them two late goals. Saints will now be hoping that Horizons falter at some stage in the coming weeks to catch up with them.
Scorers: Horizons FC (Dinesh Kumar 24', 57'; Satish Kumar 52'); Saints FC (Debangshu Seal 34')
Mavericks FC 1-2 FC Kougen Kikou
FC Kougen Kikou picked up a well-deserved victory over Mavericks FC in an end-to-end game. FCKK hadn't been performing at a good level over the past few weeks but seemed to have changed things around with some new additions to the team. Mavericks FChaven't found consistency to their season yet and this loss pushes them down to 9th in the standings. FCKK on the other hand will hope this victory will propel them to a strong finish to the season.
Scorers: Mavericks FC (VikasHalali 59'); FC Kougen Kikou (TakahisaKiyone30'; Yuki Nyumara 48')
Gremio FC 16-0 Mercurial FC
In what was the most lopsided game of the week, Gremio ran out winners in a 16-0 thrashing of Mercurial FC. Gremio was coming off two back-to-back losses but managed to turn things around in fashion by scoring the most number of goals in a match in TAL history. Vignesh D scored 6 goals and Monish Yadav added 5 more as the Mercurial defence was often found stranded hopelessly out of position. Mercurialis without any wins and needs a miracle if they are to stay up in Division 1.
Scorers: Gremio FC ( Satish Kumar 4' ; Monish Yadav 6',10',19',30', 57' ; Vignesh D 21',25',38',45',49', 58'; Mani Maran Jr. 14'; Narayan PL 44'; YeshwanthMekala 59')
TAL Standings (After Gameweek 6)

| # | Name | GP | W | D | L | GF | GA | GD | PTS |
| --- | --- | --- | --- | --- | --- | --- | --- | --- | --- |
| 1 | Horizons FC | 6 | 6 | 0 | 0 | 32 | 1 | 31 | 18 |
| 2 | Saints FC | 6 | 5 | 0 | 1 | 25 | 4 | 21 | 15 |
| 3 | Gremio FC | 6 | 4 | 0 | 2 | 22 | 11 | 11 | 12 |
| 4 | Flipkart FC | 5 | 3 | 1 | 1 | 11 | 6 | 5 | 10 |
| 5 | Yataghan BFC | 6 | 3 | 1 | 2 | 14 | 10 | 4 | 10 |
| 6 | Samba FC | 6 | 3 | 1 | 2 | 10 | 13 | -3 | 10 |
| 7 | Project 7 | 5 | 2 | 1 | 2 | 6 | 10 | -4 | 7 |
| 8 | FC Kougen Kikou | 6 | 2 | 1 | 3 | 6 | 11 | -5 | 7 |
| 9 | Mavericks FC | 6 | 2 | 1 | 3 | 8 | 14 | -6 | 7 |
| 10 | Indian Ocean | 6 | 1 | 0 | 5 | 10 | 17 | -7 | 3 |
| 11 | Rare Dare FC | 6 | 1 | 0 | 5 | 6 | 24 | -18 | 3 |
| 12 | Mercurial FC | 6 | 0 | 0 | 6 | 3 | 31 | -28 | 0 |
TAL Season 2 - Top Goal scorers after Gameweek 6

| # | Name | Team | Matches | Goals |
| --- | --- | --- | --- | --- |
| 1 | AkshayRawat | Saints FC | 6 | 8 |
| 2 | Vignesh D | Gremio FC | 4 | 7 |
| 3 | Monish Yadav | Gremio FC | 6 | 5 |
| | Kevin George | Yataghan BFC | 5 | 5 |
| | Rahul Singh | Project 7 | 5 | 5 |
For more information about The Amateur League, you can follow us on Facebook and YouTube