TheFootballLink organises AIFF Grassroots Program in New Delhi
1.80K //
22 Dec 2013, 19:37 IST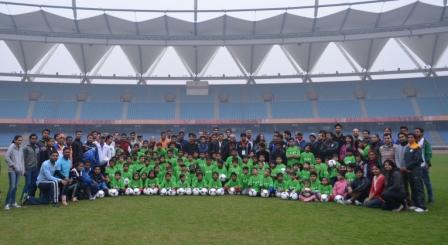 New Delhi, 22nd December'13 TheFootballLink Sport in association with the All India Football Federation (AIFF), Sports Authority of India (SAI) and Delhi Soccer Association (DSA) organised the AIFF Grassroots Program for 45 grassroots football coaches across Delhi at the Jawaharlal Nehru Stadium from the 20th to 22nd of December, 2013.
This course was specially designed for grassroots coaches/leaders and is part of the FIFA and AIFF Grassroots Development Program. This is the first time Delhi witnessed this course which gave the participants an understanding of the philosophy, organization and implementation of grassroots Football in India. The participants had multiple theory and practical sessions and were also introduced to the importance of small sided games, code of conduct and child safety procedures for children between 6 to 12 years of age.
The course concluded with a mini AIFF Festival where program participants conducted coaching sessions and small sided games for 85 young footballers (6-12 yrs). The course was conducted by AIFF representatives Mr Suvrat Thatte (Grassroots Development Manager), Ms Anju Turambekar (AIFF Grassroots instructor), Mr Keshav Dutt (AIFF Grassroots instructor) and Indu Choudhury (Manager, Indian Women National Team). Mr Hira Ballabh (Executive Director, SAI) and Mr. Biraja Misra (Chairman, TheFootballLink) felicitated the coaches with the AIFF Grassroots Coaching certificates.