Talking Tactics: Liverpool FC's attacking combinations Part 2
This time, I?ll be talking about stranger alternatives for Kenny Dalglish to opt for. One that will require closer examination over the next few months, including the changing of tactics and the use of players. For Part 1, Click here! Part 1 Exerpt Andy Carroll and Luis Suarez Generally, I think that Luis Suarez has [...]
This time, I'll be talking about stranger alternatives for Kenny Dalglish to opt for. One that will require closer examination over the next few months, including the changing of tactics and the use of players.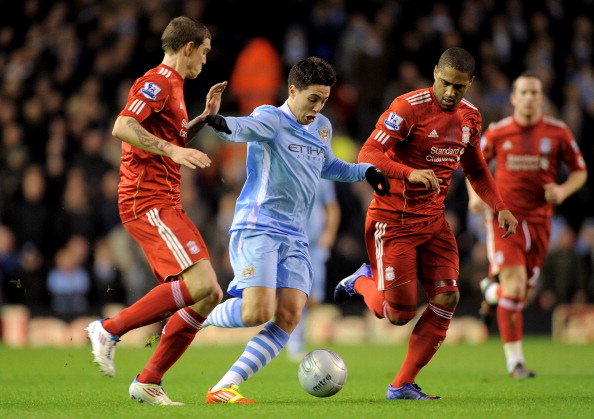 Glen Johnson Pushed Up?
Yep. Here's one of the more discussed changes discussed amongst Liverpool FC fans worldwide. The pushing up of rightback Glen Johnson to becoming a winger. It makes perfect sense. Martin Kelly slotting in right behind him, decent crosses from the right wing, useful overlapping and a good understanding already established between our two English defenders, and it seems like a good idea.
It's an idea that should be trialled more by Kenny Dalglish. After all, Glen Johnson has in fact already supplied a good number of quality (and dangerous) crosses into the box so far this season, and it is definitely not his distribution that will be under the scope if he is given the role further up the pitch. The Englishman has already come out and said that he would be willing to play in any position in which he will be helping the team, so I definitely think that we should try this.
Daniel Agger Pushed Up?
Yes, I will be discussing a lot about defenders in this post, because the next player I'm going to talk about is, yes, you guessed it, Daniel Agger. What I think would help the team would be if Agger is pushed up to a defensive midfielder, or as they call it, the Lucas Leiva role.
Why? Well, our defence has been quite strong this season, and I honestly think that Jay Spearing is still not an adequate enough replacement for Lucas Leiva, add to that the fact that Sebastian Coates should be given a chance at the heart of Liverpool's defence and you would get Agger in midfield. I know that he has played very well right at the back for Liverpool alongside Martin Skrtel, but give me a chance to explain and hopefully I can change your minds.
First reason why he should move up: his movement. When he goes up in support of the attack, more often than not, he knows what he is doing. Whether it be a shot or a pass that comes after a long run, Daniel Agger has a good football brain, and will be capable of supporting the attack with such runs straight at his opponents throughout the course of 90 minutes.
Second reason? His tackling and tactical discipline. From my understanding, Steven Gerrard has been given a very restricted role where he is not allowed to move up very much. With Jay Spearing in our midfield, I actually struggle to see why we can't operate using something like a 4-1-2-1-2 diamond formation, with Spearing shielding the defence. But somehow, I feel that Dalglish doesn't fully trust the abilities of our academy graduate, hence Gerrard playing often right alongside Spearing. Agger is a proven central defender, and with his defensive protection, it will allow the license for Steven Gerrard to get forward and do what he does best, score goals and cause problems.
Just can't wait till our Danish defender returns.
Click here for part 1 of this article.