Hot action likely in Chikmagalur Rally
793 //
22 Nov 2012, 17:19 IST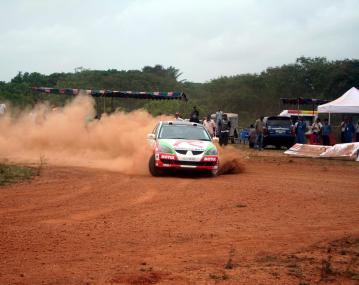 Chikmagalur - There is a sense of unprecedented enthusiasm ahead of the two?day Coffee Day Rally that doubles up as third round of the FMSCI Indian National Rally Championship (INRC), commencing here Friday with 43 vehicles in the fray.
The rally crews last saw action two months ago during the Karnataka?1000 that opened the much delayed 2012 INRC season while the second round in Kodagu in October was cancelled due to heavy overnight rains.
The rally terrain is said to be smooth with a few fast sections.
"Last year, the average speed in the Birur stage was 94 Kmph and we expect the same this time around," said Farooq Ahmed, vice?president of Motor Sports Club of Chikmagalur.
For the competitors, it has been a frustrating wait as the cars that were prepared for the rally of Coorg have been lying idle.
"Not much of time in the rally car since K?1000 after which we briefly tested the vehicle to check out some changes. Beyond that, absolutely no testing as the car was fully prepared for the Coorg Rally that was cancelled," said Zuhin A. of Team Kajah Motorsport, the only entrant along with co?driver Moosa Sherif, in the IRC class driving a Subaru Impreza WRX STi.
Zuhin, who hails from Trichur, echoed the sentiments of other competitors among whom Mysore's Lohitt Urs (co?driver Sujith Kumar), winner of the K?1000 Rally, is expected to again dominate alongwith Kolkata's Amittrajit Ghosh (Ashwin Naik) who finished second.
Urs, representing Team PGA Horizon R3A, and Ghosh head a grid of 13 stock Mitsubishi Lancer Cedia cars in the Group N 2000cc class that also includes young guns like Karna Kadur (Somonita Ghosh) who was third in K?1000.
Ranged behind them are the experienced trio of Vikram Devadasen (Somaya), Urs' teammate Rahul Kanthraj (Vivek Bhatt), both from Bangalore and Kochi's Bikku Babu (George Varghese) of Team Musli?Power Motorsports.
Further down the grid, the top three finishers in the 1600cc class in K?1000, Adithya S. (Kariyappa K.B.), Siddharth Ranganekar (Nitin Jacob) and Prakhyat Shirole (S.M. Bharath) will resume their battle.
Of particular interest will be the performance of Mangalorean Dean Mascarenhas (Shruptha Padiwal) in the Junior INRC class (Maruti Esteem) that is open only to Under?23 drivers. Mascarenhas was smooth while clocking the seventh best time in K?1000.
For hardcore rally fans, the presence of three vehicles in the non?championship Gypsy class would be welcome. In the fray are Bangalore's Sanjay Agarwal (Shiva Prakash) and Sri Harsha (Raashid Kazi) and Shafeeq?ur Rehman (Dr Dinesh) from Chikmagalur.
The popular Gypsy class was scrapped at the end of 2011 season but there are increasing requests for restoring the category.
"We know there are no prizes for winning in Gypsy class but we are hopeful that more competitors will join us in the future and hopefully something good will come out of it," said Agarwal.
The two physical Special Stages of Birur (12.5 km) and University (18 km) will be run thrice Saturday while the Spectator Special Stage of 2.5 km at the Amber Valley school grounds will be held Friday afternoon. The total Rally distance is 367 km of which 94 km comprise competitive section (Special Stages).