Dhaulagiri next target for ace mountaineer Debashish Biswas
779 //
01 Dec 2012, 15:45 IST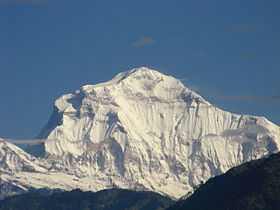 Kolkata, Dec 1 (IANS): The seventh highest peak in the world, Mount Dhaulagiri, will be the next target of Mt. Everest conqueror Debasish Biswas next summer, the ace mountaineer said here Saturday.
"Mountaineering has been a hobby for the last 18 years and Mt. Dhaulagiri is the next target," said Biswas, who is an income tax officer by profession.
By scaling Everest in 2010, he became the first Bengali civilian climber. This was followed by a successful stint to climb the third highest peak in the world Kanchenjunga in 2011 and subsequently Annapurna, the tenth highest peak in the world.
"After the climb, I capture the surrounding scene and convert them into movies," said Biswas, who has also authored a Bengali book on the Everest climb.
Terming the Dhaulagiri terrain as 'harsh and unforgiving', the experienced climber said he plans to summit the range in about 52 days.
"We will start in April and roughly within 50 to 60 days we intend to be at the top," Biswas told mediapersons here.
Since the expedition will be attempted through the north-east ridge of the mountain in Nepal, necessary arrangements have been made by the Nepal government.
Besides equipment and state-of-the art mountaineering gear, Biswas has been physically and mentally preparing for the expedition.
"Since I am trained and experienced, I know what physical challenges to expect and I have been preparing rigorously. Also I have been reading up on the terrain to get a basic idea," said the climber, who expects the budget to be around Rs.12 lakh.