NFL Draft: New York Jets select TE Jace Amaro of Texas Tech in the second round
Image: USATSI With their 49th overall selection, the Jets selected the third tight end off the board, and arguably the second-best of the draft. Jace Amaro has been a Jets fan-favorite, within the remaining talent pool. A large amount of wide receivers were left on the board at the time of the pick, including WR [?]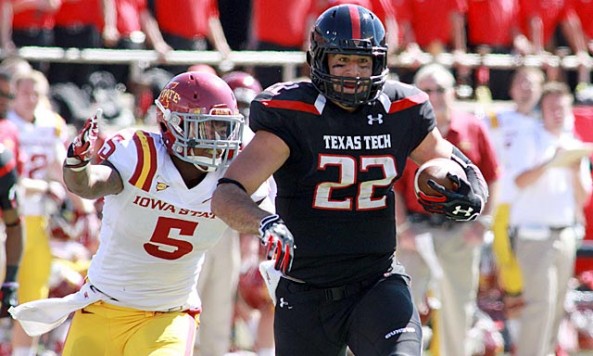 With their 49th overall selection, the New York Jets selected the third tight end off the board, and arguably the second-best of the draft.
Jace Amaro has been a Jets fan favourite from within the remaining talent pool. A large amount of wide receivers were left on the board at the time of the pick, including WR Allen Robinson, WR Cody Latimer, WR Jarvis Landry. However, given the position's depth versus that at tight end, John Idzik and Co made another value-based selection. Hard to argue with that.
Amaro is a big dude – 6'5″, 265 lbs – and should see immediate time on the field, alongside recently extended TE Jeff Cumberland.
Last season, Jace Amaro accumulated 1,352 yards on 106 receptions, and seven touchdowns, in Texas Tech's 'Air Attack' offence.
Brian and Jared's thoughts on the selection:
Brian: "I have some concerns with Amaro's character. He seems a little rough around the edges – has had run-ins with the law – but the Jets may need that spark on offence. The defense, thanks to Rex Ryan, has had that toughness. The offence, however, hasn't had a player that will scare defenders over the middle of the field. With Jace Amaro's big body and will to win the 50/50 balls, it is still a solid pick-up."
Jared: "I was very high on him, initially (not as much with wide receiver options). Still, he was productive in his role at Texas Tech. Mornhinweg likes to be dynamic; he understands the evolution of the NFL. The Jets will be able to bully opposing defences, which is why he makes sense over some of the wide receivers on the board. He can be a red zone threat, while giving value in-between the 20s."
http://youtu.be/Fpa9ITVamVI