Pre-Olympic Qualifier: India Drew Myanmar 1-1 to Progress to the Next Round
548
India progressed into the first round of the 2012 AFC Olympic Qualifiers after a 1-1 draw with Myanmar in Yangon on Wednesday. This draw gave the Indians an aggregate 3-2 win against the ASEAN outfit after winning the first leg 2-1 in Pune last month.
Myanmar drew the first blood in the 64th minute through substitute Kyaw Ko Ko and were riding high with their away goal advantage till the 90th minute when Viva Kerala striker C.S. Sabeeth, who came in for defender Inderpreet Singh scored the equalizer which ensured India a place for the first round.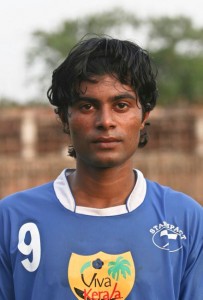 Needing a goal to razed India's dream, Milan Zivadinovic's side stated on a positive note and created better chances to keep Bulpin's side on the back foot. However the young Indian's also did well and restricted the Burmese and even created few half chances which midfielder Silton failed to convert.
Robin Singh and C.S. Sabeeth, who missed the first leg due to non registration, were left on the bench, as Bulpin preferred not to disturb the first leg goal scoring pair – Jeje and Malswamfela. Later Robin substituted Malswamfela and Sabeeth replaced defender Inderpreet Singh when Indian's were all out hunting for the much needed goal.
Earlier, to India's advantage, Myanmar's would be hero of the day – Kyaw Ko Ko was given a marching order after he collected his second yellow card. India then pressed hard for the equalizer which eventually came in the dying minutes through Sabeeth which was enough to take India through to the next round.
So far India, Turkmenistan, Jordan, Hongkong, Kuwait, Iran and Oman have qualified for the next round where top thirteen Asian teams are waiting. Four other teams from the pre-qualifying round will also make it to the next round totaling 24 teams.
The next round match will also be home and away playoff. Twelve teams emerging winner from the qualifying round will be divided into three groups with four teams each, who will also play home and away format. All the group winners qualify for the Olympic. All the second placed team will play in a round robin format and the winner will take on CAF's representative for a place in the Olympics.
The first leg of the qualifying round will be played on June 19, 2011, and return leg on June 23, 2011.