ATP Dubai Finals Preview: Federer to take on Murray
806 //
03 Mar 2012, 09:53 IST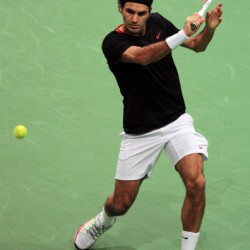 Roger Federer will take on Andy Murray in the finals of the ATP Dubai Duty Free Tennis Championships after both scored straight sets wins on Friday.
Federer beat former US Open champion Juan Martin del Potro 7-6, 7-6 for his third win over the Argentine in 2012 while Murray was in impressive form, beating world no. 1 Novak Djokovic 6-2, 7-5, halting the Serb's 10-match win streak this year and 18-match win streak at the Dubai event.
Many expected Murray to have another post-Australian Open slump like he did the last two years, which he himself acknowledged in his post match interview. "I've had a lot of tough losses in my career," said Murray. "To come back from them hasn't always been that easy. I think it's big for me that after Australia this year I've come back and had a win like tonight. Hopefully that will set me up well for the year. Confidence in tennis and almost any individual sport is so important. A win like tonight will do that no harm; therefore, mentally I'm sure I'll be stronger."
But the induction of Ivan Lendl into his team seems to have had more than a positive effect on the Scot. And the world no. 4 takes an 8-6 career record against Federer into the final, though their last encounter was at the ATP World Tour Finals in London in November 2010 which the Swiss won. Murray is an even more impressive 8-4 against the Fed when it comes to best of three sets matches
Ironically, all of their 16 matches have been on hardcourts and the faster courts this year in Dubai should help the Swiss more than the Scot.
"I'm just excited playing against him again after such a long time," said Federer, after his win on Friday. "It would be wonderful to win five [titles]. It's only happened at a handful of tournaments maybe in my career. It's nice to be back in another final. That's what I kind of play for, to be there and get a chance to win a tournament. I've played really well the last few months. I've hardly lost. It's great that momentum is on my side. I'm really match tough right now, and I hope I can take it one step further tomorrow. We'll see how it goes."
Whatever the result, the men's season just got a whole lot more interesting. Djokovic will not find it as easy to dominate in 2012 like he did last year and with world no. 2 Rafael Nadal coming back for the Indian Wells-Miami swing, things will only get more heated up over the next few weeks.