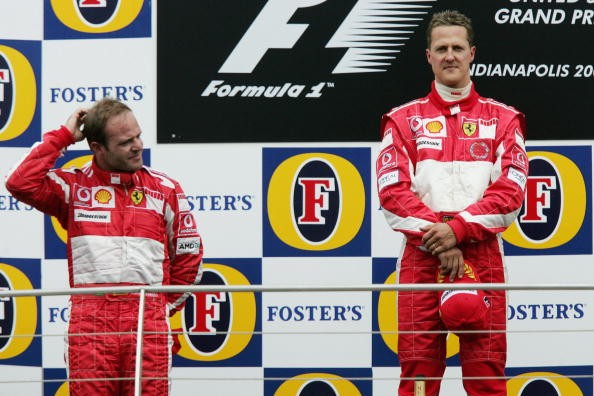 Formula 1, for more than half a century now has served as the epitome of racing where championship winners are immortally engraved as legends. But in this sport of glory, there have been several deserving candidates, who although possessed all the essential ingredients to be a champion, but failed for the fate played such games in their careers that they were never able to shine through and gain the ultimate glory.
We take a look at Formula 1 drivers who have had stellar careers in their own right but due to one reason or the other were not as successful as their teammates.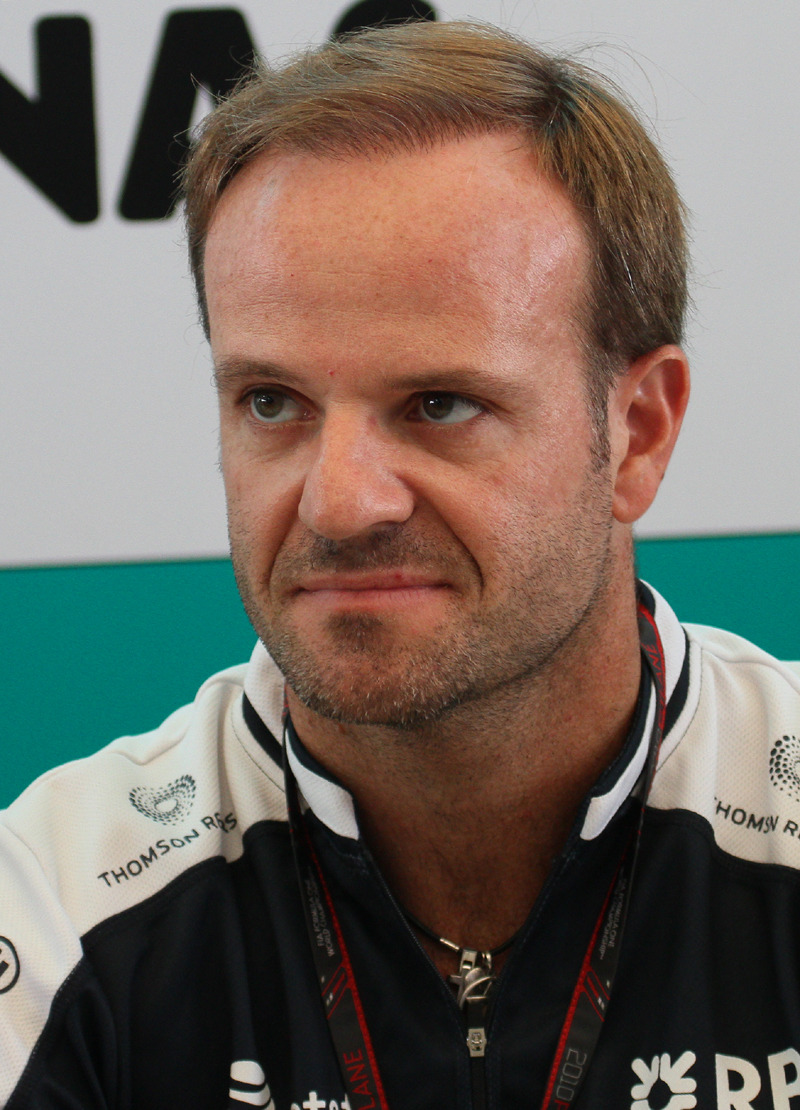 Barrichello has the distinction of having endured the longest career in Formula 1 history, but most of his time in the sport was marred by uncompetitive machinery or dominant teammates.
In 1990s, Barrichello stacked up several podium finishes with midfield teams, which considerably increased his worth. But when he was signed by Ferrari from 2000 onwards, it was essentially as a second driver to Michael Schumacher who had the entire team working around him. Although he enjoyed the best results of his career – which included nine wins and several podiums – he had to play second fiddle to Schuamcher whenever the need arose.
When he finally left the team in 2005 to join Honda, his luck turned sour again as his machinery was not competitive, and was also consistently outscored by his teammate Jenson Button.
In 2009, with Brawn GP he finally found himself in a competitive car, but again, it was teammate Button who outscored him and took the championship. After this final shot at success, Barrichello's star dimmed and after two moderate seasons with Williams he was left without a drive by the end of 2011.
Had he not spent his peak years with Ferrari, where he basically played assistant driver to Schumacher, he would likely have found much greater success and possibly even attained championship glory. But it seemed that luck was not in his favour in spite of his talent.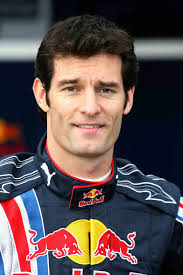 Ever since his debut in 2002, Webber had earned quite a great reputation for himself and was counted among those drivers who had talent, but were just missing a competitive motor. This finally worked out for Webber in 2009, when his team Red Bull, taking advantage of radical rule changes introduced that year, came up with an excellent package. Webber finally achieved his first victory that year in Nurburgring and also again stood at the top step of the podium in Brazil, this was also supplemented by several podium finishes. But during this while he had been partnered alongside Sebastian Vettel, an up and coming talent who on the other hand had secured four wins on the way to second place in Drivers' Championship.
But it was 2010 which proved the most painful for him. Webber was in the form of his life this year as he secured four wins and led the championship for a while, but eventually again his teammate surpassed him. Vettel secured five wins and crucially got in form at the time when Webber's form dipped, that is during the end of the season and thus finally Vettel won the championship and Webber was left to contemplate on what would have been the result had he not committed mistakes at few crucial races at the end of the season.
In the following years, Webber couldn't stop his teammate from winning further three consecutive championships. During this while, although he consistently scored podiums, but didn't manage enough wins, Vettel just proved too quick for him. He finally retired after 2013 to join Porsche on their return to World Endurance Championship
On the whole, Webber did have a great career with several great wins and podium finishes, with the only missing factor being a World Championship.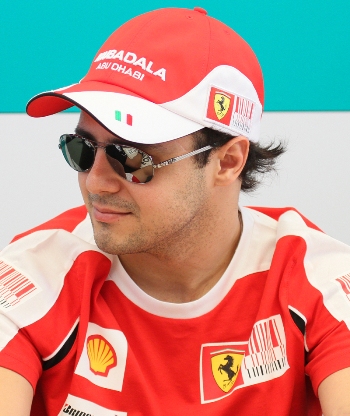 The Brazilian arrived in Formula 1 in 2002 with Sauber and spent three productive years with the team, during which he secured several top five finishes. His performances proved enough for Ferrari to sign him up for 2006. Paired alongside Schumacher, Massa had to more or less play a supporting role to the seven time champion, who then was in his swan song.
His next three years with the team, when he was partnered alongside Kimi Raikkonen proved to be the peak years of his career. Although Raikkonen was supposed to be the number one driver in the team, Massa outperformed him frequently and after being outscored in 2007, he beat him comfortably in 2008. 2009 would have continued the story had he not unfortunately suffered injuries from a crash at the Hungarian Grand Prix that year.
When he finally resumed racing the next year, something definitely seemed amiss in his form. From 2010 onwards he was partnered alongside Fernando Alonso who practically had the entire team based around him. During 2010-2013, Massa frequently performed below par and remained consistently behind his teammate, which further cemented his number two status. During this last four year stint with the team, on several occasions he had to assist on track towards Alonso's bid for the championship and only succeeded in getting eight podiums without any wins during this period.
It was finally when he signed up with Williams for 2014 that he regained some of his lost form as he secured several podiums that year. But again fate played its hand, as this time he was up against the highly talented youngster Valtteri Bottas who frequently finished ahead in both qualifying and race sessions. In the end he comfortably outscored the Brazilian in the drivers' championship and the same trend seems to be repeating itself this year too.
Massa although had a few great years from 2007-09, but especially after his accident he has spent his career being second to his teammates; whether Alonso or Bottas.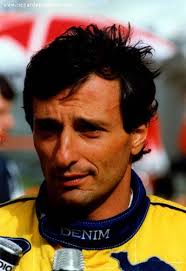 Patrese enjoyed a long F1 career, but due to bad luck and his own inconsistencies he was outperformed by his teammates whenever he had competitive machinery
Ever since his debut in 1977, it was clear that Patese was quick but prone to mistakes. His debut season with Shadow did not wield results, but it was his tenure at Arrows from 1978 to 1981, which proved to be much better as he secured three podiums and one pole position. In 1978 and 1981, he comprehensively outperformed his teammates Rolf Stommelen and Siegfried Stohr, while he was evenly matched against the experienced Jochen Mass from 1979 to 1980.
Then from 1982 to 1983 with Brabham, he finally got competitive machinery and secured two wins, but that didn't amount to much as it was his teammate Nelson Piquet who took Championship success in 1983. In the mid 1980s, he spent several uncompetitve seasons with teams like Benetton and Brabham, but still he did outperform his teammates during this while.
In 1988 with Williams, he found himself in competitve machinery again but couldn't overhaul his teammate Nigel Mansell. The next year proved to be much better as he outscored Thierry Boutsen in a closely fought battle by just three points. The season turned out to be his best yet, as he secured six podiums on his way to third place in the Championship. Although after this in 1990, tables turned as this time it was Boutsen who finished ahead of him in the Championship.
1991 saw the return of Nigel Mansell to the team, the Brit was consistently quick and comprehensively outperformed Patrese during their two years together in the team. Although he did manage several podiums alongwith a few wins, but it wasn't enough to stop Mansell from clinching the Championship title in 1992. The next year he moved to Benetton, where he was partnered alongside the highly talented Michael Schumacher. By this time his form was on the wane and he couldn't outperform Schumacher, who in the end managed fifty two points to Patrese's meager twenty. Left without a drive for 1994, he duly retired, but only after becoming the most experienced F1 driver until that time.
On the whole, Patrese did manage to overhaul many of his teammates, but whenever he was in a competitive machinery, it was his teammates rather than himself who most of the time garnered greater success. If it wasn't for this single factor, then surely he would have had a much better career.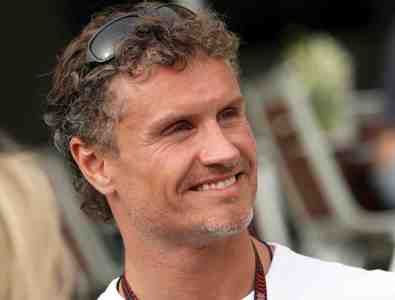 Coulthard made his F1 debut in 1994 for Williams, as a replacement for the 'greatest driver in the world' – Brazilian Ayrton Senna, who had passed away following his accident at the San Marino Grand Prix.
During his time at the team till 1995, it was his teammate Damon Hill who consistently outscored him and challenged for the World Championship.
This was followed by a long term stint at McLaren, where Coulthard remained from 1996-2004. For most of this period he was partnered by Finn Mika Hakkinen. Although Coulthard did finish ahead of him in 1997and 2001, it was Hakkinen who was ahead in the most crucial times as he clinched successive drivers titles in 1998 and 1999. Although Coulthard had enough race pace to match Hakkinen, it was the Finn who had the edge when it came to qualifying and thus maintained the upper hand.
Then from 2002 onwards he was partnered with another Finn – Kimi Raikkonen, who comfortably outscored him during their time together. After this, from 2005 onwards his time at Red Bull was not very fruitful as the team were not competitive. His form seemed to start to dwindle with age.
All in all Coulthard was a great driver, who only lacked a bit in qualifying pace and had luck been in his favour, he would surely have been a World Champion.