WWE Rumors: Becky Lynch botches important spot at The Royal Rumble 
11.79K //
07 Feb 2019, 21:36 IST
What's the story?
Becky Lynch won the second annual Women's Royal Rumble but her recent knee injury proved that this win came at a price. Despite Lynch being suspended because she refused to seek medical attention for her injury, it appears that The Man's selling at The Royal Rumble may have given the game away.
In case you didn't know...
Lynch was not an announced member of the Women's Royal Rumble match and was only added when it was made clear that Lana was unable to claim her spot due to injury. Lynch was then forced to wrestle her second match of the night and Charlotte ensured that she targetted her knee throughout, something that has left The Man limping and in need of a knee brace ever since.
Lynch was then suspended on Monday Night Raw when it was made clear that she was yet to see a doctor, but this didn't stop her from becoming physical with both Stephanie McMahon and her husband Triple H.
The heart of the matter
Lynch's left leg is the one that has been in a brace over the past week and it's the one that Lynch has obviously been limping on, but eagle-eyed fans have caught the fact that Lynch may have botched her selling of the injury at The Royal Rumble.
As the following images show, Lynch grabbed her right knee following the injury before later swapping and deciding to sell her left leg instead.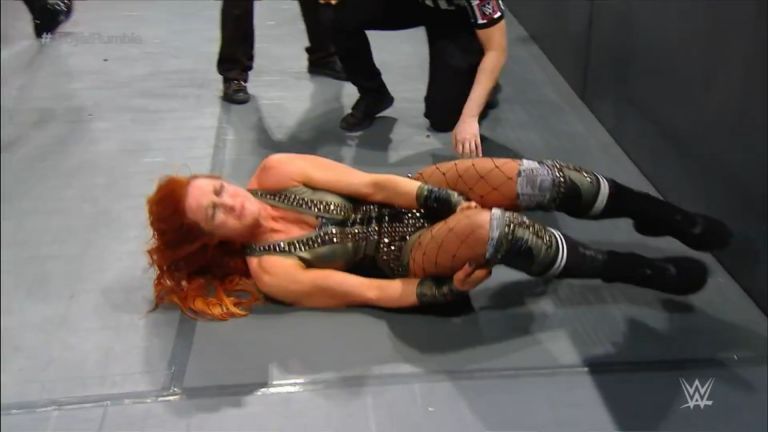 What's next?
Becky Lynch has been using her knee injury to progress throughout this WrestleMania storyline with The McMahon's and even though she seemingly botched the initial selling of the injury, the storyline seems to be moving along quite well.
---
Did you notice the Royal Rumble botch? Have your say in the comments section below...