Read more:
Former World Champion Laishram Sarita Devi defeated Alexandra Kuleshova of Russia in a pulsating contest of the 51 kgs wt cat at the 6th World Women's Boxing Championships at Barbados on 10 Sep evening. Alexandra was shorter in height but was very aggressive in the bout. At the end of Round 1, Sarita was ahead by 2:1 pts and at the end of Round 2 was still marginally ahead by 3:2 pts. However in the 3rd Round, the Russian took a slender lead and was ahead by 7:6 pts. However in the 4th Round, taking cue from the advise of the Chief Coach  Mr Anoop Kumar, Sarita went all out attacking her opponent relentlessly which paid rich dividends. She first equalized her opponents score and then shot ahead to finally win convincingly with a score of 11:8 pts. Her next opponent will be Yazici Sumeyra of Turkey on 12 Sep 2010.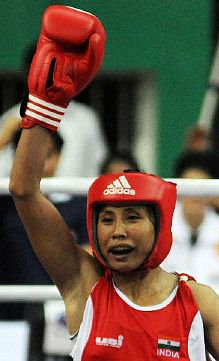 When asked to comment on her victory, Sarita said that she has worked very hard to reach her present level. She also stated that she found it difficult against her opponent as the Russian Boxer was shorter in height. Hence her victory was all the more sweeter as she has never played against this Russian boxer. Sarita said that her dream is to win the Gold medal here as well as at the London Olympics in 2012.
India had an unlucky  day as far as the other three boxers were concerned. In the 64 kgs wt cat, Pratibha Jakhar lost to Jackson Cashmere of USA by RSC 1st Round when the score was 7:2 in favour of the American boxer. In the 69 kgs Kavita Goyat was unlucky to lose to Andrea Strohmayer of Germany on pts 4:7. The final score does not indicate the actual postion . At the end of Round 1 both boxers were tied at 1:1 pt each. After 2nd Round Kavita Goyat was ahead by 2:1 pt and the lead increased to 3:2 pts in the 3rd Round. But in the last Round  the lead increased to 7:4 pts. In the 75 kgs wt cat Aswathy Mol lost to Sagaydakovskaya Inna of Russia on pts 1:5. After Round 1 the score was 1:0 in favour of the Russian boxer. After Round 2 it was 2:1 in favour of the Russian but in Round 3, the Russian took a convincing lead and the score became 5:1. Round 4 was without any points for either of the boxers.
On 11 Sep Mary Kom will take on Jenny Smith of Australia in the 48 kgs wt cat while in the 60 kgs class Neetu Chahal will play against Katie Taylor of Ireland who is the current World Champion.
Regards,
Follow @SportsKeeda
Report Error