"I was gonna f*cking neck him" - When major AEW star almost had a real-life altercation with The Miz
"I was gonna f*cking neck him" - When major AEW star almost had a real-life altercation with The Miz
Throughout his wrestling career, The Miz has made a few unlikely alliances despite seemingly getting under everyone's skin, especially the skin of AEW star Bryan Danielson. A recent clip resurfaced on social media with Bryan Danielson discussing the initial plans for the iconic Talking Smack segment with The A-Lister.
In 2016, while Danielson was sidelined from in-ring competition due to an injury, he took to hosting Talking Smack alongside Renee Paquette and a few WWE stars as guests. Over time, The Miz and The American Dragon used it as a platform to exchange heated words with each other.
Recently, an interaction with the AEW star resurfaced wherein he talked about The Miz and his initial plans for the segment. He cited his interest in bringing real-life heat to that segment by punching The A-Lister:
"So, we came up with this thing in the original plan that Mike and I had come up with, I was gonna f*cking neck him. We wanted to get under each other's skin so much that it was plausible that I would legit be angry enough to punch him. And so that was the intent. And then I was gonna punch him and then we thought, and the idea was either they're gonna fire me or it's gonna make people want to see the match so much." (00:12 - 00:45)
---
Bryan Danielson is currently vying for the AEW World Championship
Last year, Bryan Danielson commenced a feud with then AEW World Champion Jon Moxley citing his interest in wearing gold around his waist. However, with the All Out incident taking place, all of the promotion's creative decisions seemingly spiraled.
Earlier this month, MJF accepted the former WWE Champion's challenge with an Iron Man match at the Revolution pay-per-event in March. However, in the meantime, the current AEW champion has set many challengers to take on The American Dragon in a bid to wear him down by the time they come face-to-face in the ring:
MJF has always had a brash approach towards fellow colleagues and adds the same touch to his performances in the ring. He defeated Moxley at Full Gear with some assistance from William Regal to win his first world title reign on the promotion.
Do you think Bryan Danielson can dethrone MJF to win his first reign as AEW World Champion? Let us know in the comments.
While using quotes from this article, please add a H/T to Sportskeeda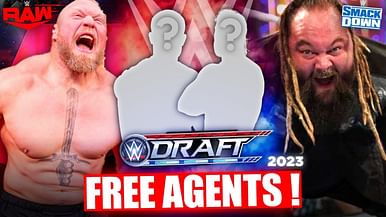 Brock Lesnar and 10 WWE stasr who are FREE AGENTS
See more
More from Sportskeeda