5 players with the most technical fouls in NBA history
5 players with the most technical fouls in NBA history
Technical foul is a stat no one would love to have on their sheet as it acts as a reminder of their unsportsmanlike conduct. In today's NBA, we have players like DeMarcus Cousins and Draymond Green who receive technical fouls frequently. However, there is a stark difference in the number of technicals handed out today versus the same handed out in the 1980s and 1990s.
Present day NBA rules are a lot different when compared to the rules in the '80s and '90s. The game was more phyiscal back then and there was no way a player could get to the basket untouched.
These hard calls or no-calls would often lead to dissent among the players on either sides and would end with players receiving technical fouls. In this article, we take a look at the five player who amassed the most technical fouls in the NBA.
---
#5: Dennis Rodman - 212
Dennis Rodman is one of the greatest rebounders and defensive players to ever play the sport. He was fearless and aggressive, played his role to perfection, won five NBA championships with multiple teams (Detroit Pistons and Chicago Bulls) . It is next to impossible to find selfless players like Rodman in today's NBA who only value the team's overall success ahead of their individual accolades.
'The Worm' used to do pretty much everything like elbow, pushing, shoving to gain advantage over the opposition rebounder to grab the rebound. Therefore, a lot of times, the refs would blow the whistle and Rodman would get frustrated.
During the 1995-96 regular season, Rodman infamously head-butted referee Ten Benhardt after receiving his second technical foul. He was suspended for the next six games which cost him $200,000 plus an additional $1,000 fine for being ejected. Rodman is at #5 on our list having amassed a total of 212 technical fouls.
#4 Gary Payton - 250
Gary Payton was one of the best point guards of his generation and is also the only point guard to ever win the NBA Defensive Player of the Year award. He was also one of the greatest trash talkers ever and used to get under opposition players' skin.
If you paid attention to Payton's trash talk, there are high chances that you will lose sight of the task at hand i.e. win the basketball game.
When you play solid defense (forget the trash talking), a lot of times, there are going to be controversial calls where you feel like the referee is being unfair to you. This happened with Payton very often and he used to become furious at the referees for assessing a foul. He would go on to argue with the referee were things would more often than not go bad.
In a career spanning over 17 years, Payton picked up 250 technical fouls and is also the only point guard to have received so many technical fouls.
---
#3 Rasheed Wallace - 317
We have a surprise here. The surprise is not about Rasheed Wallace making it to this list because most people might have guessed even before clicking on this article that the 2004 NBA champion would feature on this list.
The surprise here is that he is not #1 on this list. Wallace had 38 technical fouls in 1999-2000 season. The following term, he broke his own record and amassed 41 technical fouls which means that he has received one technical foul for every two games. Let that sink in.
He once even confronted referee Tim Donaghy after a regular season game in 2003 for giving him a technical foul while playing for the Portland Trail Blazers. Wallace was suspended for seven games for this incident.
Wallace ended his career with as many as 317 technical fouls.
#2 Charles Barkley - 329
Who would have thought that an undersized power forward like Charles Barkley would make his way into this list. However, if you know Charles Barkley and how he was never the one to back off from both on-court and off-court fights, you would not be so surprised to see him here.
At 6'6", Barkley was shorter than the typical power forwards but used his insane vertical leap to end the career as one of the most dominant rebounders in the history of NBA. In 1996, during a regular season game playing for the Houston Rockets against the San Antonio Spurs, Chuck was ejected after picking up his second technical foul.
What is more important here is the reason why he picked up the second technical that night. Barkley poked the referee Jack Nies in the nose which led to a cut on the referee's nose.This is only one example of how frustrated Chuck used to get at times. Barkley ended his career with 329 technical fouls and stands second on this list.
---
#1 Karl Malone - 332
Karl Malone is unarguably one of the best power forwards the NBA has ever seen. With his size and footwork, he was a problem in the paint and destroyed opposition teams. Playing in the 1980s and 1990s meant that he and the Utah Jazz faced some of the deadliest teams ever.
'The Mailman' had strong elbows and never hesitated once to throw them at opposition players. During the 1991-92 NBA season, playing against the Detroit Pistons, Malone elbowed Isiah Thomas so bad that the guard received 40 stitches and missed the next two games for the Pistons. Karl Malone was fined $10,000 and was suspended for one game due to this hard and flagrant foul.
Amassing fouls was nothing new for Malone as he was known for arguing with the referees regarding foul calls which on most occasions led to him picking up a technical foul. During his 20-year-long career, Malone has picked up a total of 332 technical fouls and leads this infamous list.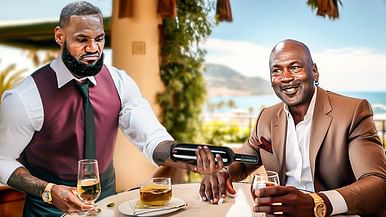 How is Michael Jordan officially richer than NBA's 10 richest players?!
Edited by
A. Ayush Chatterjee
See more
More from Sportskeeda