Nuggets depth chart: Analysing Denver's squad ahead of Game 2
Nuggets depth chart: Analysing Denver's squad ahead of Game 2
The Denver Nuggets' depth chart has many players who can make an impact. The depth is one of the major factors why the team has been able to have such a deep playoff run this year.
While the Nuggets have Nikola Jokic, who's arguably the best player in the league, they've also had great performances from their role players, including those on the bench. Bruce Brown, who comes exclusively off the bench is having the best season of his career.
Considering that Denver will play Game 2 of the 2023 NBA Finals on Sunday night, Mike Malone most likely won't make drastic lineup changes. He'll stick to his regular eight-man rotation since he's achieved fantastic results with it.
---
The Denver Nuggets have many fantastic players who give them an edge over the Miami Heat
The Denver Nuggets have two players who are averaging more than 27 points per game in Nikola Jokic and Jamal Murray. Aaron Gordon and Michael Porter Jr. have also been fantastic, while Kentavious Caldwell-Pope is another player who's having a career year.
On top of this fantastic starting lineup, Mike Malone usually plays Bruce Brown, Jeff Green and Christian Braun in the playoffs. Braun is a rookie who has done a great job so far in the playoffs, and we'll likely see him in Game 2 as well.
Several other players, such as Reggie Jackson and DeAndre Jordan, have played in the playoffs. However, it's unlikely that Malone will give them a chance against the Miami Heat, unlike it's a blowout game.
You may be interested in reading: What have Aaron Gordon's stats been during NBA playoffs 2023? Analysing Nuggets star's impact
Here's a complete Denver Nuggets depth chart:
Thomas Bryant is also on the team, although Malone hasn't given him a chance so far in the playoffs. If it comes to a blowout, the head coach will likely use DeAndre Jordan instead.
Since there are no key players listed on the injury report, Malone will go with his standard starting lineup.
Denver will enter Game 2 with a 1-0 series lead and will look to defend the homecourt advantage. Interestingly, the Miami Heat have won one of the first two games on the road in each of the past three series.
You may be interested in reading: Miami Heat vs Denver Nuggets Prediction & Match Preview - June 4th, 2023 | NBA Finals, Game 2
Game 2 will be played at Ball Arena and will start at 8 PM Eastern Time. Basketball fans can watch it on ABC, but also on the NBA League Pass.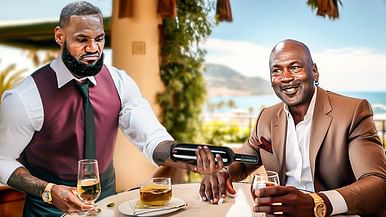 How is Michael Jordan officially richer than NBA's 10 richest players?!
See more
More from Sportskeeda