"Somebody close" to Hulk Hogan was keeping an eye on former US Champion's popularity, says ex-WWE star
WWE Hall of Famer Hulk Hogan was allegedly informed by someone in his circle that Raven was getting over in WCW.
Hogan is one of the most controversial entities in the history of pro-wrestling. Many fans have accused him of putting himself over at the expense of other talents.
Former WWE Superstar Stevie Richards recently sat down with Wrestling Shoot Interviews and opened up about Hulk Hogan seemingly holding down Raven in WCW. Here's what he said about Hogan possibly being told about Raven getting over with fans:
"If he wasn't on his radar, he was on the radar of somebody close to him that was giving him tabs about Raven being over or here and there. But, with the hype and with everything, obviously Raven had a great introduction by not wrestling and getting the character over." [1:01-1:16]
You can check out the video below:
Hulk Hogan allegedly made a request to Raven via a third party
Hogan was hands down the most popular star in pro-wrestling in the mid-90s. The introduction of the nWo and Hogan's heel turn suddenly made him the hottest act in wrestling.
Raven once revealed to Fightful that he was approached by Jimmy Hart with a request from none other than Hulk Hogan himself. Hogan allegedly wanted to know if Raven could put his nephew in his stable. Here's what Raven said about the same:
"Funny story, Jimmy Hart comes up to me and goes, 'Hey, Hogan wondered if you'd put his nephew in the Flock.' I was like, 'Sure. Anything for Hogan.' Like, what are you going to say? No one's going to say no."
Raven did incredibly well for himself in WCW in the 90s. He won the Light Heavyweight title, the United States Heavyweight title, and the World Tag Team titles in the company. In WWE, Raven won the Hardcore Championship on 26 occasions.
What are your honest thoughts on Raven as a performer?
---
If you use Richards' quotes, please credit Wrestling Shoot Interviews and give a H/T to Sportskeeda!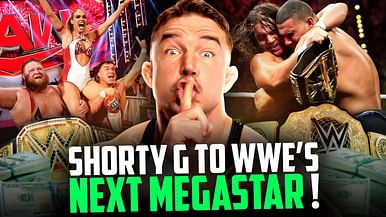 Why Chad Gable could be the next WWE mega star
Edited by
Ashvinkumar Patil
See more
More from Sportskeeda