Atanu Das, Tarundeep Rai, Jyothi Surekha Vennam and Ankita Bhakat are some of the Indian archers to look out for when Stage 1 of the Archery World Cup 2023 commences in Antalya, Turkey, on April 18.
Indian archers will be competing in all categories, including the recurve (individuals and teams), compound (individuals and teams) and mixed team categories.
The Archery World Cup will be special for Atanu Das. This will be the first time the Indian archer has gained a berth in the team after a dismal performance at the Tokyo Olympics.
All eyes will be on Bhajan Kaur and Dhiraj Bommadevara in the recurve archery category. Meanwhile, Prathmesh Jawkar and Avneet Kaur will be in focus in the compound archery category after acing the selection trials in February this year.
---
Indian archery team for Stage 1 of Archery World Cup
The following archers will don Indian colors in the first stage of the World Cup in Antalya.
Compound men: Ojas Pravin Deotale, Prathamesh Samadhan Jawkar, Rishabh Yadav, and Rajat Chauhan.
Compound women: Avneet Kaur, Aditi Gopichand Swami, Sakshi Chaudhary, and Jyothi Surekha Vennam.
Recurve men: Neeraj Chauhan, Dhiraj Bommadevara, Atanu Das, and Tarundeep Rai.
Recurve women: Aditi Jaiswal, Bhajan Kaur, Simranjeet Kaur, and Ankita Bhakat.
---
Notable Indian abesentees at Archery World Cup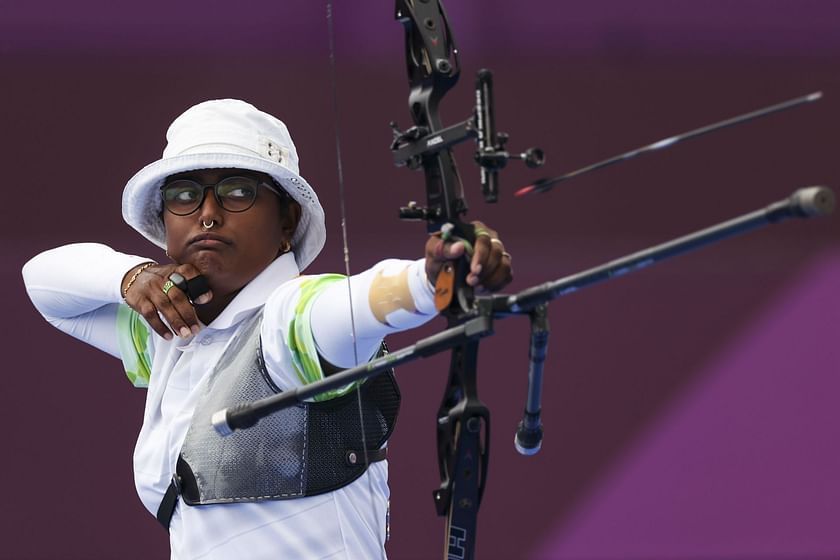 A notable absentee in the Indian camp would be former World No. 1 and one of India's top archers, Deepika Kumari. She did not qualify for the Archery World Cup and subsequent international tournaments.
The multiple World Cup gold medallist finished seventh in the first phase of the trials after resuming post a maternity break. She ended up outside the top eight in the women's recurve event, missing the cut.
Former cadet world champion Komalika Bari and former national champion Ridhi Phor have also missed the cut for a berth in the Indian team after faring poorly in the trials.
In the compound team, multiple World Cup gold medallist Abhishek Verma finished fifth in the trials to miss the cut in the first-choice men's side.
Only in case of 'non-performance,' the archers who finished between No. 5 and 8 will get a chance to make the first team as per the rules of the Indian archery.
The World Cup will be the first in India's new selection policy, which was amended in a bid to maximize the country's medal chances in international events.
In the past, two different sets of archers participated in most international events, including the Archery World Cup. This time around, a single team of top four men and women recurve and compound archers, respectively, will compete in all international tournaments.
More than 390 archers from 52 countries will be in action during Stage 1 of the Archery World Cup in Antalya, Turkey, from April 18. The six-day tournament is the first of four stages of the World Cup before the final, which is scheduled to be held in September 2023 in Hermosillo, Mexico.
Edited by Anantaajith Raghuraman