Brands and modern sport: Chronicling the "Golden Spikes"
3.24K //
09 Mar 2014, 16:51 IST
Modern sports has evolved over the centuries from being a mere display of physical prowess and rivalry between nations, to a global business phenomenon, which involves myriad elements of commercialization. It is the inter-meshing of various organizations and their relations which contribute to the successful pioneering of various international events. And one crucial factor which singularly powered modern sports into becoming a truly global spectacle, is the growth of brand associations.
Brands have becomes epitomes of physical hauteur. At every major sporting event, brands such as Nike, Adidas, Puma, Asics and many others vie to reel in the top athletes to endorse and adorn their products. And this is particularly evident at the Olympics events, where the stakes are higher than anywhere else.
If we were to come across the words "golden spikes" in the context of branding in athletics, there is one name which we might almost instantly correspond to, and that is Michael Johnson.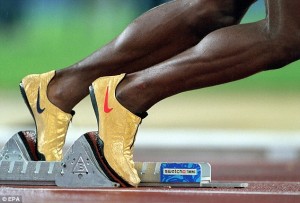 Michael Johnson is synonymous with greatness for umpteen reasons. He has four Olympic and eight World Championship gold medals, which undoubtedly put him in contention for the title of the most prolific and consistent sprinter in history. The immense pressure of competition for Johnson was, in his own words, 'nothing more than the shadow of great opportunity'. This was symbolic of a perfectionist, a magnificent athlete who inspired awe and admiration in all those who witnessed him run.
An upright stance, with low knee lift, and piston-like arm movements – these are all unique traits of Johnson's running style.
He set numerous world records, both indoor and outdoor, but there are a few which outrank all others. He held the former 200m world record of 19.32sec for 12 years, and is the current world record holder in the 400m which he set way back in 1999 at the World Championships in Seville, Spain.  He has also achieved the rare feat of running the 400m under the 44-second mark 22 times, twice more than any man in the history of this event.
It was for the 1996 Atlanta Olympics that Nike provided him with gold-coloured, custom-designed, handmade running spikes, which were made with Zytel. These spikes weighed 3 ounces (85 grams). With these shoes, Johnson set the Olympic record in the 400m with a time of 43.49sec, and the world record in the 200m with a time of 19.32sec.
After that Johnson came to be known as "The Man with the Golden Shoes", and Nike became the brand of champions. The sight of Johnson's perfectly engineered feet adorning the golden spikes, which rest on the starting blocks, is an unforgettable image.
It was only 12 years later, at the Beijing Olympics in 2012, that a phenom descended on the track to create magic that had never crossed the eyes of mortals. Usain Bolt has six Olympic and eight World Championship gold medals under his belt. He holds the present 100m record of 9.58sec and the 200m record of 19.19sec. The Jamaican sprinter is a superhuman, capable of trivializing all estimates and limits of the human body decided by science.
At 1996, Johnson set the 200m world record, with the "golden spikes" by Nike aiding his romp. 12 years later, Usain Bolt eclipsed Johnson's record while adorning "golden spikes" designed by Puma. Unlike Johnson's sprint spikes, Bolt's are available at any specialist running store. The pair of Puma Complete Theseus II was custom-made with a gold top for Bolt's Beijing run. The post-race celebration, where Bolt held up his golden spikes in front of the camera is now a legendary moment, which is somewhat analogous to Johnson's photo on the August 1996 cover of Time magazine, with the spikes over his shoulders.
Both Michael Johnson and Usain Bolt have eternalized the iconic "golden spikes" and the brands which designed them. It has become a historical phenomenon, synonymous with greatness. It is only a matter of time before we witness another champion creating history with a pair of "golden spikes".