Bleak House: The state of Athletics in India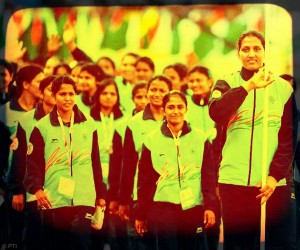 Last Sunday, among a pile of old books, all covered with dust, I come across a copy of "Bleak House" by Charles Dickens.  In a fit of nostalgia, I clear the dust off the cover, and quickly flip through its tanned pages.  "What a befitting title to a marvelous novel!", I thought.
It is only later in retrospection that I realized, the true genius of Dickens, and the deeper import that the title "Bleak House" encompassed.
Thus, when I picture the state of athletics in India, it is the image of the "Bleak House" that comes to my mind, caught up in a whirlwind of despair.  I wonder if it is complacency, sheer ignorance, or blaring pride that breeds indifference in the heart of the nation, when it witnesses the crippled state of Indian athletics.
In 2008, at Beijing, Michael Phelps wins 8 gold medals, and India wins 3 medals. The success ratio of an individual to that of a nation could not ever be so astounding. Let me take a moment to ponder, is it just athletics or just the entire sporting management which is so incompetent? Anyway, presently I would expend my effort only to highlight the drab and drear which overrides the state of athletics in India.
A large group of individuals might disagree with me or even threaten my life, if I were to state that cricket, and the obnoxious fervor that the Indian masses share for it, is one of the primal degenerative forces affecting the development of all other sports in India, mainly athletics.
In an article published in The Hindu, it was stated how "we are obsessed with, worship and shamelessly pay obeisance" to the sport called cricket. The person, who penned those lines, must possess a truly incandescent mind, a truly enlightened one, because his words resound with the absolute truth.
For three and half years, we wallow in ignorance, or to state rightfully glorify, analyze, reinstate, and improve every insignificant detail related to cricket, and when the Olympics is around the corner, we express pity for the dismal performance of our athletes.
There might be another faction of intellectuals who might attack my statements by saying that Indians have got bigger problems to deal with, beginning with poverty. Well, poverty does not deter us from engaging our body and minds, and expending large amounts of wealth on cricket.
Enough said about cricket and its disastrous repercussions. Now let me illustrate some statistical data which might elate the cricketing nation.
At the London Olympics in 2012, where India won a total of 6 medals (more than ever), India's medal haul was still seemingly disappointing, with the lowest ratio of Olympic medals to GDP size.
With an annual GDP of $1.824 trillion, India is the world's 10th-largest economy, according to 2012 World Bank data. Yet, its total medal tally is nowhere close to that of nations with economies of comparable size. Take Russia for instance; although its GDP is somewhat larger than India's, it won 82 medals at the London Olympics in 2012.
Now if anybody were to begin talking about Indian athletics, they would stumble upon the names of Norman Pritchard, and a handful of other athletes in the 1970s and 1980s who were the only people who made a dying effort to place India somewhere in the global realm of athletics.
Alas, there is nothing much which surfaces in the mind, except for a stinking wad of controversies and scandals, be it the series of failed doping tests by potential athletes, or the tainted Indian Olympic Association chairman. To recover and to overhaul the entire system is but a dream, for we are so deeply affected by the woes of countless irregularities which fester the entire image of the country.
The idiocy which resonates from the scandalous disruptive combination of cricket and Bollywood, undermines everything else which makes a faint attempt to recuperate. The obsessive compulsion for the concoction of cricket and Bollywood is so essential, that the despondent plight of Indian athletics seems too trivial to pay attention too
Sita Sahu is a 2-time bronze medal winner in the Athens Special Olympics in 2011 from Madhya Pradesh, but now she sells gol-gappas and papdi chaats.  S.Santhi, was the silver medalist in the 800m at the Doha Asian Games, but was stripped of the medal after a failed sex test and now works at a brick kiln earning Rs 200 a day. It is not that I consider selling gol-gappas, or working at a brick-kiln any less respectable a job, but, it is the stark insensitivity that exists among the masses in relation to deplorable conditions in which many of our athletes find themselves in. Oh, but how could we care about such matters, when we can spare time only for cricket and Bollywood?
In a huge landmass with 1.27 billion people, there is no dearth of talent, and of times, the discerned talent is not allowed to shine to perfection because of the wretched state of affairs in the realm of athletics. Thus it proves itself quite conducive to the devolution of talent.
The drab and drear, the Dickensian darkness which is characteristic of the state of athletics in India, is utterly shameful, and, to all those loyal patriotic Indians who never fail to cheer for India during the cricket matches, I say, there is much more than cricket.
In 2011, the government stated that 74.04% of Indians are literate, and I begin to wonder which literacy they are they talking about. Is it the one that lacks the basic reasoning ability to understand the true plight of Indian athletics, or the one which obliviously finds progressiveness so very prevalent in the subcontinent?
With 33 million gods and scads of business management institutions sprouting in every corner of the country, finding the cure should be as easy as cutting through butter with a warm knife.
All in all, it is high time we break free from this state of nescience, and sprint towards the light.
With global warming, climate change, and the feisty relations between nuclear powers, the end is not too far, but when would humanity see India rise to the occasion in the field of international athletics is the big question.