How 'GAIL – The Fastest Indian' can revolutionise Indian athletics to produce world champions
2.06K //
21 Jan 2015, 09:51 IST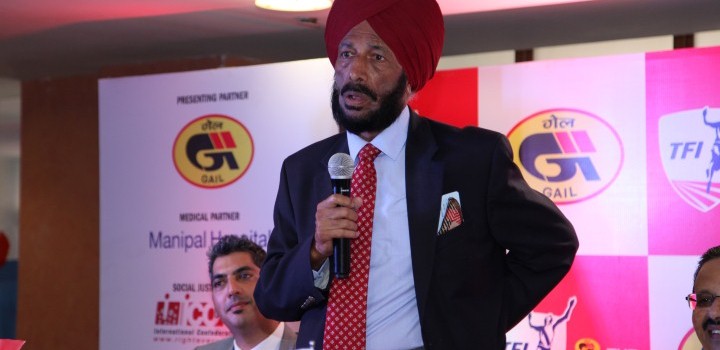 When I first began running, I did not even know that the Olympics Games existed. I had to run 10 km to go to school, and that was the only thing that mattered then to me. Personally, my future was very bleak before joining the Indian Army. But throughout my life's journey, running was an outlet for me – an avenue to let go of all my inner demons. I can't stress enough how lucky I consider myself to be presented an opportunity to run for India at the highest level.
Today, the scenario is completely different. Technology and new inventions have made sure children grow up in comfortable surroundings. Their childhood is no longer a never-ending saga of struggle. But what today's children lack are the opportunities and support to venture into offbeat fields such as sports.
One cannot become a champion overnight; one cannot expect a 10-year-old child to run fast without proper training. But since our children are not exceptional to begin with, we assume they lack the talent to develop the right skills, and we refuse to look in that direction.
The importance of starting young
The truth, however, couldn't be further away from our assumptions. With the right training, proper diet and disciplined programmes, our kids can become the greatest sportspersons not just in India, but the world.
Fortunately, some people seem to have realised this and have begun to act upon it. 'GAIL – The Fastest Indian' (GTFI) is an initiative that will make sure that every child has an opportunity to run. I feel sure GTFI will succeed in discovering many hidden gems in our society. While everyone is trying to achieve academic requirements, GTFI will ensure that athletics form an important part of our children's overall education.
It is a common myth that time spent in sports leads to poor academic results. Truth be told, athletics can actually help children in their academics. Exercise leads to a healthier brain, and playing sports helps avoid monotony in education. Along with studies, sports need to form an important part of the curriculum for the all-round development of children.
For India to win medals at the Olympic Games and other international events, we need to target the potential athletes and not the already-established ones. It is extremely difficult for an 18-year-old or a 22-year-old to transform into a world-class athlete since the body has already reached maturity in terms of physical growth. But the same limitation doesn't hold true for children who are between the ages of 10 and 13 years. At a young age, the body is still developing and there is full scope to mould and attune it through rigorous exercise and discipline, thereby radically improving performance. That is the aim of all grassroots programmes. Our children surely have the potential to become future gold medallists for India.
In order to transform them into champion athletes, we need to cater to their needs. We have access to very advanced scientific knowledge today, and it is our responsibility to use that knowledge for their benefit. As an athlete, it always helps to know that there is someone handling everything outside the track. With that kind of backing, the athlete can focus 100% on running that one sprint which will win the gold medal.
India's athletics revolution has begun
In a way, GAIL – The Fastest Indian is a one-stop solution. Finding the right talent is just step one of the process. Once that is done, the children will receive proper training, nutrition, equipment, schooling and encouragement to bring out the best in them. Performance driven sincere coaches on contract basis working with these sincere kids will be rewarding for the kids. They will also gain entry into various international events. Receiving international exposure at such an early age will be extremely beneficial for their careers.
Today, we have international-level coaches, equipment and knowledge. We have all the necessary ingredients to produce gold medallists. Yet somehow, we rarely seem to touch that level. We cannot rely on some exceptional individual athletes occasionally producing exceptional results. Winning gold medals should be the norm for a country as great as India, not a miracle.
The entire nation needs to join hands to launch more initiatives such as GAIL – The Fastest Indian. Incidentally, India's Natural Gas Major is one of the first companies in the country to have undertaken the visionary step towards creating an athletics revolution. By promoting it annually through schools, GTFI can produce outstanding athletes for many years to come.
The country has celebrated individual performances by Mary Kom, Sushil Kumar, Saina Nehwal, Rajyavardhan Rathore, Abhinav Bindra and P T Usha. But did we seek any inspiration from their success stories? It is time for us to take action and promote sports.
The children will be running the races, but it is our collective responsibility to build the track and the winners' podium. Since Independence we have not produced any athlete who has won an Olympic medal. Through sincere coaches, infrastructure, sincere athletes and sincere sponsors like GAIL, India can win that Olympic Gold in athletics