IAAF World Championships: Bolt reigns supreme again
1.90K //
12 Aug 2013, 00:14 IST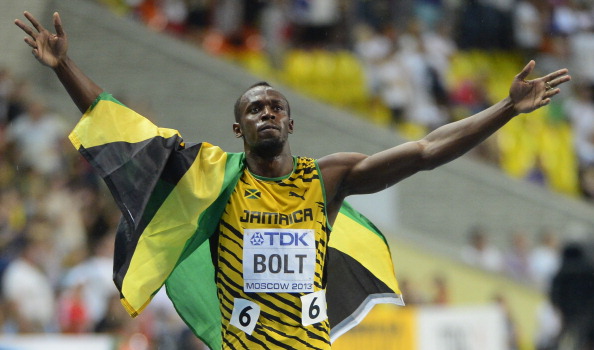 It is the race that truly matters, an event that reflects the power of athletic pursuit in all its glory. As the athletes lined up at the starter's mark for the 100m final, the Luzhniki Stadium fell into a reverential hush. The track seemed decorated in gold, green and black – half the field was Jamaican, but the man that mattered was smack in the middle of the pack.
Justin Gatlin had the measure of the track for nearly two thirds of the distance, before the man who owns the world strode ahead purposefully to reclaim a missing honour. Usain Bolt snatched gold at the IAAF World Championships with a characteristically powerful finish to continue his unchallenged reign at the helm of sprint racing.
As always, Bolt was slow off the blocks lying behind Gatlin and compatriot Nesta Carter as they crossed the halfway mark. The Jamaican took charge a little later, striding ahead with his giant frame, moving with the well-oiled efficiency that we have come to associate with one of the greatest sprinters of all time.
With about 20 metres left to the line, Bolt knew he had control. The sprinter found time to tilt his head ever so slightly to look at the proceedings on the big screen even as his heaving chest and motoring legs carried him past the finish line. Bolt hardly needed it on the night, but when he crossed the line, the clock recorded 9.77, which is the season's best for the irrepressible Jamaican.
Nickel Ashmeade, one of four Jamaicans on the track, was the quickest off the blocks as he leapt into the race in a mere 0.142s, but he failed to translate it into race speed. Ashmeade settled for 5th after losing in a photo finish to his compatriot Kemar Bailey-Cole. Both men crossed the line in 9.98.
Gatlin, like Bolt, took 0.163s to respond to the gun also finished with a season best 9.85. Gatlin went on to celebrate his silver medal with the enthusiasm of a winner, underlining the iron grip of Bolt on the collective psyche of the sprint community.
Carter was equally thrilled, despite finishing third in the race. Carter got off the blocks quicker than both Bolt and Gatlin, but lacked the pace to really challenge either man. Carter crossed the line in 9.95 to take the bronze medal by edging out Ashmeade and Bailey-Cole.
Through this win, Bolt has affirmed that he is keen to defend his Olympic honour in Rio and the entire athletic community will be united in prayer hoping that the great Jamaican is indeed around to keep the flag flying for clean athletes.
On the evidence of Moscow, we can be certain that Bolt does not lack the intensity or desire to stay the course for what might be epoch making effort in Rio.
Result
1 Usain BOLT – JAMAICA  (9.77)
2 Justin GATLIN – USA   (9.85)
3 Nesta CARTER – JAMAICA (9.95)
4 Kemar BAILEYCOLE – JAMAICA (9.98)
5 Nickel ASHMEADE – JAMAICA  (9.98)
6 Mike RODGERS – USA   (10.04)
7 Christophe LEMAITRE – FRANCE  ( 10.06)
8 James DASAOLU – GBR  (10.21)