The newly laid eight-lane 400m main track at the iconic Jawaharlal Nehru Stadium (JNS) is in a state of neglect. It has been more than four years since the main track at the stadium was closed down by the Sports Authority of India (SAI) for renovation. But as portions of the newly laid track have been damaged, it is yet to be opened to the public.
Without further repair work, it will be impossible to conduct even a state-level competition in the near future.
"The track is damaged and under the given circumstances, no competition is possible as the athlete might get injured running on uneven surface," a technical official of the Athletics Federation of India (AFI) said.
The renovation work started before the outbreak of the COVID-19 pandemic in 2020. Since the newly laid track has become uneven, SAI will have to allocate more funds to make it functional.
SAI had recently tasked IIT Guwahati in Assam with conducting a survey to ascertain the cause of damage as the track was not in use. However, more than two months have lapsed and there has been no official communication from SAI on that front.
Sandip Pradhan, director general of SAI, wasn't available for comment on the official opening of the main 400m track for public use. Local athletes, however, have started using the facility.
"Sometimes the warm-up track adjoining the main track is rented out by SAI for a function. The alternative place to practice is the main track," a senior athlete said. "We practice on the side where the track is smooth, not uneven."
Which portions of the race track are damaged at Jawaharlal Nehru Stadium?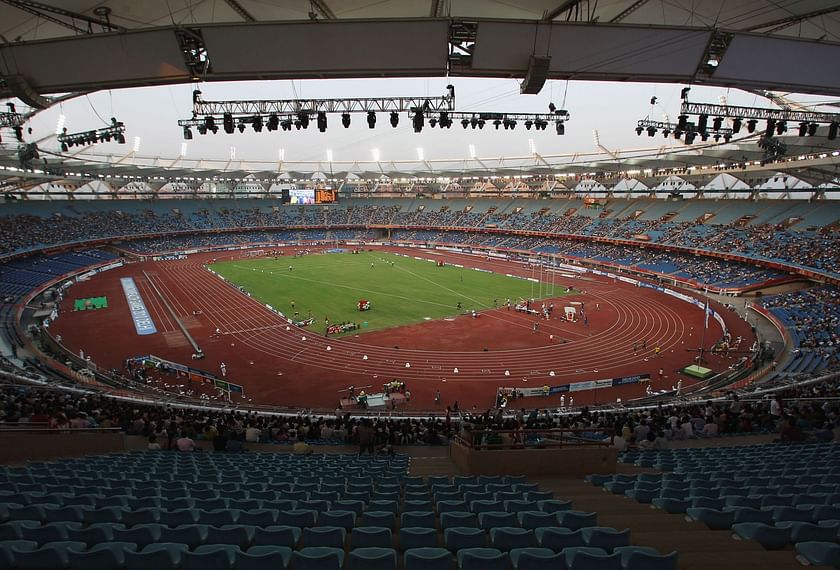 A large portion of the track near the 250m mark of the 400m oval doesn't have a top synthetic layer. It gives the impression that the renovation is still in progress. The athletes have kept a strip of synthetic material in the first lane to practice.
The track is uneven near the 360m mark of the oval also. Three to four inches of depression is present just 40m before the 100m finish line.
"Running on the uneven surface could be injury prone," an athletics coach said.
AFI officials say that the main 400m track is technically unsuitable to conduct competitions because it is incomplete and damaged.
"The main 400m race track at the JNS complex is uneven and doesn't fulfill the specification criteria to conduct track and field competition as per norms of the AFI technical panel."
The Jawaharlal Nehru Stadium saw a massive renovation in the run-up to the 2010 Commonwealth Games. Both the main track and the warm-up track were re-laid. The stadium was also the venue for the opening and closing ceremonies of the multi-sports extravaganza.
"The warm-up track, it is more than 12 years old and worn-out...should have been changed," a senior athletics coach added.
Edited by Akshay Saraswat