PD Chaugule, the first Indian at the Olympics
1.94K //
29 Aug 2012, 17:47 IST
PD Chaugule, one of India's unsung heroes, is today endeavouring to gain recognition as India's first Olympian, a recognition that he thoroughly deserves. Norman Prtichard, the person who today is advertised as the first Indian athlete at the Olympics, is seemingly being falsely credited with an achievement which actually belongs to PD Chaugule.
Why isn't Norman Pritchard the first Indian Olympian?
Norman Pritchard participated at the summer Olympics, 1900 in Paris as a member of the elite London Athletic Club. Since he entered the games with British AAA qualification, calling him an Indian just because he belonged to the Bengal Presidency is a big mistake. Pritchard was a resident of the colonial British empire who participated in those games on the eligibility criteria set by Great Britain for the International Sports Meet, 1900 in Paris (then called by that name; today, of course, it is referred as the Olympics).
I later found out that in the Olympic Journal published in January 2000 by International Society of Olympic Historians, it is clearly mentioned, "To say that he represented India is just another example of an error being perpetuated from one book to another, a situation which is all too common in Olympic history."
When India sent its first contingent for the 1920 Antwerp Summer Olympics, there were six athletes. PD Chaugule became the first Indian athlete to participate in the Olympics in the 10,000 metres. He finished 19th in the marathon, clocking a time of 2 hours 50 minutes 45.2 seconds .
PD Chaugule – life of the first Indian Olympian
Biography
We all celebrate the achievements of the 81-member London 2012 contingent, but do we even remember the athlete who embarked at the beginning? The person to do that was Phadeppa Dareppa Chaugule. Born in 1902 or 1905 (no exact records available), he had a family business of Printing Press and an agriculture land.
In the beginning PD was more fond of wrestling and used to go to an Akhada (arena) and participate in bouts, but after he injured his arm he turned to running.
PD is also known to be a strict vegetarian. Because of being a vegetarian he faced a lot of inconvenience during his travel to England and Belgium. He could eat only bread, jam, butter, milk and fruits, and if available, salads and some raw vegetables, which was completely unlike his usual diet.
PD Chaugule studied in vernacular (Marathi) medium up to 6th grade. He belonged to Belgaum, Karnataka (then in Bombay Province) and was fond of solving English Commonsense Crosswords in the 'Illustrated Weekly', and even won many prizes for that. The man passed away in 1958.
Sporting career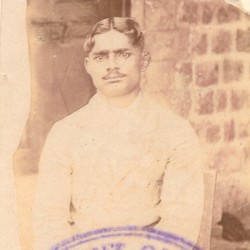 Chaugule was always an assiduous athlete. His daily routine included 2000 push-ups and 2000 sit-ups, and he used to run bare feet everyday from Belgaum to Khanapur (to the farms) and back, a total of almost 58 km.
He used to participate bare feet in cross-country, 1 kilometre, 10 kilometres, marathon and various such races of different lengths. In 1919, he participated in the National Marathon held by the Deccan Gymkhana Club of Pune (then Poona) as well as in the 10 Miles and 1 Mile events at the All-India Open Amateur Athletic Sports Meet organised by the Young Men's Christian Association, Mumbai (Bombay) at the Oval Ground, Mumbai and secured first prizes in all these events. He was known to be one of the most illustrious sportsmen of his era.
Chaugule's efforts were recognized when he was awarded the title 'Pavananjaya' – The conquerer of the Wind, by the Belgaum citizens on 7th December 1919, a year before the Antwerp Olympics.
He ran the Marathon in the Antwerp Olympics on 22nd August 1920, thus becoming the FIRST INDIAN OLYMPIAN.
Today's scenario and war for recognition, Chaugule v/s Pritchard
The article published in the ISOH (International Society of Olympic Historian) by Ian Buchanan, where it was clearly transcribed that Norman Pritchard is the first Indian Olympian, is a misguiding statement. Even 12 years after Ian Buchanan's Journal of Olympic History, PD Chaugule is a completely unknown name. It is sad that even today the Olympian is not being considered for his achievements. Many books still prejudicially credit Norman Pitchard for being the first Indian Olympian.
The Chaugule family are today fighting for PD's basic right. Bipinchandra Chaugule, grand nephew of PD Chaugule said, "The Government is not responding to our efforts". He believes PD Chaugule should be recognized for his accomplishments. Bipinchandra also said, "Actually, the family had earlier tried to contact the authorities and get the records corrected, but nothing much happened. As of now, I think I am the only one trying to do that. But we of course feel bad to see the wrong credit, and want to do everything to set it right. I have contacted the Indian Olympic Association and the Indian Athletics Federation. Also, I want the Government to institute an award in his name for his tremendous accomplishments in long distance running, especially marathon, and for his achievements in the Olympic games. We need the media to take up this issue, and we need to get public support on this as well".
When will PD Chaugule get the recognition he deserves?