The Ballad of Santhi Soundarajan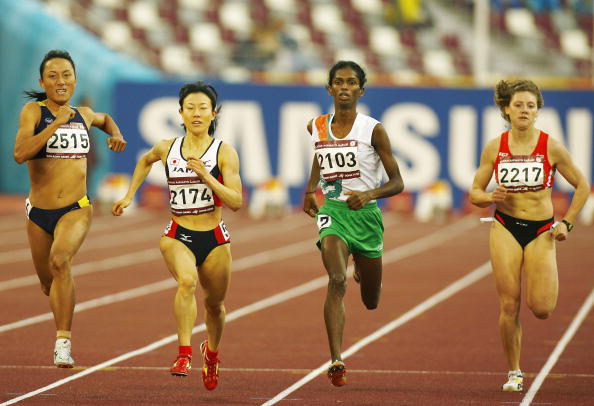 July 27, 2012. The London Games begin.
Even as the whole world holds its breath at the spectacle of five hovering rings blazing to glory and burning into memories, the village of Kathakurichi in Pudukottai district of Tamil Nadu sleeps. Perhaps a solitary radio or two spews out static-laced commentary for the mildly interested few. On the other side of the world, the Indian contingent marches into global spotlight, flanked by fireworks and a billion cheers. The commentator's words in Tamil rise in pace and pitch, and discussions break out among the listeners.
One woman listens in rapt attention; each breath she draws is imbibed with pride, but rendered acidic with pain and regret. She has seen it, she has felt it, and she has dreamt it. The commentator begins taking names of the Olympians with as much patriotic fervor he can muster, and her muscles tense up. To her, it seems like it was only yesterday.
The noise is deafening, but once on the track, all she hears is her own pumping heart. The atmosphere is electric, the excitement is Everest, and colors explode all around, but all she sees is the brown track and white lines. She stretches, like a cheetah measuring its prey, and waits for the whistle. It comes, and she is off. The world is a blur, and she blindingly accelerates to the zenith of her physical prowess. The white tape approaches, fast. The caress of it against her chest. The final whistle. The returning focus, the sweaty hugs. The warm podium. The rising Tricolor.
The billion strong country chants her name: Santhi, Santhi! The happiest day of her life ends with a glint of silver, her crowning glory, her salvation…
The commentator plunges in to describe the opening ceremony choreography in the best way he can, and Santhi Soundarajan is rudely pulled back to reality and darkness. She cannot squander her time with the opening ceremony; plenty of chores await before she can retire for the night. She needs to wake up early the next morning to make it on time to the brick-kiln where she works.
The palms that perspired for glory and held aloft many a medal now carry heated clay and bricks. The face that smiled for a million flashes is now permanently buffeted with dust and smoke and sorrow.
It's the fairytale that turned into a ghastly nightmare. The ballad of Santhi Soundarajan.
Rise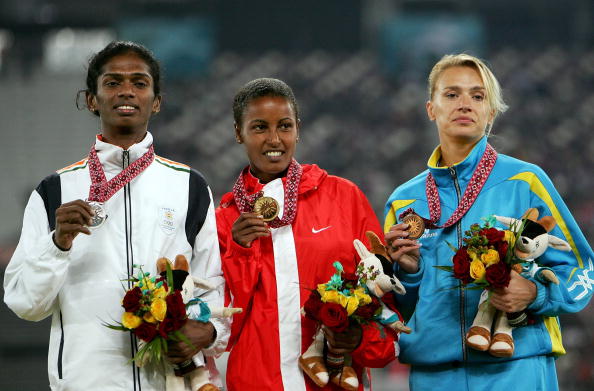 Born in 1981 in Kathakurichi, Santhi was one of five children of brick-kiln labourers Sounderajan and Manimegalai. The family reeled in debt and poverty, and Santhi and her siblings had to resort to begging for food. She was malnourished all through her childhood and teens. Several doctors have suggested that Santhi had begun to have a normal food intake only in her 20s.
Her grandfather was her first coach, and took her under his wing when she was 13. Being something of a sprinter himself, he saw through the emaciated child and found fast legs and a free spirit. He bought her the first pair of shoes she owned and pretty soon she was running laps in the dirt around the hut in which she lived. Her grandfather was the first to spot this diamond in the rough. Little Santhi had discovered her calling, and she sprinted towards it with overwhelming joy, hard and fast. She was free from everything that confined her, if only for a few fleeting moments.
Life put up more than her share of speed-bumps and potholes on her ascension; her hut that threatened to rip at its seams housing a family of seven had no running water, electricity or bathrooms. Her parents worked at a brick-kiln at the next town, and Santhi was forced to join them for an increased possibility of getting a single square meal. Starvation for entire days to an end was not uncommon.
She did go to school, however, and eight-year old Santhi won her first tin-cup for tearing through speeds that defied her tender age. She went on to win thirteen more, and people began to notice the dark-complexioned girl who had this tendency to beat her nearest opponents by a mile. Javelin and field-hockey were other skills she harnessed to great effect. Clean uniforms and hot lunches came her way, as did a scholarship to college in the district. Santhi Soundarajan was destined for greatness.
The fire raged on; Santhi wore her track-suit the whole day and practice-sessions started at four in the mornings. Life had been hard, but it had hardened her against thirst and hunger and pain and exhaustion. At moments she felt she could run no longer, unbidden images of her mother eating rotting rice and her siblings wearing uniforms at home because they had nothing else to wear flashed, and her muscles steeled up for another stretch.
The tears gave way to national records (the women's 3000 meters steeplechase, for starters) even as Chennai beckoned with its top-of-the-line coaching and infrastructure. International glory came in 2005. 24-year old Santhi, the warrior who fought her way through unimaginable odds, won a silver medal at the Asian Athletics Championship in South Korea.
Doha Asian Games, 2006. Destiny came calling. It all came together, the exhilaration of grandfather's shoes, the hungry afternoons, the sleepless nights, the heat of clay in the kiln, the shining tin-cup all those years ago, the perspiration, the freedom when feet whip up dirt, the perseverance.
The 800 meters took her a blinding 2 minutes 36 seconds to cover. Her second glint of silver, the greatest triumph of her life.
An entire nation broke into songs of her praises. The Chief Minister of her state announces a reward of Rs. 15 lakhs, and more was to follow. Santhi had reserved a place for herself in the pages of history.
Fall
Before the dust settled and faces could stop smiling, the star athlete found herself subjected to a sex-determination test. Someone high up was having doubts to her identity as a woman.
The ground beneath her feet gave way as Santhi Sounderajan was stripped of her medal a week later, for having failed the test. In summary, she was not a woman, all that she had been through and stood for and fought for amounted to nothing. She had no business in the sporting world because her DNA had this funny chromosome-combo that didn't make her female-enough to compete as a woman. She was dismissed with a baggage of global humiliation and packed-off on the next flight home.
The shock refused to die down, but the open mouths never spoke in her defence. The first of the few to rush to her side was her high school coach P. Nagarajan, who said later," "I cannot comment on the gender test as I am not a doctor, but the incident surely robbed India of a world-class athlete." He urged that her impoverished upbringing could be a reason behind the test-result, but Santhi was diagnosed with an intersexed genetic condition known Androgen Insensitivity Syndrome (AIS) that hammered the final nail in the coffin.
A senior doctor from Santhi's region said, 'It's all a mystery, let me tell you. Nobody is cleared even for a local meet without a gender test. It beats me how she was allowed to participate at a prestigious international competition without any such gender test. Whatever the Doha tests revealed, ideally the national athletics body should have given the matter top priority. It should have sought the help of competent medical experts and arranged for corrective treatment, if necessary. Nothing of that seems to have been done in her case.'
Despair
"My hands ache and burn all the time. The skin has peeled off, there are boils all over."
Today, Santhi is back in the darkness, in the heat and grime of the brick-kiln. She earns 200 rupees a day for the job, which keeps starvation at bay.
She still remembers those days that immediately followed her fall from grace and glory. Returning home, the first feeling that crossed her mind was one of being betrayed.
"I was shattered by the failed test, the Athletics Federation of India did not support me, did not fight my cause. I was hoping they would. I was depressed. I felt like I had lost everything. It still hurts. I loved the sport so much. My dream broken, I attempted suicide."
The woman who had personified courage and conviction until this point in life took a swig of veterinary medicines in a bid to end it all.
The social stigma was beyond endurance. She began to be looked upon with disgust, and her town was abuzz with talks of how 'she had cheated'. Distraught, her mother Manimekalai was drawn to waving Santhi's medical certificate to the media, which pronounced her a girl when she was born.
Athletic associations shunned her, and unemployment brought her face-to-face with poverty yet again. Athletics Federation of India President Adille Sumariwalla stated that the federation was not responsible for giving Santhi a job and that it was the responsibility of the state government. She started up her own training academy in Pudukottai for underprivileged children that brought up positive results, but the costs of running the place proved too much for her and it was shut down. She was temporarily on contract as a coach of Tamil Nadu's Sports Developmental Authority, but despite numerous appeals, her contract was never renewed.
She desperately scavenged for sort form of employment. She recounts, "I was not allowed to meet many officials. Many refused to see me and those who met me did not spare even a few minutes to hear my plea. Most of them did not even ask me to sit and some heard me while getting into their cars."
Ironically, the very brick-kiln that once tried to drag her down proved to be her only way out this time. The only hope for a woman who once dreamt of being an inspiration today is that they are no other cases like her in the future, "These factors should be addressed and a permanent solution found to avoid recurrence of such incidents, which are humiliating to women," she says.
The fire still burns somewhere, but it is buried deep now. Santhi Soundarajan realizes that a gender-test cannot take away from her who she is, as she advised a South African track athlete who fell the same way she did. Santhi was born to run, and on those rare days when a strong-enough wind courses through her now-trimmed hair, she feels the familiar rush tingling down her limbs. And ever so faintly the echoes of a time long gone still resound. The cheers of that incredible moment life had gifted her, the moment that had defined her, the moment that was taken away.