As the sun was about to set on a pleasant day in the beautiful city of Rio de Janeiro, a young man from India was going through his warm up drills at a practice venue meant for the participants at the Paralympic Games. After jogging around the park for a bit, the athlete was ready to train. He marked his starting point on the ground, looked up to see the bar that had been placed at 1.65 metres high and then set himself to have a run in order to clear the height.
The athlete in focus is one of India's biggest medal hopes from the 2016 Rio Paralympic Games, which will start in two days' time with the opening ceremony at the Maracana Stadium. Varun Singh Bhati hails from the from the small village of Jamalpur in Uttar Pradeshf and will be turning up the heat at the Games where he will be competing in the T42 category in the high jump event. The 21-year old high jumper is among the shining stars of the 19 member Indian contingent that has travelled to Rio de Janeiro and is the number two ranked athlete in his category.
Needless to say, it has taken a lot of hard work and sacrifice from the individual to get to where he is at such a young age. Bhati was born with deformity in his left leg, commonly known as Poliomyelitis. His father is the sarpanch (village head) of Jamalpur and has always motivated his son to achieve great heights. On the other hand, the athlete's mother is a home-maker who has given her all to take care of him and the family.
In an exclusive interview given to Sportskeeda, Bhati recalls how he took up the sport of high jump with little initial training in his hometown. The 21-year old said, "I used to play basketball in my early days at school so it was easy for me to make the transition to high jump. You need a good vertical jump to compete in basketball. I feel that I was born to compete in the sport of high jump. I love jumping."
The athlete has dealt with major difficulties since his childhood as deformity made people question his ability to perform at the highest level. But Bhati did not listen to his critics since a young age and aimed for the stars. The high jumper had completed his schooling from the St. Josephs School in Noida after which he is currently pursuing Mathematics Honours from Delhi University. Bhati says that his talent was nurtured during his school days where he still goes to practice whenever he gets the chance.
What is the T42 category?
T42 is a disability sport classification that is used in track and field events only. The International Paralympic Committee defines this class as, "Single above knee amputees and athletes with other impairments that are comparable to a single above knee amputation. This includes athletes with loss of muscle power in the lower limbs consistent with Class F57 or F58 class. It also includes lower limb affected by limb deficiency, leg length difference, impaired muscle power or impaired range of movement."
The paralympic athlete will be competing in his maiden Games in Rio and expectations are high from the high jumper. He is currently ranked number two and has an Asian record to his name. But his flight at the international stage took off when he registered with the 'A' qualification mark in 2012 with a jump of 1.60m, which was enough to see him qualify for the 2012 Paralympic Games in London but limitation of slots saw him miss out. However, Bhati made his first mark as he finished fifth in the 2014 Asian Para Games in Incheon for India.
Bhati recalls the 2014 China Open Athletics Championship as the turning point in his high jump career as he won his first ever international gold medals at the event. The 21-year old says that it was in China that he realised he was capable of beating the best. Bhati started to concentrate on his training regime at the Sports Authority of India (SAI) facility in Bangalore where he made changes in his technique to optimize the results.
Bhati's rise to the number two ranking
The hard work in training paid off for the high jumper as he went on to finish at the 5th spot in the 2015 Para World Championship in Doha, Qatar, as unfortunately his bar was removed from its place. If Bhati had been successful in his last attempt of 1.85 metres at the event, he would have broken the world record and would have won the gold medal comfortably. However, the athlete did not lose hope and came back to win the gold medal at the 2016 IPC Athletics Asia-Oceanic Championship where he set a new Asian record of 1.82m.
The achievement had seen him get to the top of the world rankings as the height was even better than the gold medal winner at the 2015 World Championships. Under the guidance of Mr. Satyanarayana, a former national athlete, Bhati has developed into a force to be reckoned with at the international circuit. So what is the key to his success? Bhati says it is his "will power and smart hard work" that has got him success. He adds that his family has always motivated him and have understood him.
Bhati adds that "training is the most important aspect" of any high jumper's daily routine. He says that he has to work on weights' training and plyometrics everyday that give strength to his body. The 21-year old says that running is also an essential training regime but jokingly admits that he hates running. The high jumper says that being a paralympic athlete is a challenge in itself but he has always tried to overcome with flying colors. Bhati also adds that it is important for any individual to keep challenging themselves after they overcome a certain challenge.
Bhati says that representing the nation at an event such as the Paralympic Games is a huge feeling which can not be matched by any other feeling.
"

Make sure you

have a goal"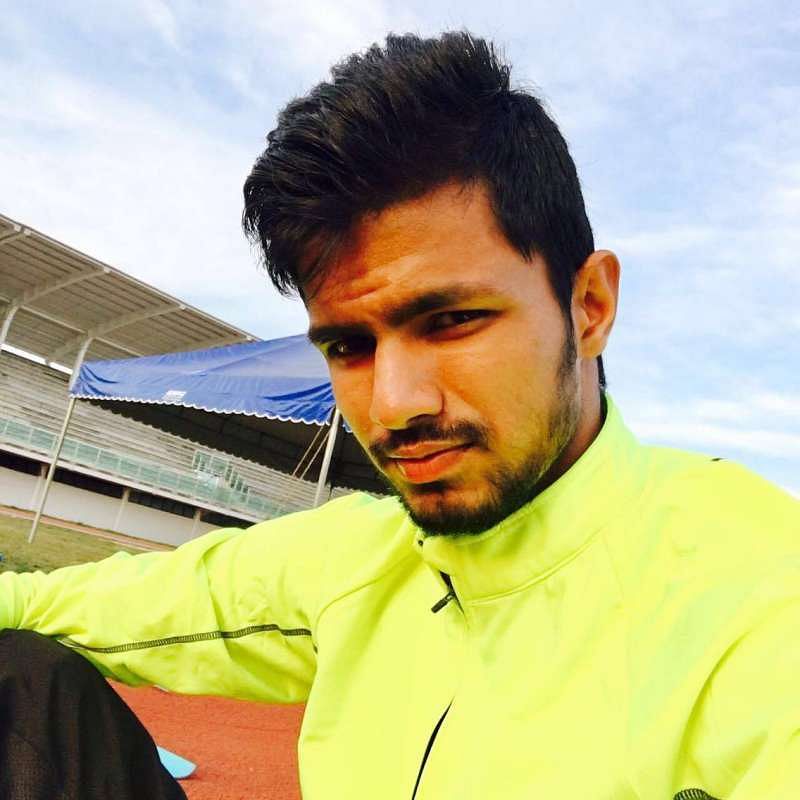 Even after having faced a disability since his birth, the athlete has lived his life proudly and has made the most of his opportunities at the highest level. The Paralympian had a special message to the youth of India who want to achieve their goals as well. He said, "Make sure you have a goal. Life without any goal is worthless. You should always be focussed on your goal. Have faith in god and don't stop until you achieve it! Life is too big to get disheartened at small failures."
Bhati seemed disappointment about the Rio Paralympics not being given the same importance as the Olympic Games. He said, "Paralympians are getting some coverage in media but they should show us live on television. Our events should be televised live so that the public can see how hard we have worked to get here and what it takes to be here."
Speaking about the government's support to him and his fellow athletes, Bhati said that they have got good facilities for their training which has also seen him train in Ukraine for one month. He said that the 'TOPS' scheme has been very beneficial for him as he has learned a lot by training in Europe.
Bhati also mentioned that his journey to the Rio Paralympics has been "an interesting one so far." The high jumper says that he is "nervously excited" for his debut event at the Games. The Indian will be aiming for the gold medal and wants to break his personal best in Brazil which will make him a decorated Paralympian. The 21-year old had surpassed expectations when he performed better than other established Indian para high jumpers such as HN Girisha and Sharad Kumar and Rio might finally be the icing on the cake for the Indian.