Youth Olympic Games Medalists: Future Of Indian Olympics?
1.73K //
28 Aug 2010, 22:10 IST
Looking at the performance of Indians in the Olympic Sports in recent times, the result of the Indian contingent in the inaugural Youth Olympic Games in Singapore with a haul of 8 medals including 6 silver and 2 bronze can be considered as success. And it gives more chance to feel happy that the participants were in the age group of 14-18 and they have shown immense potential in the recent events. Let us have a look at the people who won medals in Singapore and can really be considered as the future of Indian sports.
Haseena Sunilkumar Prannoy (silver in boys' singles badminton):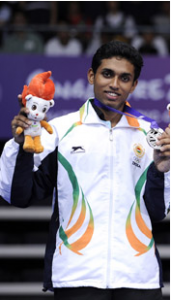 Haseena Sunilkumar Prannoy was not tipped the favourite to win a medal in the Youth Olympics. In fact, his colleague Sai Praneeth had more pressure of hope on him. While Sai crushed under the expectations Prannoy rose to the occasion to get to the final silently and win silver. Father Sunil Kumar was a badminton player in his youth who could not achieve his dream. But he saw the talent in his son to excel where he failed. Prannoy's early coaches in Kerala Sports council and TDBA also judged the promise that he shown beyond his age. TDBA secretary Rajashekharan made arrangements for him to practice without any bar on timings and he used the facility fully before joining Gopi Chand's academy last year. There he fine-tuned his skills and had the first major achievement when he defeated top seeded Sumeet Reddy to claim the boys' under-19 singles in the all India junior ranking badminton championship in June 2009. And then in April 2010, Prannoy along with Sai Praneeth won bronze in the junior world championship held in Mexico. Just turned 18 this June, this guy from Kerala is expected to take the baton from coach Gopi Chand and take strides into the Badminton world.
Pooja Dhanda (silver in girls' wrestling):
After Jitender Kumar and Vijender Kumar, Pooja Dhanda put another village from Hariyana, Hissar, on the sporting map of India by winning silver in Wrestling in the Youth Olympic Games. Daughter of a tractor driver Ajmer Dhanda, Pooja was a judoka and won the gold medal in Asian Judo meet in Yemen in 2008 and bronze in 2007. However, following the footsteps of Geetika Jakhar she took to wrestling only last year.  Pooja showed her toughness in her new event by winning a bronze in Asian Cadet Wrestling meet in Pune. In July this year she won the si
lver medal in the same meet held in Thailand this time. A strict vegetarian and brilliant in studies Pooja is just 16 years old and has got a lot of scope to mature and meet the footsteps of Geetika Jhakar who went on to win an Arjuna award.
Durgesh Kumar Pal (silver in boys' 400m hurdles):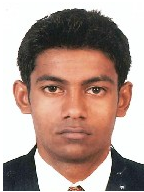 The 17 year old youngster, Durgesh is a product of Boys' Sports Comapany of Army, Pune. The lad from Gazipur, Uttar Pradesh, used to run middle distance events earlier. But his switch from 800m to 400m and then to 400m hurdles seems to be the best decision he has made. In 2007, Durgesh won silver in National Junior Championship in Warangle in 2009. This April, Durgesh set a new national record of 51.57 seconds in the National Youth Cham
pionship in Coimbatore. And in the Youth Olympic Games, he even bettered that with a finish at 50.81 seconds and won silver, missing out on gold by a narrow margin of 0.12 seconds. A bad start and drizzle worked against his efforts in this meet but hopefully luck will favour him in the future.
Arjun (silver in boys' discus throw):
Delhi boy Arjun won silver in the boys' discus throw after qualifying with the longest throw. Arjun's earlier best was also the best among all the participants in Singapore. Arjun won the bronze medal in the Commonwealth Youth Games held in Pune in 2008. A year later, Arjun went on to win gold in the inaugural Asian Youth Games with an effort of 58.72 m in Singapore. In this year's Youth Nationals Arjun had the personal best throw of 64.09m. The 17 year old looks forward to improve his performance in the next two years as he hopes to repeat his performances in the London Olympics 2012.
Yuki Bhambri (silver in boys' singles tennis):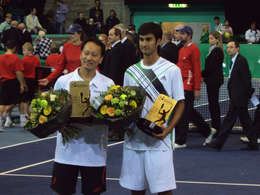 18 year-old Yuki Bhambri was the most famous member of the Indian contingent and was the flag bearer. Yuki started his professional career in 2008 focussing mainly in the ITF and Fututres tournaments. He participated and had poor results in all the Grand Slams in that year. However, his life fell back in track when he reached the semi-final the junior Fed Cup later that year along with Saurabh Singh. The next year, Yuki won the junior singles title in the Australian Open in 2009. Currently being sponsored by Mahindra Holidays and Resort India Limited (MHRIL) and is focussing his career solely in the professional tour. Bhambri won silver in the Youth Olympic Games conceding the final to Juan Sebastien Gomez falling down to muscle cramp while trailing 1-4 in the final set.
Vikas Krishnan (bronze in 60 kg boxing):
Vikas Krishnan was one of the favourites to win gold in the boys' light (60 kg) category as he won the gold medal in the World Youth Boxing Championship in Baku this year. He also won the gold medal in Asian Youth Boxing in March this year. The product of Bhiwani Boxing Centre that has produced jewels in Indian boxing like Akhil Kumar, Vijender Kumar and Jitender Kumar and being coached by Dronacharya awardee Jagdish Singh, Vikas lost the semifinal bout unfortunately as there were some controversial decisions going against him. Vikas tried his hand in large number of games and was a district level champion in badminton. However, soon he found out that his hand is better in delivering hard punches than anything else. Vikas himself is confident about his future despite having to settle with bronze in Singapore as he has played and excelled in higher levels.
Shiva Thapa (silver in boys' 54 kg boxing):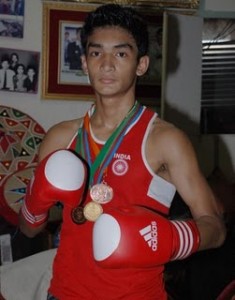 Guwahati born Shiva Thapa came close to end Indian golden duck in the Youth Olympic Games but failed to out-punch Cuban opponent in the final. Born to a sporting family with father a martial arts expert, Shiva put on the boxing gloves from the age of 7 only. The 16-year old has gone through the rigours of training in the Army Sports Institute and has emerged as a national level boxer. Shiva was first noticed as an amateur boxer in the All Assam Invitational Junior/sub-junior Tournament in 2004 where he won gold. He then practiced with SAI centre in Guwahati with coach Amar Deka. He then won National Sub-junior boxing championship in 2005 in Noida and was recognized as a national level boxer. It was the Army Sports Institute selected him in their scout programme. Shiva's successful run continued as he won gold in Hyder Alyev Cup in Azerbaijan in 2008. In 2009, Shiva Thapa won bronze me
dal in World Junior Boxing Championship in Armenia. This year he won silver in the Bantamweight category in World Youth Boxing in Baku. And then comes the silver in YOG. The Mike Tyson fan Gorkha Boxer, born to a Defence family just finished his twelfth and is ready to devote the most to the game.
Satywart Kadian (silver in boys' wrestling):
The soon to be 17 Indian wrestler Satywart Kadiyan was one of the most unknown names in the Indian contingent. But he grabbed within just two days as he won bronze in the freestyle 100 kg event in wrestling in the Youth Olympic Games. Starting on a bad note losing 3-0 in the very first match, Satywart recovered well to get the bronze by the end of the day. Still very young, Satywart Kadian looks set to carry out on the footsteps of Sushil Kumar to carry forward the baton of Indian wrestling.
If we have a closer look at the details of each of these athletes they look to have the potential to do well. They give us a ray of hope that one day we won't be ashamed to look at the medals' tally of the Olympics. One day we will also be considered to be among the best sporting nations. But the fear is that not always Indian youth talents are groomed into the potential they promise. Let us wait and see.