On May 2, Infosys Foundation announced an INR 30 crore grant towards the Girls For Gold program conceptualized by GoSports Foundation. The program will formally support five coaching academies spread across India for an initial period of four years, specifically benefiting talented female athletes in the 13-19 age group.
The five academies are: Lakshya Shooting Club (Mumbai), Mary Kom Regional Boxing Foundation (Imphal), Sathish Sivalingam Weightlifting Foundation (Vellore), Raman TT High Performance Centre (Chennai), and Yadav Pro Badminton Academy (Bengaluru).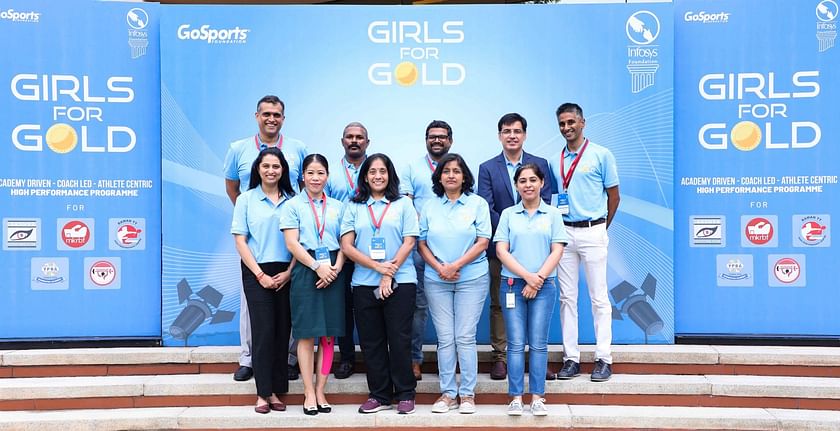 Speaking exclusively to Sportskeeda Business of Sports at his company headquarters in Bengaluru, Mr. Sumit Virmani, Trustee - Infosys Foundation and Global Chief Marketing Officer - Infosys, highlighted the tech giant's association with sports dating back five years.
---
Infosys's association with sports
Infosys began working with GoSports on its athlete sponsorship program. Thereafter, it partnered with Prakash Padukone Badminton Academy and now supports the academy, comprising 50 athletes from across the country.
Founded in 1996, the Foundation focuses on the areas of education and women empowerment. Clearly, this was in synergy with their decision to back the Girls for Gold project.
Explaining the linkage between sports and education, Mr Virmani says:
"Within the education vertical, we've identified sports as one of the verticals...because sports education is also education right? It's part of the larger desire for kids to be trained and educated…and that is a vertical that hasn't been supported traditionally."
---
Sports as CSR
These are still early stages for the Girls for Gold program, and Mr. Virmani feels corporates can channel their proven expertise towards creating similar professional ecosystems in sports.
Evaluating Girls for Gold's success, Mr. Virmani emphasizes that "impact" will be "an important dimension to track."
Interestingly, Mr. Virmani is of the opinion that individual sports, when compared to team sports, now stand to gain the most through corporate involvement.
Highlighting the positive impact the corporate sector can have on Indian sports, he notes:
"As corporates get involved and as athletes get supported, we'll possibly see all round results because there is [a] pretty obvious lack of resource availability across sporting disciplines."
---
Infosys and men's tennis
Beyond the non-profit sector, the company is also involved in sports tech in a commercial way. To drive home this point, Mr. Virmani shares the example of the ongoing partnership with ATP (men's tennis) and how the IT firm's AI powers the television highlights that we all see:
"[A] billion fans of the game today are consuming experiences on the web through augmented reality, through virtual reality by using [our] technology. So Infosys is very deeply involved in tech in sports in tennis."
Regarding the Girls for Gold project, while the five academies have been selected, the next steps will be identifying individual athletes for further support, building a pipeline of qualified coaches, and tech-enabling the academies to make them world-class training centers.