Indonesian boxing legend wants to train future champs
1.58K //
10 Apr 2013, 12:42 IST
JAKARTA (AFP) –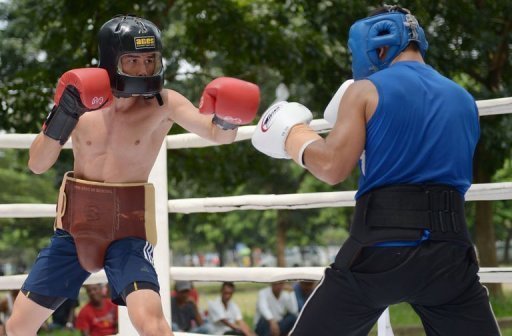 World featherweight champion Chris John (L) trains with sparring partner Adones Aguelo in Jakarta on April 3, 2013. John will defend his World Boxing Association title this month against Japan's Satoshi "Bazooka" Hosono.
World featherweight champion Chris John learnt to box using tatty old gloves in an abandoned football field in rural Indonesia, pushed on by his father who was determined to make him a winner.
"My father was very domineering. He would hit me with a book, slap me, and make me do push-ups if I came home late from playing with friends. I had to accept every punishment without resistance," John recalled.
"I hated boxing at first, but it somehow grew on me."
Now 33, the man nicknamed "The Dragon" has carved out an astonishing undefeated career and will make his 18th World Boxing Association (WBA) title defence against Japan's Satoshi "Bazooka" Hosono in Jakarta on Sunday.
With plans to quit the ring undefeated at the age of 35, John plans to use his retirement to train future Indonesian champions, following the example set by his father.
"After I retire, I want to push more Indonesians to take up boxing and hopefully become world champions too," John told AFP in an interview at a five-star hotel in Jakarta, as he rested after a training session.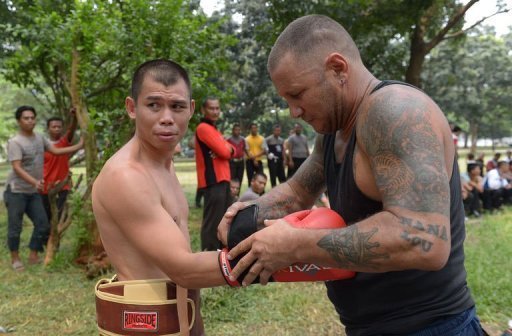 World featherweight champion Chris John is helped by his coach Craig Christian during a training session in Jakarta on April 3, 2013. With plans to quit the ring undefeated at the age of 35, John plans to use his retirement to train future Indonesian champions.
Indonesia is not a traditional centre for boxing but over the past decade, and despite not being well known outside his home country, John has carved out one of the sport's great modern careers.
John has reigned as WBA world featherweight champion since 2003 and his record stands at 48 wins, two draws and no losses — putting him within reach of the benchmark set by Mexican great Ricardo Lopez, who retired undefeated with 51 victories.
But anyone wishing to be taught by John would face a tough time if he uses the same methods as his father, who started training his son in their backwater rural village from the age of five.
"We trained till my cheap gloves were in tatters and the foam was spilling out. I would patch them back together with glue and leather," said John, remembering the sparring sessions in a remote village in central Java.
John, who has Chinese origins and was raised as a Catholic in the mainly Muslim Southeast Asian country of 240 million, said he plans to work with boxing promoters Dragon Fire once he retires.
The Perth-based company organises events in Australia, Indonesia and Singapore, and John said he wanted to scout and train young talent for them.
"I can… recruit and train young boxers and also help to organise competitions," said John, holder of the WBA's rare 'super champion' title after defending the belt 10 times in a row.
But John also acknowledges the challenges he faces trying to nurture talent in Indonesia where boxing is popular but — like many other sports — has long suffered from a lack of money and facilities.
The failure to properly fund boxing is clear from the fact there are few well-known Indonesians at the top level of the sport, with John just the country's third world champion.
The only other current world-class Indonesian is 26-year-old Daud Yordan, who defended his International Boxing Organisation featherweight title by defeating Mongolian Choi Tseveenpurev last November.
"There are many people with talent in Indonesia but the problem is how to turn them into champions?" John said.
"Boxers are poorly paid. The government needs to support more by organising more fights so boxers can turn this into their livelihood."
Critics have long complained about a lack of facilities for all sports in Indonesia, a problem they say is exacerbated by rampant corruption among officials.
The issue was highlighted in December when sports minister Andi Mallarangeng was forced to resign in a multi-million-dollar graft case related to the building of a sports stadium outside Jakarta.
Another post-retirement plan for John is to have a son to add to his two daughters, aged seven and four.
And while he would love to train his son to follow in his footsteps, John says he would not use the same kind of tough methods used by his own father.
"I will teach him boxing from a young age, but with a softer touch," he said with a laugh.